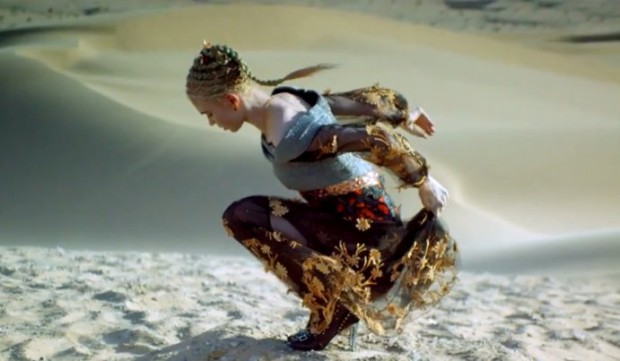 Earlier this summer charismatic Canadian artist Claire Boucher aka GRIMES returned with a new track called Go, a collaboration with produced by BLOOD DIAMONDS that was originally written for US superstar RIHANNA who turned it down. Now, two months later the singer premieres an epic music video for the song. The clip was co-directed by Boucher and her brother Mac under the production alias Roco-Prime.
According to a released statement, Dante's Inferno has been a major influence for the video. Boucher on the concept: 'The circles of hell reflect more contemporary issues though. We shot a bunch at the Salton sea which is basically an apocalyptic wasteland filled with dead fish because of human carelessness, the bullet hole hallway a la KORN 'Freak on a leash' etc etc. If you look closely you can find clues.  Haha, but in the usual fashion it is also abstract enough to just be a trippy visual accompaniment to the song.'
Clearly a lot is happening right here. Watch the new GRIMES clip below.
[youtube id="vIi57zhDl78″ width="620″ height="350″]
—