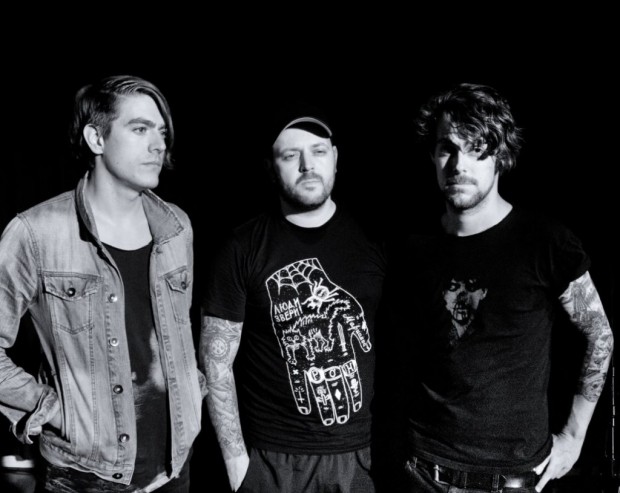 There can be no doubt that German post-hardcore band FJØRT is a very special act. There new video Gescholten from the Kaputtmacher Sessions shortly premiered via NOTHING BUT HOPE AND PASSION. Now we sat down with the guys to talk with them about emotions, dragons, German words and much more. Let us introduce: FJØRT.
How would you describe your music to a deaf person?
I guess I would describe it as different emotions translated into loud, energetic music. But first I would invite the person to a FJØRT concert, because we always try to express exactly this feeling in our live shows, sonically and visually. Maybe then they already have a picture in mind of what we are trying to convey.

Speaking in emotions: which emotions do you express with your music?
We mostly write about quite negative stuff, because that's what makes us most creative, but sometimes there's a positive catch to it. It could be emotions which are hard to overcome, feeling constraint, or the feeling of being powerless when facing something difficult on your own. The song 'Valhalla' for example deals with not being able to appreciate good things which happen right in front of you, and has this key sentence, where we basically say: Stop searching for solace, start being solace for someone else. These are the positive kind of reminders I want to give to the listener and not least to myself.

What's the perfect soundtrack/ song for your band to enter the stage?
We have an intro, a quite calm guitar line, which sets the mood for the show and gets us into a kind of 'stage mode'. We've been playing it since the beginning and it really fits our feeling right before the show starts, leading into a loud and heavy melody part. It's quite hard to choose a song, but maybe something by Explosions In The Sky would fit, to get the people in front of the stage into the mood of pretty melodies and gradually getting to the big climax.

As Germans… what are your favorite German words. The one that sounds the most beautiful in your ears?
German is a great language to write lyrics in, but I guess that's also true for other languages, if you're a native speaker. You can play with irony, sarcasm, double meanings and so on, which gives you a lot of freedom to express exactly what you mean. One of the German words, which sound really beautiful, would be 'Unzerbrechlich' for me. I also like to use Germanized words from other languages, like 'Fauxpas' or our album title 'D'accord', because they sound so pretty, but can be turned around and used in un-pretty ways, depending on what you're writing about.

Would you rather be a dragon or have a dragon?
I guess I would rather have a dragon, so I could brag about having a dragon.

Fingers as tall as legs or legs s small as fingers?
Such long fingers would look really creepy, but I need long legs, because I am a really fast walker. So it would be the leg-fingers… Maybe this would also improve my guitar skills!

What's the best possible scenario to enjoy a FJØRT record?
Sitting on a hill with a nice view over a wide landscape, on your own, with your headphones on.

What do 'hope' and 'passion' mean to you?
I would say, passion can sometimes let you hope. If you're passionate about something, in this moment you will forget about your worries. Hope and passion are connected and are two important pieces of feeling happy.
Tour Dates:
presented by NOTHING BUT HOPE AND PASSION
18.01.2015 – DE – Kiel – Pumpe
19.01.2015 – DE – Bremen – Tower
20.01.2015 – DE – Braunschweig – B58
21.01.2015 – CH – Zürich – Hafenkneipe
22.01.2015 – CH – Solothurn – Kofmehl
23.01.2015 – DE – Freiburg – KTS
24.01.2015 – DE – Saarbrücken – Garage
––