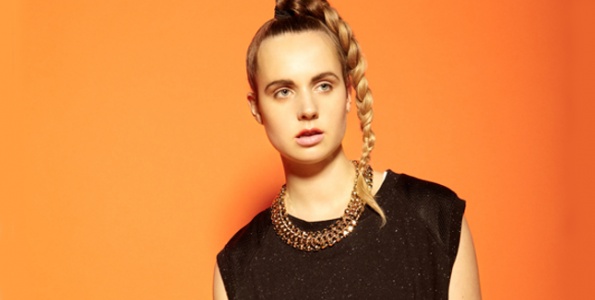 MØ is Karen Marie Ørsted, a 24-year-old self-possessed and unashamedly happy musician who is being hailed as the Danish GRIMES. (In the sixties and seventies every country had a BOB DYLAN, for modern times we use GRIMES). A sensation at the 2013 SPOT FESTIVAL in Aarhus, MØ was in Berlin recently, touring as the opening act for MAJOR LAZER. We caught up with Karen before the show.  After a long car trip and a marathon day of interviewing and, she was still energetic and positive. Get to her show to see that energy channeled into a fury of soul-baring vocals paired with electronic badassery. In the style of GLASSER and Beth Gibbons from PORTISHEAD, MØ has one of those voices that sticks with you, and she can just as easily drag you through the rain-choked gutter as she can give you shelter from the storm.  Read on about how bad she wants the universe to be a full package.
So DIPLO remixed one of your tracks and you are getting to tour with him now.
It wasn't the remix, he was co-producing, featuring on a track. [XXX 88 off the Bikini Daze EP]
So what is it like: you started playing these small gigs, and now are on to much bigger venues and bands.
It's very surrealistic. Our live set is very different from the MAJOR LAZER show. It is a challenge but a very cool one. I'm so honored they would take us on tour.
And the pressure just gets bigger the more well known you are. It's one thing to play little venues in Copenhagen or Aarhus, another thing to be at CMJ.
Yeah, that was last year.  It was really cool. It was unbelievable, I was totally shocked. That was when the labels started taking interest.
Ten years from know where do you hope to be?
My dream would be to make four albums. To touch as many people as possible. Of course, be able to live off of it and be in the middle of making the 5th album.
That's pretty specific: do you have four or five albums in your head?
Well, I think ten years, four or five albums, or maybe six or seven. [she shouts in Danish to the guys standing by]
Are these guys in your band?
He is and that's my manager.
I mean, some people make an album a year..
But I really want to spit them out. Maybe seven, okay seven.
Do you have any fear of things happening too quickly?
Yeah, of course. When things go this fast, and I like to have something to say about everything: from visuals to artwork, all this stuff. I want to be a part of that.
Are you the control freak in the band?
I don't know if I'm a control freak but I want it to be right, I want it to all fit together. I just want the fucking universe to be a full package. So when things go very fast you don't have the time to dig into the stuff all the time. You have to pick and you have to choose the music, because that is what it's all about, for me. Sometimes you don't have time to do everything.
MØ: "…you don't make music to please… you try to say something that you mean."
And that's the thing, in this day and age, music is moving faster than ever. And it's instantaneous …but just as instantly as you can become famous, two years later no one has heard of you. I want to ask you, what has staying power? What are features of bands of bands that are just as relevant today as they were in 1989?
I think it's very important that you are persistent and that you don't lose your head and thinking you are the greatest in the world.
Persistent and humble.
Also, I think it's very very very- the MOST important thing is that you are honest. That you don't make music to please, that you try to say something that you mean.
Honest, persistent and humble, it could come right out of the bible. [laughs] What's a live show like? What's the vibe?
Well, we have a drummer and a guitarist and a DJ, and visuals. I'm very focused on when we perform to let go, and just be one with the music. To go crazy and get it out. When you are performing that's the perfect way to get out what you feel. If I go to a show, I want to see some real feelings and I want to see the band feel the fucking music they do, you know? It's expressive and energetic, I go crazy! If possible, you cannot stage it too much or else it becomes fake.
That's the thing, it gets exhausting, on a tour like this, trying to access that every night.
I really want to get that feeling though, you know? I mean, if you're very exhausted, it can be hard. On the other hand, sometimes when you are very very tired and everything is a little hard then you need even more to get all this anger out.
I want to talk a little bit about influences and creativity. The first: who influenced you? Not just musically but philosophically. Then we'll talk about creativity.
The first influences…when I was a child it was the SPICE GIRLS, when I was seven or eight. When you become a teenager you get a new dimension to the world and to your head. The first ones to really inspire me were SONIC YOUTH and Kim Gordon. It was the music of course but was also very much their universe: art around their music, the lyrical universe, the vibe and everything surrounding them. That really inspired me a lot.
They are pretty seamless in the sense that they are musicians and they also do art and they are also involved in fashion, it's not just like "Music: this is it, this is our little circle and that's all that we do." What's your favorite SONIC YOUTH album?
I have three actually. Washing Machine, Dirty and Goo. Everyone says Daydream Nation is their best album and I really love that too but these three are the ones I listen to the most.
As far as creativity, how do you write music? How do you write music as a band?
Almost all the songs that are on the debut album are made this way: I sit down and write the song on the piano and record all the vocals. Then I send all the vocal parts to my producer Ronni Vindahl [of Danish producer entity No Wav] . Then he starts working on it. He actually kind of makes it into a new song. Then we hook up at the end and finish it together. For the album, we've been working a lot on our own and then finishing up, because we both work well on our own. Maybe for the second we would do it another way.
But for your creativity what do you need? Some musicians need to isolate themselves, some need to go far away and some need to be in a city…
I can write almost everywhere, because it's just when the inspirations there. I really like to record my vocals and mix them on my own, in a quiet place. Almost all the vocals for the album are recorded in my parent's house, in my girlhood bedroom. I built a little studio there.
Was that your first instrument, the piano? Did you have piano and vocal training?
I had a bit of both, but I was very unfocused at that time. I thought the stuff my sound teacher told me at time was boring and I hated the way the piano teacher wanted me to play. A lot of it I've also taught myself, because I wanted it to be a certain way, but the teacher always wanted it to sound like somebody else.
So that provided the base, but you added your own education?
Yeah. I remember all the stuff that teachers tried to teach me. I went to some tests to attend the music conservatory, and they were like "No, no, you're doing it all wrong."  And I was like "I want to do it like this!" because I like Kim Gordon and Karen O and that's how I wanted to sound, that's how I think a girl should sing.
What would you do if you weren't doing this?
I've started making music since I was seven, it's my way of expressing myself, so if I'm sad or if I'm angry or if I'm happy, I need to write a song. I can't imagine what else I could do.
We are called NOTHING BUT HOPE AND PASSION. What do hope and passion mean to you?
Hope and passion are some of the most important things in life I think. It's important to be passionate about something because that keeps you going, and you also need something to trust in your passion. Hope is the light at the end of the tunnel and you need passion to get there. It's some of the most important things to me.
—