Are you one of these people who think that major labels do a good job signing SAM SMITH's and KATY PERRY's copycats? Do you believe that they're are more talented people out there who deserve to be heard? Do you want to get your best friend/lover/cousin/sibling straight to the Charts? Do you think that you'd do great as the head of A&R of some label? If the answer to the above is 'yes' then we might have something for you.
Tradiio is the new up-and-coming music app that's here to stay. Once you join it, a new world is opening up to you – a world that's full of talented musicians. You can have control of what you listen to as you can manually pick the genres that you want to follow. When you listen to something you like, you invest as much (fake) coins as you want on the artist and like that you help them step up the ladder of the app's charts. You can also invite your favorite people and make a family business out of it.
'Challenging, innocent and sincere'
Tradiio is basically a music game reminding us that music is to be played. It's fun, challenging, innocent and sincere. But let's see what the app's representatives say:
'Users discover new music every day and help artists get opportunities such as radio play, festival bookings and even label deals. Those with a keen ear for spotting talent earn vouchers, tickets and the chance to connect with their favorite artists.'
Aha, aha, so there're perks involved. Tradiio is available on web, iOS and Android and everything is free for both users and artists. *Big Smiles*
'Items that have seen the most demand on Tradiio are tickets to music festivals around the world and personal hangouts with the artists that perform the best on the platform.'
Álvaro Gomez, CEO, claims that 'On Tradiio, 97% of the songs uploaded have been listened to more than once. Over 100 artists have already been rewarded'. Which is super cool. It's true that nowadays the internet (social media, music platforms) is only way for all those aspiring artists to spread the word about their music. Now that the social media have started using advertisement structures that if you don' use your posts can only be seen by your mother, Tradiio suggests a new model of streaming, interacting and promoting that's only boosted by one's love for good music.
Here, at NOTHING BUT HOPE AND PASSION, we gave Tradiio a try and we very much loved it. There's nothing sketchy about it and everything runs smooth. There're so many amazing artists that we had no idea they were out there! We also have to give kudos to Tradiio's support team for the fast and helpful response when we reported that the application appeared to have 'bugs'.
If you're still not fully convinced or you have questions, we suggest that you try it out. Only then you can decide whether that's your thing or not.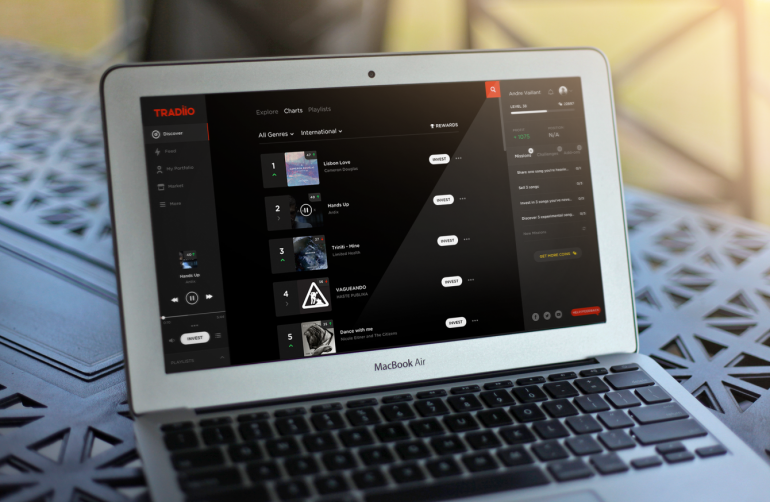 —
All photos, courtesy of Tradiio.
Links:
Homepage: tradiio.com
iOS: tradi.io/iosapp
Android: tradi.io/androidapp