Founded in 2008 by Andrea Kolb, ABURY is an accessories brand that's based in the German capital city. I remember that their store caught my eye while walking up the Kastanienallee (one of the most beautiful and posh streets of the urban Berlin). I stopped by and window-shopped like a child in front of a pastry shop. Once you see the ABURY bags, you never forget them and that's probably why I spotted them on the most fashionable people I've crossed paths with the past few months.
Apart from the fact that they make undeniably beautiful things, there are more reasons to pay them a tribute for. Through our platform and our fashion segment we talked so many times about how important is to know from where your clothes/shoes/accessories come from, who made them, from what material are they from and so it goes. We've embraced the new generation of the Fashion Ambassadors that say "YES" to ethically made products. ABURY is one of these brands that stand straight for their values. They have to get heard across and through! That's why today we're hosting Andrea who was kind enough to respond to our questions and give us an insight on who they are and on what they do. Spoiler: It's a beautiful read!
How did it all start for you? Why "ABURY"?
In 2008, I moved to Marrakesh to renovate a riad (traditional house in the old part of town) when I found myself captivated by the immense handicraft heritage of the Moroccan people. These men and women passionately and skillfully carved, tinkered, blew, sewed and embroidered their way into, frankly, what can only be described as magic. Sadly though, I learned from the craftsmen and -women that some of these skills were vanishing as mass production and cheap products were entering the markets. With them, the beauty, wisdom, identity and stories were also at risk of being lost to the past. At about the same time I started collecting vintage handmade Berber bags and when I took it back home, all my girlfriends asked me to bring them one too.
This is when the idea of ABURY was born. I thought if we could revive the old crafts by infusing the old world appeal of handicrafts with a spunky twenty first century spirit – we could not only support the craftsmen with work but also in giving back parts of the profits we could actually help them earn a bright future with their own hands also for their families. ABURY is derived from my maiden name – Andrea Bury.
"THE TEAM IS THE HEART!"
Would you like to talk to us about your values? How did you set them up? Is it easy to live by them as a brand?
When you start by yourself, the company more or less lives by your personal values. But when you grow it is very important to define the core values for the company and create a culture together with the people. So we sat together in a brainstorming and over a process of about 6 weeks worked out what is really important to all of us and worked out the essence.
When I was doing traineeships myself during my studies I always wondered why some companies have their values written on the walls of each office or at the entrance. But it is true that in the daily business you sometimes get distracted and you really have to remind yourself and your team what you stand for. But if you've found the right values, you naturally want to live by them. With each new employee there is a new influence and enriching view on things. To make it easy for them to learn about the culture and feel it, it can help to define some rituals that reflect the culture. Rituals that bring the people closer, together. To create a lived corporate culture you have to work on it continuously and fill it with life every day.
You've come up with a new term! Would you like to tell us some more about co-prosperity?
The idea behind is very simple: We want to be the trusted brand and marketplace where people can find a culture in which it is transparent that all people/stakeholders involved in the value chain benefit of the profits. So for us it means that we pay fair prices for the production and work and we will share the profits of the sales at the end.
What techniques do you use?
We always work with local crafts – so at the moment we are working with leather and leather embroidery in Morocco, with straw and alpaca wool in Ecuador and with handwoven cotton in Romania. We always try to source local materials and use local knowledge so that people can really use the additional skills we teach them without us.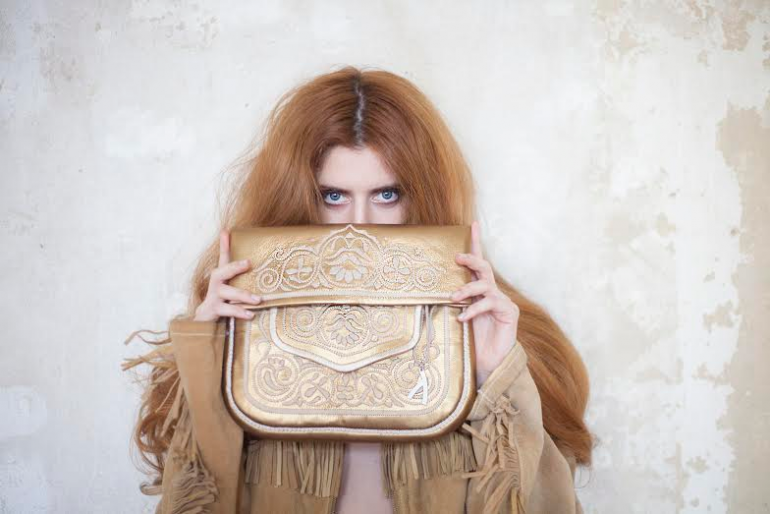 What's the role of the team for ABURY?
The team is the heart!
Would you ever partner up with a Big Fashion House or a big retail shop? Would you see ABURY into a potential kind of "major" fashion collaboration?
Yes – absolutely, depending on how you define "major". I think it is important to reach people that are not that much aware of the topics of ecological and ethical production. It's important to show them that the products can be cool and fashionable and really high quality as well. ABURY is e.g. available at Ludwig Beck in Munich – a major department store in the heart of the city – but with great values themselves and a personal touch to what they do. Obviously the partnership always has to be authentic and respect our values.
"CREATE A STATEMENT – NOT ONLY FASHION"
Do you believe in trends and fashion icons?
Well – I do believe that Diane von Furstenberg, Coco Chanel, Vivienne Westwood to name just a few are fashion icons who really changed the way how we look at fashion – they were/are visionaries who mostly worked against trends – or created their own trends – and millions followed.
Also here, I think the world is not black and white. Working with craftspeople which takes a lot of time and always implies limited editions – we don't follow trends and most of the times can't because they are too quick for us – so we rather think in timelessness. But obviously there are major trends that are worthwhile looking at and are really important to be aware of and sometimes to react to.
What advice would you give to someone who's just about to enter the fashion fields?
Work hard on the numbers (production cost, logistics etc.). Challenge yourself if you really believe in your idea and if you do – then don't give up. Create a statement – not only fashion.
What should we expect from you in the near future?
Our winners of the ABURY Design Experience, Pam and Samuel, are going to Morocco and Ecuador from July to October and after this you will see two exciting collections that we will present in November to press and buyers.
Also in November, we will present a surprise of a handwoven cotton line from Romania. Not fashion – but fashionable!
Where can we find you?
You can find us on www.abury.net and in our store in Kastanienallee 42, in Berlin. You can also find some special collections in Munich (Ludwig Beck), from the end of June in Zurich (Modissa, Bahnhofstrasse) or in Hamburg (Lila).
Last but not least, our magazine is called "Nothing But Hope And Passion". What's the role of hope and passion in ABURY's structures and life – because you're not just a brand, you are a humane mechanism, somehow.
Thank you for calling us humane mechanism – it is true that human relations are playing a major role in our business. Especially in the intercultural exchange you learn so much every day – and this gives and creates hope and passion. Passion is the driver of what we do.
—
All photos courtesy of ABURY. If you like what you read and what you see, give them a heart on the official page of Berlin, as they are nominated for the Crowdfunding Award!