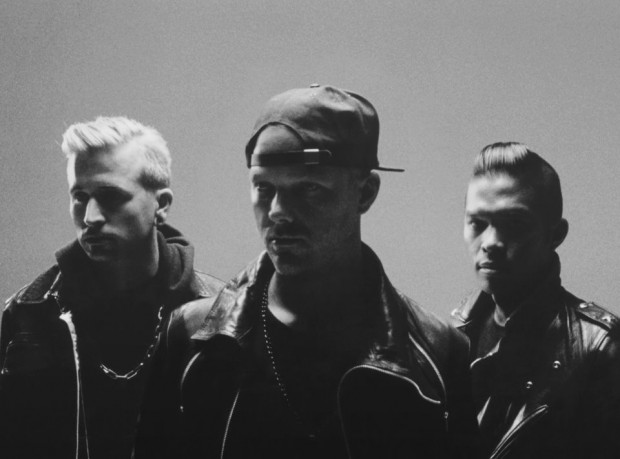 Being on tour can be an exhausting and entertaining experience at the same time. But it's also a time full of adventures. American electro rockers THE GLITCH MOB are currently touring the planet with the enigmatic tunes from this year's sophomore album Love Death Immortality. A high-energy-show with dirty basslines, massive drops and a certain amount of wilderness. And right in the middle of this hurricane – Edward Ma (edIT), Justin Boreta (Boreta), Josh Mayer (Ooah) who are THE GLITCH MOB. A trio that represents an electronic movement that has been far too often mistaken with dubstep, brostep or that whole 'EDM' circus. Unesccessary comparisons.
NOTHING BUT HOPE AND PASSION reached out to THE GLITCH MOB in their tour bus to ask the essential questions of live. Well, sort of. Since time is always money on such events we stuck with a simple rule for this little interview. Top 3. 'Cause it's the essence of the information that matters in the end. If you make it to the bottom of the page – we're also giving away tickets for a few upcoming dates.
What are the 3 best things to happen to you on this tour so far?
– Coachella
– Breakfast tacos in Austin, Texas
– and getting to meet our fans in person.
What are the 3 main records/ tunes that are playing in your tour bus at the moment?
– COLLIE BUDDZ (everything),
– DRAKE
– FOUR TET
What have been the 3 three main challenges for you as a band while recording 'Love Death Immortality'?
Pushing ourselves into new territory is always a challenge. Thinking outside of the box. But we love challenges. That's the most fun part for us (laughing)
What are the 3 biggest lies or wrong rumours you ever read about THE GLITCH MOB?
Most people can't believe this but none of us smoke weed at all.
What are the 3 best things people should do while listening to your music?
– Dance
– Sex
– Take over the world
Name 3 important things people should bring to one of your shows.
– An open mind
– Comfortable Shoes
– Earplugs
Name the 3 main musical influences other artists had on you as a band.
– DR. DRE
– NINE INCH NAILS
– APHEX TWIN
You're track 'Can't Kill Us' recently made it into the trailer for the new 'Sin City' film. Congrats on that. Which three movies would you actually have loved to score or would have loved to have one of your songs in?
– Breaking Bad
– any Quentin Tarantino movie
– Game of Thrones.
What are your 3 personal most important items on this tour.
– iPhone
– Nocs headphones
– Sonos speakers for pre-show excitement.
Please name the first three things that pop into your head when you hear the words 'hope' and 'passion'.
– Empathy
– Family
– Courage.

NBHAP presents THE GLITCH MOB:
You heard the guys. This is a show you don't wanna miss. And NOTHING BUT HOPE AND PASSION gives you the chance to attend the following gigs in Europe. We're giving away 2×2 tickets for each city. All you need to do is write a mail to win@nbhap with the subject 'Glitch Mob', your full name and the city of your choice. Good luck!
19.05.2014 – AT – Vienna – Flex
20.05.2014 – CH – Zurich – Komplex Club
21.05.2014 – DE – Darmstadt – Centralstation Halle EG
22.05.2014 – DE – Hamburg – Uebel&Gefährlich
23.05.2014 – DE – Berlin – Gretchen Club
24.05.2014 – FR – Toulouse – Weekend Des Curiosites
26.05.2014 – CZ – Prague – Roxy
27.05.2014 – BE – Brussels – Vaartkapden
28.05.2014 – FR – Paris – La Machine
30.05.2014 – UK – London – Koko