To find out what has changed and improved for this year's Berlin Music Week we sat down with Tommy Nick, the Head of Communication for Berlin's conference and showcase festival. He has been with the festival/conference since it's inaugural year. One of the few original Berliners on staff, he's witnessed all the changes the city has had, from the wall falling and the craziness that came after to the current upswing in Berlin's popularity. He describes himself as "One of those typical Berliners, never nice, never friendly, never saying sorry."  For NOTHING BUT HOPE AND PASSION he was pretty friendly and answered a few questions on the upcoming Berlin Music Week, September 3-7.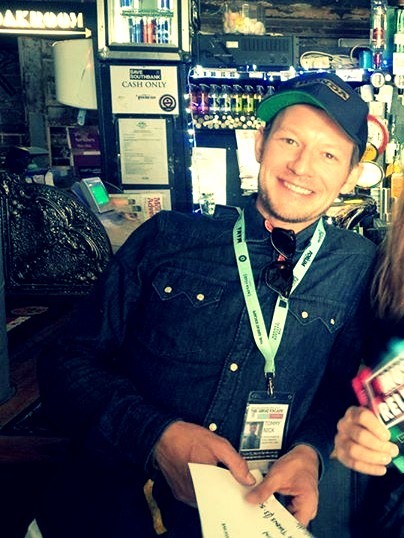 How long have you lived in Berlin?
I've been stuck in this prison of Berlin for 38 years [laughs]. Not in a bad way, it's a good prison. There's no other major city that would be exciting as Berlin is. I'm not ready to move to the countryside on a farm, maybe in ten years, but that would be the total opposite of where I live now.
This year, Berlin Music Week will have a showcase festival, the conference and Berlin Festival. It seems bigger than last year. Please tell us about the concept of the events.
First of all: it's not about getting bigger just to get bigger. Creativity, innovation, originality and authenticity: THIS is Berlin. The city's ubiquitous mix of music and technology, festivals and club events are a big part of the driving force behind it all. Berlin Music Week offers a world stage for all these areas with its two core events: the WORD! Conference for business and SOUND! for live events such as First We Take Berlin, our showcase festival, the Berlin Festival and last but not least the new-this-year street music festival First We Take The Streets . There are several award shows such as the VIA! VUT Indie Award and the New Music Award.
What do you feel has been your biggest success with Berlin Music Week? What has been your biggest failure? 
I've been here from the start, and people didn't know fuck about me or Berlin Music Week as well, and now, in the fifth year, people are kind of recognizing me as the person behind BMW and seeing the purpose of it.  I've been running around in Berlin, in Germany and the world, for years, trying to explain what it is and no one wanted to listen. Now it's a given, it's pretty automatic that people want to listen about Berlin Music Week.
As far as failures, let me think.  I'm too much of a control freak in Berlin Music Week and I'm missing all good bands and good acts in the evenings. I never seem to learn from the year before, there's all these people telling me "I saw this great musician" or his performance and I'm like "Oh, you know what?  I didn't see a single gig." I fail to actually enjoy Berlin Music Week.
Please give a brief overview about Berlin Music Week's history.
This year's edition is the fifth edition of Berlin Music Week. We started off as an umbrella brand in 2010, bundling several events like Popkomm [trade show for music and entertainment business], covering the business aspects, the Berlin Festival, held in the former Tempelhof airport, among other events for the international music industry and music lovers from all over the place. After the Popkomm was cancelled in early 2012, it was our goal to bundle things even more and came up with a new concept for Berlin Music Week in order to make it more concrete, more noticeable and more accessible.  We started to locate the event in the Friedrichshain-Kreuzberg area, the most vibrant and authentic part of Berlin with it's charming music and club scene.  It has a perfect infrastructure and it's a creative environment with a lot of people working in this area based in the music industry. We kind of built up on that, year by year. The fifth edition of Berlin Music Week is a premiere: everything that is part of BMW is now located in the same area.  It's a nice stroll from the Postbahnhof, where the daytime programme of the conference will be located, passing the o2 World and the East-Side-Gallery with the premiere of First We Take The Streets, a free street music festival, heading to the coolest clubs around Schlesisches Tor and Warschauer Strasse to watch the best newcomers during First We Take Berlin and finally letting it all out for 48h non-stop in the new home of Berlin Festival – the Arena Park.
A question that comes up over and over again: Berlin Music Week vs. Reeperbahn Festival. International delegates often have to chose. When it comes to the conference part, what's Berlin Music Week's strength and focus?
In the wake of digitalisation and global connectivity, music, including other media content, has been freed from its physical medium. Depending on one's point of view, this liberation could be good or bad. The fact is, this process has changed the music industry and music scene forever. Under the motto MUSIC RELEASED, the WORD! conference of the Berlin Music Week 2014 will address these processes, introduce new players and stakeholders, and shine a light on economic structures, while also presenting a whole new way of looking at the music industry. Combine this with the VUT Indie Days which in its second year have already established themselves as a platform for recorded music, attracting a large trade audience with keynotes, panels, matchmakings, elevator pitches and synch sessions. Last but not least we do have a focus on start ups and music technology since over the course of the musical transformation, many have had to reinvent themselves or move over for the digital player, while other companies have thrived in the new environment with innovative ideas and the associated ecosystems. There are dozens of further aspects such as the first Music Hack Day, the Music Start Up Corner and … well, to be honest: I think Berlin is the only city in Germany being able to showcase all the above combined with supreme networking opportunities, quality music and a flair of it's own.
Berlin already has lots of concerts every day. What can visitors expect at this year's Berlin Music Week that is different from 'normal' concerts?
Unsigned street musicians playing their tunes at an open air festival at the former Berlin Wall directly on the river Spree at First We Take The Streets.  There will be the best international and local newcomers during First We Take Berlin in the most appealing locations in Berlin. Acts such as WARPAINT, WOODKID, THE EDITORS, MODERAT, DARKSIDE, and JESSIE WARE mix with exquisite hip-hop and electronic music in the newly built Arena Park at this year's Berlin Festival. Everything is in walking distance in the coolest part of the town … I don't know what more you can expect in 5 days.
NBHAP is excited to host a stage at Berlin Music Week. What is special about this stage for you as the event organizers?
We love us some NBHAP as we think that you guys are doing some incredible work for music lovers and artists as well. Plus: you have a good nose and an exceptional taste. We couldn't think of someone better to present the first showcase during Berlin Music Week featuring the UK agency ATC! It simply is a great cooperation and it's a first – paired with amazing new talent and acts such as SIVU, PHOX, BLAENAVON and many more. Nothing but hope and passion will be guaranteed at this evening.
—