Arab Strap – 'As Days Get Dark'
Sounds like … a gentle reminder that things have always been bad.

Well, well. Look what the cat dragged in. Aidan Moffat and Malcolm Middleton ultimately rediscovered their old Arab Strap; unused and probably unwashed it was just sitting there for over 15 years, dusty, forgotten somewhere in the attic of human failure. So it was about time for the two Scottish Lads to dust it off and come back at us, now As Days Get Dark once again. I wouldn't say we were in dire need but then again – so wouldn't Moffat and Middleton, the masters of self deprication. Ironically, a lot of the things that they sung about back in the 90s when they, alongside Mogwai, put Scotland back on the indie music map, seem more urgent now than ever. The vocabulary and discourses might have changed but that's where As Days Get Dark underlines the timelessness of Arab Strap's approach: Though it's not beautiful per se, many seem to have a soft spot for this kind of unpleasant, blatant imperfection that at least strives for beauty. To capture that tension is their masterclass and we should have known that they wouldn't have come back with something half-hearted.
Musically, As Days Get Dark doesn't shy away from sounding old fashioned. Which is a good thing. Nobody wants two blokes in their late fourties to autotune their misery now. It's still the basic formula of Middleton's guitar lines somewhere between slowcore, folk and indie + Moffat's basic drum patterns and harshly self-observing lyrics. But there are some nuances that enrich the usual sparse spectrum nowadays. The epic opener The Turn of Our Bones is not just a metaphorical dance of the dead, there are generous string arrangements or even a saxophone all over the eleven tracks and in general, the songs tend to not just aim for the easiest way out but take their time instead. Apart from that it's Moffat's lyrics that show a wiser version of Arab Strap. The young Moffat always handled his themes like youth, meaningless sex, too much body fluids, sickness, death and despair in extremes. Through his ongoing solo and collaborational works of the past years, he developed the skills of a Bukowski-like poetry. Songs like Fable of the Urban Fox are the logical Arab Strap version of his often more spoken than sung solo works in which Moffat enriched his very direct lyricism with the power of a second or third metaphorical layer. The result can be both: become even more urgent and political or provide a warmer, more embracing and forgiving look on things. Human shortcomings don't age. Lucky us because as a result, Arab Strap are now better than ever. (Henning Grabow)
Stream It: ► Spotify / ► Apple Music / ► Bandcamp
---
Kings Of Leon – 'When You See Yourself'
Sounds like … southern rock charm with an evolved longing for more depth and reflectiveness. 
Look at you. Take a real close look. Kings of Leon certainly had quite some time to do that and are now returning with their eight studio album When You See Yourself. Despite the album's artwork only showing their silhouettes and giving off a very simplistic vibe, the musical content of their new album reflects that the southern rock band from Nashville was far more willing to explore their potential compared to their last studio albums and make themselves seen again in a more genuine way. No need for placing themselves right back in the arenas they have been calling their home for many years now. Especially ever since their beloved stadium rock for the masses took over completely and most of the edges and depth was traded in for a more commercial sound. The newly recorded songs in Nashville's Blackbird Studios are not aiming towards this road again, thankfully, but are revealing a sound which is a lot less polished and elaborate. In fact, Kings of Leon are striving for a more genuine sound. The lengthy and thoughtful tracks might seem more subtle at first, however, they all combine the effortless idea of a promising return that displays more depth for sure.
While the first released track The Bandit might be the only song that is more clearly reminiscent of the band's recent musical past, it is, however, quite an exception compared to the overall tone of the record that is charming their listeners with an unagitated vibe that is often lead by Jared Followill's remarkable work on bass adding a great deal of warmth and bubbly character to the songs, especially in songs like Stormy Weather and Golden Restless Age. Who would have thought that When You See Yourself probably embodies the most coherent sounding songs the band have made in years? Perhaps, it turns out it the peaceful recording sessions did contribute to a more inner peace reflected in the songs as well with Kings of Leon revealing that they 'got through the recordings sessions without any fistfights' – for the first time ever. Hence, the soothing and reflective sentiments throughout the album (Claire and Eddie) that are accompanied by synths (100, 000 People) as well as enchanting string arrangements (Fairytale) turning this new album into a very pleasant listening experience with numerous little details that are waiting to be explored. It is worth it. (Annett Bonkowski)
Stream It: ► Spotify / ► Apple Music
---
Boundaries – 'Maidan'
Sounds like … an intense confrontation with humanity's dark side.
Violence feels like an omnipresent topic in our modern times and although everybody tends to be verbally outspoken about violence not being the answer it surely appears to be a crucial element of human nature. Violence shows its ugly grimace in many different ways – physical, psychological, external, internal. Boundaries' debut album reflects on the many forms of this main theme and puts them into an intense context of bleak post-punk that also offers way more than this genre description might imply. The ten songs on Maidan ride along the musical extremes but the Copenhageners tend to keep it melodic and embrace the beauty of the darkness, similar like the gritty version their fellow Danish colleagues Iceage have to offer. Boundaries feel like they take the best out of groups like IDLES, Slowdive, Protomartyr, White Lies and Joy Division on the brink of turning into New Order and create their own sinister melange out of it.
Erosion is a mighty opener that starts the record with heavy drums and harsh guitars while singer Mads Gustav Grene sings "What you feel like all the time / controls you all the time". Building up intensity is one of Boundaries' key strengths. The final moments of Reeds are a perfect example here. Every now and then a mandolin makes a surprise appearance and guides the remaining melody through a stormy sea of heavy guitars in the hypnotizing Separation Song. Towards the middle of the record A Song On The End Of The World gives the desperate apocalyptic notion of Boundaries even more space as it turns from spoken-words ambient piece into noisy cathartic intensity. The cryptic lyrics offer a glimpse into desolate world-weary stories and leave it up to the listener to combine it with personal experience. The combination of words and sounds leave a bittersweet mark on the listener. "I don't understand how to feel content," Grene later reflects up on the haunting acoustic ballad Indefinite Hours. Boundaries are not reinventing the wheel on Maidan but when it comes to such an essential theme as violence they might not even need to. By designing a musical outlet for negative thoughts, there's something very purifying about this album. It's an impressive first exclamation mark by this the Danish four-piece and a must-listening experience for all fans of life's heavier and darker sides. (Norman Fleischer)
Stream It: ► Spotify / ► Apple Music / ► Bandcamp
---
Altin Gün – 'Yol'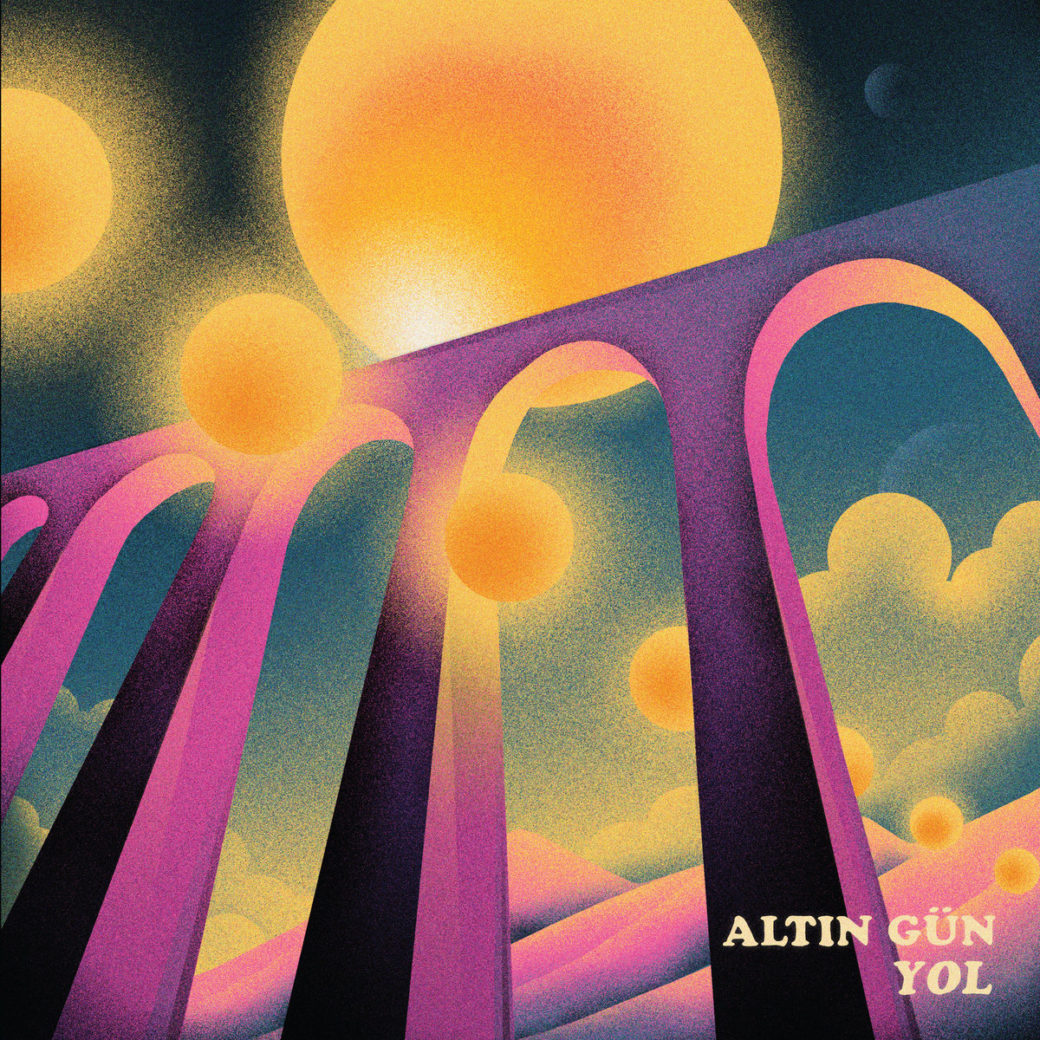 Sounds like … funky Turkish psychedelia meets European synth pop vibes.

The current pandemic is taking its toll on many musicians but it's especially hard for those acts that've been associated with fulminant live shows in the past. In a more normal reality we would be dancing to the irresistibly funky Turkish psychedelic-pop anthems of Altin Gün on various summer festivals in 2021 but in reality we have to stick with our living rooms. Those who have been lucky enough to ever witness the Amsterdam-based six-piece live on stage know what I'm talking about. Altin Gün make music that moves people – physically and emotionally but Corona forced the group to adapt to new recording tactics and that might have affected the music it well; luckily in a very satisfying way. Usually the ongoing touring cycle of the band directly infected the writing and recording process in the studio. The absence of these moments forced the band to trade demos and ideas via mail this time. Compared to its two predecessors Yol does indeed feel more like a studio record this time, maybe also because the band brought in outside collaborators for the first time as Belgian electronic duo Asa Moto mixed the album which surprises the listener with a slicker, more electronic sound that feels like a nod to a more European 80s-infected new wave sound.
At the beginning of the album Ordunun Dereleri surprises with a more laidback and almost melancholic feeling, fitting for the current state of the world. Bulunur Mu brings the funk back into the game while the sound of Altin Gün is riding on a playful synth arpeggio. Vocalists Merve Dasdemir and Erdinç Ecevi are sill doing a great job, moving these songs forward and giving them an emotional depth they need. Hey Nari later takes the sound a bit back to their first two albums while Yüce Dağ Başında is the perfect missing link between the old and new Altin Gün sound. By opening their musical cosmos for new influences the band keeps their songs exciting and the sharper and more reduced production also highlights the brilliant songwriting of the band. Yes, they still know how to deliver funky basslines and a sharp guitar riff but this time the catchy hooks and sensual melodies are even more in the focus. More mellow tracks like Kara Toprak and the smooth R&B-inspired closing track Esmerim Güzelin show a fascinating new facet from these folks and they make you longing for more. Altin Gün are still perfect wanderers between worlds and Yol is a charming extension of that spirit. Hopefully we can sill wonder together with them in the not so distant future. (Norman Fleischer)
Stream It: ► Spotify / ► Apple Music / ► Bandcamp
---
Darjeeling – 'MAGUNA'
Sounds like … a distant memory of a carefree past waiting to be relived.
Like a lot of bands, Berlin-via-Wuppertal trio Darjeeling were stopped dead in the tracks by the COVID-19 pandemic. About to launch on a final leg of touring their sophomore record Hokus Pokus, all of the remaining shows were cancelled, forcing the psych-pop group to head back to the writing desks (where they briefly considered a second career as comedians and sketch authors, of which their 5-part docufiction series All Minor is a testament). Those three months of writing, recording and producing gave birth to what is now their second record Maguna, chronicling the anxieties, melancholies and alienation of spending a year in varying states of isolation.
the first spins of Maguna make for an unsettling listen: rigid beats, droning synths and bizarre samples take the place of the more organic sounds we've come to know from Darjeeling's last two albums. Tracks like Over The Sea or the slightly ironic Darj Christmas revisit the funfair vibes of 2019's Hokus Pokus, but approach them from a nostalgic viewpoint, painting them like distant childhood memories. Not all of the sonic experiments pay off – Read It In The News suffers from its clumsy, one-dimensional production. But even though the new sound hardly yields instant gratification, it occasionally produces moments that have cinematic qualities: Get Away sounds like a sweaty night at a New Wave club, while the 2nd half of closer Bisous could have been pulled from a 80s Tatort set in West Berlin. Standout single Meet You In RL paints forward a possible path forward for the band as it lets futuristic-sounding synthesizers seep into the vintage vibe that permeates the entirety of Maguna. The most telling moments, however, are those where the musical craftsmanship shimmers through – tracks like In My Name or the excellent Noyau with its carefully woven melodies and slick grooves not only showcase Darjeeling's intricate interplay. They also make clear that these songs really belong on a stage to fully blossom; Maguna, very fittingly, can only be a foretaste of what's to come when all of this is over. (Igor Franjić)
Stream It ► Spotify / ► Apple Music / ► Bandcamp
---