For the third time (in one year), we're blessed with a Fred Perry & Nigel Cabourn collaboration. The iconic british brand has only got us used to quality team ups, but we've got to admit that the unique style of Nigel Cabourn's walks hand in hand with Fred Perry's established fashion.
If you're into classic sport/casual look and you like vintage with a fresh look, this collection is made for you. If you don't believe us, have a look for yourselves.
The collaboration celebrates both Fred Perry LTD and Nigel Cabourn Authentic's UK manufacturing roots from the 1950s and the 1970s respectively.
In other words, what one should expect is the ultimate tennis outfits. As we read on the statement:
'For Spring Summer '16 Nigel delved deep into the photographic and apparel archives at Fred Perry to discover Fred Perry and Tibby Wegner's original tennis kits and Fred Perry Sportswear leisure styles that have influenced every detail of the collection. Nigel's personal archive of 1950's British sportswear and his own enjoyment of exercise and training have also inspired this collection of casual clothing'
100% cotton shirts, polos, track pants & hoodies. 100% early '50s designs.
Standouts
The Washed Navy Training Hoodie in 100% cotton for example, has been updated with the oversized appliqued Laurel Wreath logo – true to early 1950's styles. A matching Rid Cuff Training Pant is also available. Sports Pique Shirts in Dull Red and Clay have been inspired by pictures of Fred himself working as a tennis coach. A Sports Pique Crew and High Neck Pullover in 100% Cotton are new standout styles from the collection.
Where and when will it be available
There's no specific date announced on when the Spring-Summer 2016 collection of the special collaboration will kick off. All we got to know is that soon it will be available to selected Fred Perry stores and the online shop. That's all for now. Stay tuned!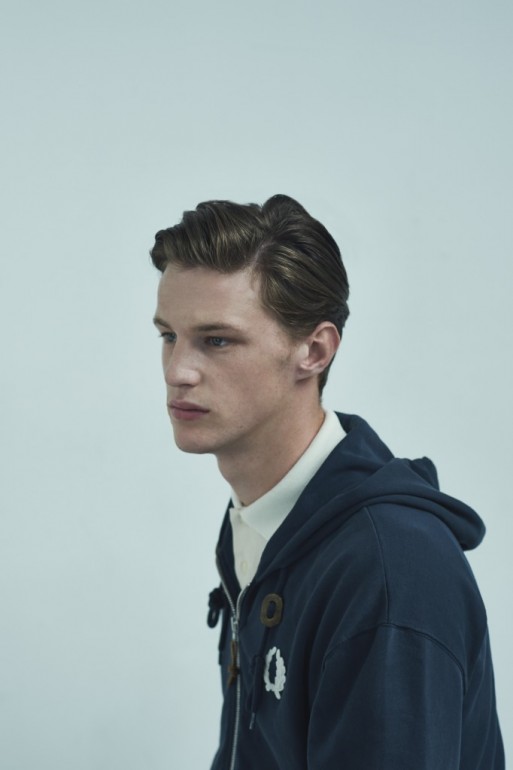 Photos courtesy of Fred Perry.