CTM Festival is everything you think of Berlin: Cold winter nights, long queues, black-cap-black-shirt-black-jeans,  strobe lights, and fog machines, you name it. But CTM isn't just a festival of pure hedonism. Since the late nineties, CTM has blurred the lines between club culture and avant-garde. From established artists pushing boundaries to emerging creators experimenting with sound, CTM is a breeding ground for innovation. Club nights are combined with installations, performances, and a discursive program. In short, CTM is where the weird and wonderful come to play. 
Rather than just reviewing what you missed, I suggest you already block the last week of January next year in your calendar—and learn from my tips and mistakes. Or turn this read into a drinking game and take a shot for every overblown genre definition.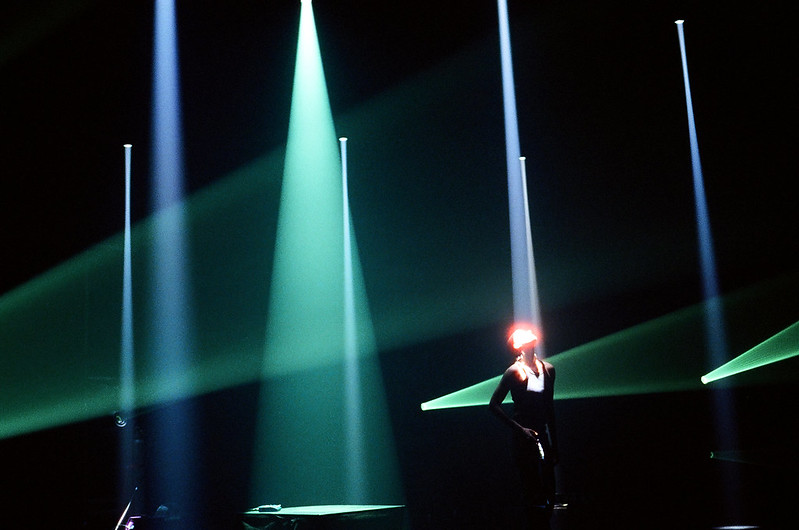 See Acts You've Never Heard Of
I'll be honest, a lot of the names on the line-up didn't even ring a bell for me. But CTM is not the festival to tick off your list of must-see headliners. The festival is about exploring and pushing new musical ideas on both a general and individual level. That means you get the chance to experience unfamiliar sounds that might irritate, intrigue, or blow you away.  
Keeley Forsyth is not on my Spotify On Repeat. Despite this, or perhaps because of it, her performance stood out to me. She had us all sitting on the floor in the main room of HAU2 with only dim lights on the stage. The composer, singer, and actress has clearly put in a lot of training to master her voice and body movements. She was accompanied only by the droning sounds of a portable harmonium and the slow and sparse rhythmic pulses of a grand piano. The stage was in a minimalist set, stripped of anything unnecessary, yet the performance felt ultimately dramatic. Her voice sounds different and unique, using a deep, almost operatic vibrato. Each note carried such depth that I actually felt a sense of relief in each pause. Given the spaciousness, both sonically and visually, there was plenty of room to unload one's emotions.  
Lose Expectations and Prejudices
The curators seem to have completely rejected the idea of booking as many crowd-pullers as possible, and instead focus on promoting under-represented communities and artists who go above and beyond the expected. It takes some guts—and, to be fair, a secure bag of financial support—to reject the usual booking strategies. Getting the biggest slice of the funding cake for the festival and series program from the Berlin Senate for Culture may not be enough to run the whole festival, but it does create some programmatic freedom.
I didn't do much research when I went to see the first part of Christina Wheeler's performance 'The Totality of Blackness Trilogy'. Entering the main hall of HAU2, it took a while for my eyes to adjust to the darkness and for me to see that the audience was already spread out on the many mattresses. There is something spiritual about lying in an almost pitch-black room with another hundred people, strangers, staring at the ceiling. Christina Wheeler's immersive performance work made me lose any sense of space and time. The stretched vocals, hypnotic sounds, and hypnotic visuals never felt overly constructed, but organic and soothing. HAU2's multi-speaker array allowed for an expanding spatial sound design. The experience made for a transcendent meditation I didn't know my Saturday night needed.
Lost In the Mazes of Berlin's Clubs
CTM's program brought an unusual variety to Berlin's beloved techno clubs. From alternative pop to leftfield house, from psy trance to UK bass, you could pick up sounds from just about every genre of dance music there is. In choosing the theme "Portals," CTM underlines their aim to represent genre influences from all over the world, to trace musical roots and to speculate on the future. In their 24 years of existence, they have made it their mission to question the structure and power dynamics within the electronic music scene and to learn from their own mistakes in the past. The effort to create an intersectionally diverse line-up is as obvious as it is necessary. Bringing this discourse to some of Berlin's most established spaces for club culture can only benefit the scene. 
DJ, producer, and co-founder of Kampala's ANTI-MASS party, Authentically Plastic, made his debut with a live set at Berghain that lived up to the legacy of our so-called temple of techno with a great build-up of tension. Influenced by gqom and industrial techno, they created mesmerizing patterns with references to the genre's diasporic roots. In a previous artist talk, they mentioned their playful approach to challenging Western ideas of rhythm and music in general, deliberately breaking the sacred pattern of 4×4 with influences from East African polyrhythms and references to Tanzanian dance music singeli and traditional Ugandan music style kadodi. This led to a few moments when the audience, myself included, didn't quite know how to move our bodies, and a great collective release once we found the beats again.
Despite the rumors, Berghain apparently didn't close its doors at the end of 2022. This doesn't mean that the club scene has fully recovered from the pandemic. While I have made it my goal to avoid the C-word, the pandemic has left most clubs in a fragile state, facing staff shortages, unpredictable crowds, and high running costs. And in times of inflation and recession, you cannot simply pass this on by upping ticket prices. Because of its unique position, CTM Festival has more freedom, but also more responsibility. Responsibility to be aware and proactive about issues within the electronic music scene and to create platforms for lesser-known artists. I just wish there had been a stronger comment on the current uncertainties within the scene. Maybe they didn't want to lift such a heavy weight, maybe it was too close to home, or maybe they just believe in the resilience of club culture, they've probably seen time and time again in the 20+ years they've been running the festival.
No Need to Get Everything
Don't worry if some of the artist bios read more like a Dadaist poem to you. Especially with experimental and contemporary music, it often doesn't make sense to pigeonhole them into one genre, so they mash up everything they're associated with. And don't take yourself too seriously either, because in my experience most artists don't. If you don't really connect with a particular performance, just move on to the next one. CTM fortunately has enough to offer. Perhaps what I like most about the festival is that, although it has been picked up by art critics who usually review opera, it has never been too pretentious about being an avant-garde event. Their program is full of progressive and experimental music that takes some time to get into, but CTM always has an offering of music that's just fun. By bringing in DJs like Tash LC, Hanaby, LSDXOXO or ABADIR dance floor bangers were to be expected. When in doubt, go to Panorama Bar (but that might just be my personal motto).
Learn About the Context
Don't underestimate the emotional power a sound can hold through aesthetic experience alone. But sometimes, and more often than not in experimental music, the context behind the artwork can help you appreciate it (even more). CTM offers a series of artist talks that provide insight into their artistic practice and conceptual framework. Many of these have been streamed online and are still available on YouTube. Yewande Adeniran gave an insightful talk on drumming as a form of communication that cannot be colonized, tracing its spiritual traditions and how it has evolved to be used in contemporary music from techno to grime. The Gen Zs were invited to speak about their connections to and needs from club culture. Authentically Plastic explained their background as an architect and spatial awareness in sound, which they put into practice in their astonishing performance at Berghain, exploiting the possibilities of the sound system to the full. 
And I learned about NZIRIA's approach to combining techno-futurism with folkloric elements from the past. NZIRIA describes their music as "hard, neomelodic song", referring to their idea of updating neomelodic song – a mixture of folk and pop music that originated in Naples in the 1970s – with elements of hardcore and gabber. Styles of music that, to be perfectly honest, sound a bit silly and cheesy to me, but when combined make for an unexpected result. As a queer non-binary artist, they reference and appropriate neomelodic by challenging heteronormative and often discriminatory narratives. During their artist talk they explained how, through their personal musical journey, the connection between the two felt so natural to them, when it might not be so obvious at first glance. Their site-specific performance And then a Flame Rumbled Like an Earthquake at HAU2 was both a deep exploration of their own identity and a political statement. They collaborated with visual artist Bianca Peruzzi and choreographer Franka Marlene. The immersive light effects and dance performances gave the whole show a theatrical feel, almost too constructed and thoroughly planned.
Don't Try to See Everything
Let's face it, the CTM program is a lot, almost overwhelming. Especially if you go for the festival pass, you might be tempted to run from one venue to the next to catch them all. But for me it has never paid off, rather it has made me miss out on half of the sets, making it a lukewarm experience. And get your time management skills up. I made the beginner's mistake of not planning enough time in the queue for Berghain, as a result of which I completely missed Coby Sey's set. During CTM, the guest list/artist queue can easily be longer than the regular one. Festival passes don't get you in any quicker either. So instead of rushing around, fully immerse yourself in the performances you choose and use the time in queues in between as a sort of palette cleanser.   
In short: I have seen a lot, danced a lot, but missed too many shows and hours of sleep. CTM might be the perfect way to submerge into the cold darkness of Berlin's winter and turn it into something memorable and exciting.
Visit the CTM website for a detailed description of this year's program and subscribe to their Newsletter to stay up to date.