This week will be a defining one for the United States of America, no matther whether Donald Trump or Hillary Clinton will win the US Electrions this year. This election campaign has been as unique as it has been ugly. But somehow it also showed us what troubled and heavily divided country the USA are in the year 2016. Sometimes it's hard to understand that vibe from our distant European perspective. Beloved songwriter and filmmaker JIM KROFT bridged that distance once again by travelling through the US over the past weeks, documenting the people and atmosphere in this country in short films and photos via his Journal. For NOTHING BUT HOPE AND PASSION he wrote down his thoughts about the character of the United States these days in the following article.
---
---
I've been seeking the America of the streets, of the bars, the hidden spots, gas stations, chance meetings and random hopscotch conversations. Whether on a golf cart, or where bedbugs crawl, I've been conducting a poll of a different type.  It's a poll created out of the effort to get to know people, and captured at the moment when a fateful moment transforms into a friendship. With great confidence come the reports from news agencies, eager for clicks and traffic, attending yet another Trump rally. But is America truly only understandable in its extremes? Has it really become the parody the news portrays?
The America I've come across is a deeper America, a gentler America. An America deep in its sense of betrayal, and convinced in its need for change. It's voice emanates from everyday people facing everyday struggles. It is convinced of its institutional dead end.  And while it's solutions seem on the surface so polarised and so irreconcilable, there is, hand in hand, quite the opposite. A profound unity of disunity. The sense, to distort Sam Cooke's line, that a change must come.
It does feel America has come to a reckoning. The cancers of the greatest economic giant aren't questions of conjecture –  but sicknesses I have witnessed.
In Cleveland I broke into the now destitute 'Richmond Building' where once 15,000 blue collar workers worked like ants making suits for white collar America. The building was endless & as night came I felt a little scared. Not to be jumped by a junkie, but because in the shadows ghosts played a requiem for the American dream.
In El Paso, an ex-con called Terry was trying to put his life together after being jailed for 'scrapping' – that is tearing apart buildings like the Richmond Building and selling the metal to scrappers, who in turn sell to Chinese merchants – 'stripping bear the golden age of America to fund the golden age of China'.
In Austin I was late for a show and parked the van next to a homeless shelter. After the gig I went back and and was dumbstruck at so many homeless, right there in the centre of town. A cop I'd spoken to earlier warned me in no uncertain terms not to go there at night, but sleeping in the van there wasn't much choice.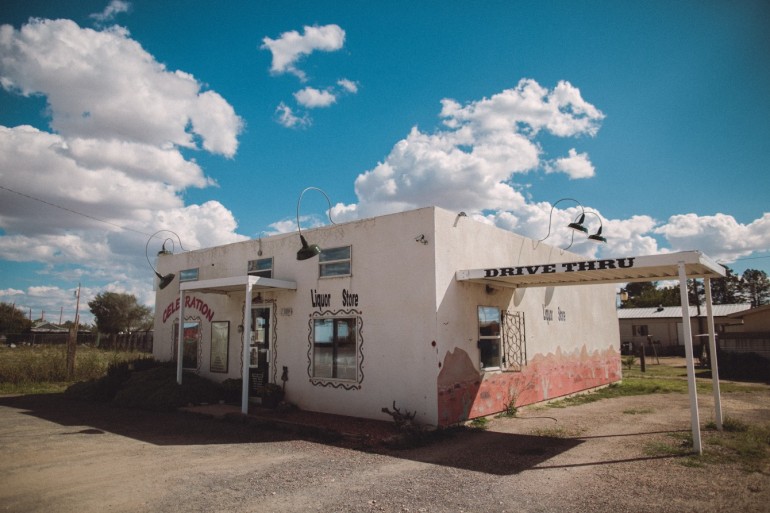 I found myself sitting with Linda who'd had her uninsured home burned down 5 years previously by her husband. At one point she says to me 'whatever you do don't look up', protecting me from a man who carries a blade, a habit, and an even stronger turf addiction. For a moment I felt shielded as one of the community. Opposite, a massive fight broke out across the streets, and we both stared quizzically as college students threw fists at each other. It was a curious spot to witness the divide of America; sat protected by the homeless as wealthy kids beat the crap out of each other- 'they don't fight about anything that matters' commented Linda.
In Charlotte, I attended a fund raiser for the family of Keith Lamont Scott, recently killed by police. The riots had subsided a few days earlier, but the anger had not.  It's in the aftermath that you learn what a people feel, and I had the privilege to sit within a circle of the African Americans expressing their grief by chanting together & composing free verse. Next to me, a young man called 'Visions' spoke passionately at his sense of frustration that society is locked in a never ending cycle of repetition:
'All we do is nationalise and block our expansion into the cosmos.'
Yet the further I have travelled the more I have learnt that America is a composition of opposites. As Pete in Cleveland has learnt while selling 2 million hotdogs – 'Hey man, it's America, we're free to disagree.'  I guess the trouble is that, as college student Steven put it, 'the polarisation is becoming so great that people rush to judgement before being able to listen'.
The election as a choice between the atomic bomb and the neutron bomb
And yet, people are unified by the need for change in America. The frustration is that they don't have a candidate they can trust or who can deliver that change. Don in Harlem, who once cut Tupac's hair, told me  'It's the choice between the atomic bomb and the neutron bomb…and neither of them is the defusing type" Or Texan Andy in Houston 'if they were both on fire in the street I wouldn't piss on either of them'.
I spent the last 2 days in El Paso's 'The Opportunity Centre' speaking to hundreds of homeless people. Many had become homeless because  medical bills had left them without a job or a home. There is something still red in tooth and claw about America. If you fall, a sense that there is no coming back. Descend into society's blind spot and you are done for.  As I leave, a gentle man called Rito puts a rosary around my neck. It reminds me of the grace of these people, and more so, how much they need grace.
What has etched itself in me, beyond the paradoxes, beyond the hysteria, is the gravity of America. Yes there is a land of opportunity. But beneath the veneer is a world that no one wants to talk about, and which you don't hear mentioned in the debates.
At the very time a national debate is so desperately needed, Americans have been robbed of it. It does feel in the midst of a tragedy of sorts. All the issues faced by people – from tuition fees, to medical care, from racial conflict to the decline of industrial America –  are drowned out by Trump's sex life, and Clinton's emails. This country has needed a national discourse and yet has failed itself institutionally. And as such a darkness pervades its people.
However, I have the sense that it has needed to get this bad before something is really done about it. How that happens is anyone's guess. At this point the country does feel stuck. But I'm reminded by Anthony's words as we waited for a Hurricane Matthew to make landfall on Myrtle Beach 'Oh God, can you hear that – its the silence of the wind; and you know the storm is about to hit.'
A storm is hitting America. The question is whether its aftermath will lead to a renewal of its society, or leave a trail of destruction. Yet amongst the gloom it is the words of an old wise man in New Orleans which lives with me. As Mike put it
'I think we're going to make it, as a nation, as a whole…the first black president, and the now it seems like we're going to have the first female president, and I wish her luck in her race…
That was weeks ago. As Trumps polls make a late surge, the election hangs in the balance. As does the fate of America.
American citizens, please click here to register to vote.

—