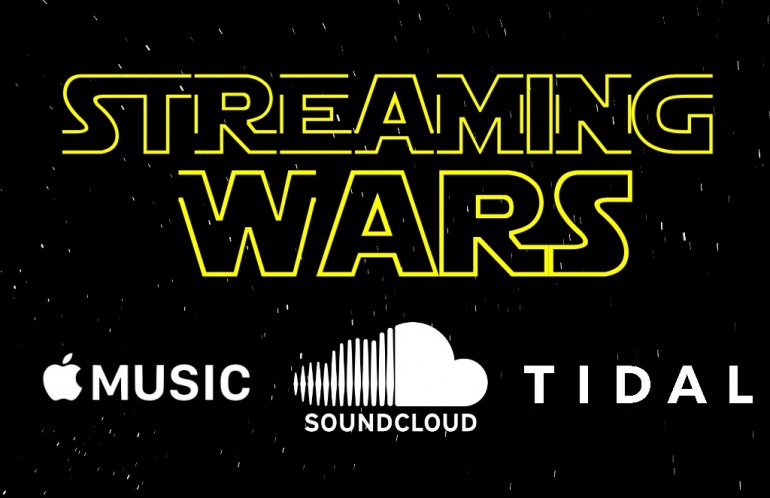 After the launch of TIDAL gave everyone the opportunity to point and laugh at millionaires a few months ago, it would appear that the streaming wars are only just beginning. Apple premiered their contender, Apple Music, at a glitzy corporate conference with the help of DRAKE while leaked contracts appear to show that Soundcloud is readying a move into a subscription format.
While the launch of Apple Music hasn't quite been greeted with the sniggers and scepticism which greeted the star-powered TIDAL, it hasn't garnered the acclaim the company is used to. Instead of the adoration they get showered in every time they release a new gizmo, Apple found themselves in trouble over their attempt to pull a fast one and skip paying royalties during the service's three month trial period. This went down badly with independent labels and artists (Anton Newcombe accused them of some pretty brutal strong-arming) and even provoked a telling-off from TAYLOR SWIFT, which is such a PR disaster in modern society that it could only really have been worse if they had pushed the Dalai Lama down some stairs and deleted his non-iTunes MP3s. Apple u-turned at top speed and announced they would pay musicians 'even during customer's free trial period'. How generous (that's sarcasm, you get that, right?).
Apple Music is your dad's favourite new streaming service
So what will Apple bring to the game? There is one potentially significant thing. To a large chunk of the younger music-consuming population, Apple are an unpleasant but unavoidable part of modern music, prone to acts of sheer sadism like putting U2 albums on your phone. For an older sector of the market however, Apple are a trusted name. Your dad (and apologies for stereotyping here), for example, who has finally figured out how to use iTunes after an epic decade-long struggle, has no interest in listening to the three LED ZEPPELIN and four BEATLES albums that comprise his entire musical consumption on Spotify, Soundcloud or any other new music thingy he has never heard of. Should Apple bring out a new service, he might be tempted to give it a try.
However, despite the various new features Apple Music will offer (like a social network and a radio station featuring former BBC presenter Zane Lowe), it's difficult to see any real reason for a mass switch from existing services to Apple. The reason that Apple achieved such an overwhelming monopoly on digitalized music was that they were the first big name to accept that the switch to MP3s was inevitable and to offer a service that was easy to use and had an air of respectability (unlike Napster). This doesn't hold for streaming: Apple doesn't seem to be offering very much that Spotify doesn't, so why change? And ultimately that may be where this trend ends up, with Spotify customers generally tending to stay put while Apple attracts people who are new to streaming.
Streaming places the financial burden and risk squarely on the artist
The situation with Soundcloud is different, because it does genuinely offer something that Spotify can't. It's simply the easiest tool for sharing music out there; it's free, easy to embed and doesn't need an account to listen to. For example, when a track is shared on a webpage via Spotify, it requires the listener to have an account, to log in to that account, open up a new page and so on. These are the ultimate first world problems, but still the reasons why every music website (including this one) primarily uses Soundcloud to share new music. The problem is that it doesn't make money, and it has to figure out a way to do that without compromising the features that make it popular in the first place. Seeing it simply switch to a subscription service like the others would be a disaster for those who use it to share music and musicians starting out who use it as a promotion tool.
Essentially, aside from a more crowded marketplace the streaming wars don't seem to be on the verge of drastically changing the way we listen to music. However, the 'no-royalties' policy Apple backed down on does show that in the streaming game the general policy is to place the financial burden and risk squarely on the artist, instead of the company that stands to profit if it works out . Companies get to sell their service, we get to listen to music on the cheap, and artists end up with the rough end of the deal (in this case $0.001128 a stream). It's not just a flaw in the streaming system (the traditional major label contract doesn't work in an era when there's less money in music than ever), but it seems that if you want to support your favourite band buying a record or going to a show will do more than streaming, no matter how many times you whack the repeat button. If Apple as a company who earned billions of dollars last year won't make a start we surely don't know who else could.
—