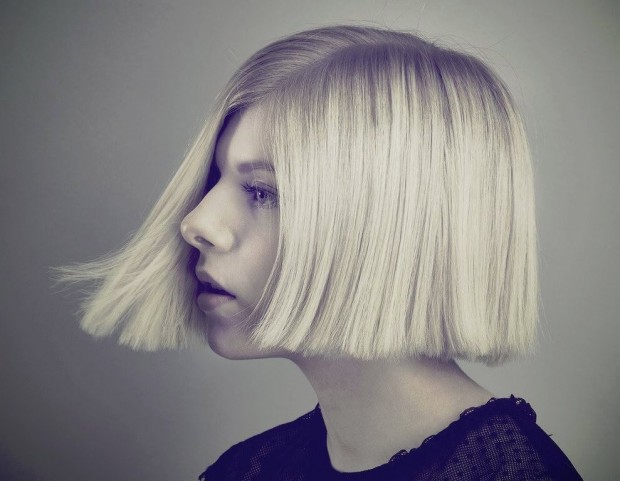 If you know NOTHING BUT HOPE AND PASSION you know that we always have our eye on up and coming acts, especially when they come from the Nordic countries. Although being only 18-years old Norway's AURORA seems to have all the potential to become an acclaimed ambassador of Scandinavian pop music. Following the footsteps of performers like LYKKE LI or SUSANNE SUNDFØR the young lady combines epic pop tunes with a dark twist. No surprise since AURORA  grew up listening to classical music, as well as BOB DYLAN. Mixing a good tune with big gestures – that's her style. Find out about a few more things right here.
How would you describe your music to a deaf person?
I would make a painting. With a lot of black and blue like the deep sea. And then add a steam of light cutting through the dark colours. I write a lot of dark songs, but they often have some kind of light in them. And maybe I would draw my own face as to explain that my music will also change as I change. It's me.
If the music of AURORA would be place or a certain landscape how would it look?
If Aurora was a place it would be a dark magic wood. One of the forests from the Lord of the rings. At least it would be a dark forest.

Would you rather be a dragon or have a dragon?
I wouldn't like to be a dragon. I wouldn't like people being afraid of me. I would definitely have a dragon, call HER Septimus and ride her to the studio every day.

As a Norwegian we have to ask you… what's your favourite A-HA song?
Not a huge fan, but I know them of course! Hunting High and Low is the favourite.
If you could have an alternative job – what would it be?
Well before all this happened I wanted to be a scientist or a children psychologist. I'm curious about a lot of things, and it would be wonderful to be a part of finding the answers. And working with people having a position where you can help them would be amazing. I'll try to do that with my music.

Tell us something about Bergen we didn't know so far?
Well, Bergen is not as rainy as they say. We have sunny days as well. I prefer the grey days though. They are really beautiful. Like the calm, wize, grey eyes of an old person.

—
AURORA