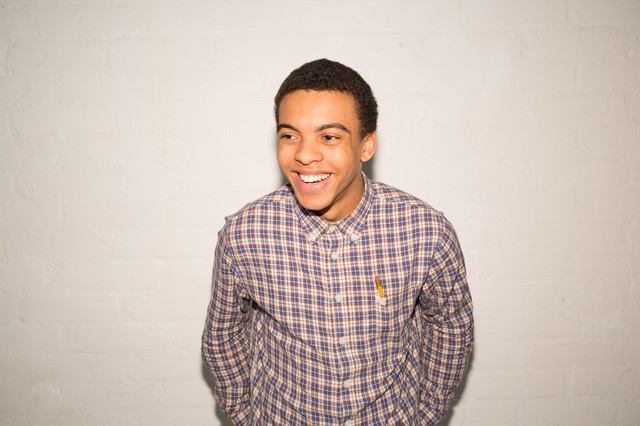 Rap's not necessarily what you would connect with the Finnish music scene. On the other hand: Why not? The 19-year old NOAH KIN is about to change that anyway. At his young age he already released his first record Now You See, opened up for acts like WHIZ KALIFA or KENDRICK LAMAR and his appearance at this year's Flow Festival must have been a decent blast we hear. We sat down with this exciting guy who MTV calls the next big thing in hip hop – read what he had to say about his music, influences and dragon-bros right here.
MTV says you are the next big thing in hip hop. What makes you being the next big thing in your opinion?
I think I have a story that can really be translated to people globally, because it's just real emotions and thoughts. That's my guess. Being a real and genuine human is pretty much the most universal thing in the world.
Which hip hop artists would you call your biggest influences? Which artists outside hip hop influence you too?
Well, KANYE WEST has always been my biggest influence, but there's others too like TRAVI$ SCOTT, PHAROAHE MONCH and CANNIBAL OX. Influences outside hip hop range widely from 70s progressive rock like YES and APHRODITE'S CHILD, through the fallouts of the early 1980s goth-punk scene all the way to modern electronic music. In other words, I'm really influenced by everything.
What would your dream collaboration be?
Dream collaboration, hmm.. .I'm gonna have to say KANYE WEST like always, because that's like a huge dream, but also guys like TRAIV$ SCOTT. I'd also like to work with MOUSE ON MARS and BEN KHAN, to name a few.
What does the future hold for you?
Whatever I cast into it. Deep, huh?
Would you rather have a dragon or be a dragon?
I already spit fire, so I guess a "dragon-bro" would be cool, haha.
Would you rather have legs the size of fingers or fingers the size of legs?
Wait, what? For me 'leg-sized' legs are vital, so I'll have to go with leg-sized fingers. This is messed up.
Would you rather whisper or shout for the rest of your lives?
Whispering is mad sexy. Whisper, hands down. All my songs would sound like the YING YANG TWINS, haha.
What was your 'The Moment That Everything Changed?'
That's hard, I have a lot of these. Not necessarily when everything changed completely, but like moments where I'd think 'this is some next level shit'. But I guess when I played Flow Festival this year, we packed the Black Tent! I have no idea how many people that is, but it was a lot. That's when I thought 'this is some next level shit', knowing that more 'levels' are abounded.
How would you describe your sound to a deaf person?
Has he been deaf all his life? Or did he lose his hearing at like a MY BLOODY VALENTINE show? Either way, heartfelt words from a sincere guy over some futuristic and booming production. I'm terrible at describing my sound to people who can hear just fine so this is even worse.
And last, what do hope and passion mean to you?
Hope and passion is a big part of me as a person. I'm a dreamer and everything I put my mind to, I put my heart and soul, too.

—