Nudie Jeans started was founded in 2001, in Gothenburg, Sweden by Maria Erixon and Joakim Levin. A lot of things have changed since then, but definitely not their passion for denim. While reading about the company, I stumbled upon the story of the brand and there were some words that really got me. More specifically, Maria writes: "Nudie Jeans was a dream about not having to compromise. It was a dream about bringing consideration for the environment and human rights into every aspect of the production".
While still thinking about the high standards and the motives of Nudie Jeans, I compiled a list of questions for Germany/Austria/Switzerland's Nudie Jeans Communications Coordinator Lukas Korschan, who was kind enough to give us an insight on this truly intriguing denim brand. Read below to find all about the story and the values of the Swedish jeans superstars.
How did Nudie Jeans start?
After working in the denim industry for long years, original founder and today's creative director Maria Erixon started Nudie Jeans with core vision of creating beautiful jeans made in a socially and environmentally responsible way. Starting from the raw materials and processes used in production, and the social consideration for all persons involved in the production of our jeans, up to how to wear and tear, as well as repairing and recycling post purchase. Ultimately, Nudie Jeans was born out of a dream not to compromise and this is something we still live by today.


Don't get me wrong, but what's the difference between a random pair of jeans and Nudie Jeans?
I think there are probably no jeans that age as beautiful as a pair of Nudie Jeans. There is a reason why a majority of people always refers to Nudie Jeans as the jeans one should not wash to give it the most beautiful look. Until this day, our core in denim is definitely still a dry one. A blank piece of paper, the person wearing has to fill with life and attitude. All the scars and ripped parts become evidence of one's individual journey and by this kind of means wearing like a second skin. And apart from that appreciation for a jeans and making every human being look sharp as a knife in it, every Nudie Jeans is made from 100% organic cotton and manufactured in a responsible way.


"We're not looking for fly-by-night fads – our inspiration is found far from the world of glamour and catwalks".
It feels that jeans are more than just trousers to you. What's the philosophy behind Nudie Jeans?
Our core DNA and philosophy hasn't changed since day one! That's the reason why with every pair of Nudie Jeans across the world comes with a little booklet stating: WE LOVE JEANS. A passion we share with anyone who mourns a worn-out pair like the passing of a close friend. No fabric ages quite as beautifully as denim; the longer you wear your jeans, the more character and attitude they acquire. You shape them with your lifestyle, and they become like a second skin. Nudie Jeans will always stay true to this concept of jeans. We're not looking for fly-by-night fads – our inspiration is found far from the world of glamour and catwalks.
Besides that, Nudie Jeans does not just offer jeans. Without making it sound to deep, we are trying to offer a way of living, thinking and consuming. With Nudie Jeans, we try to support sustainable consumption with the same importance than sustainable production. This is the reason why our credo – the Nudie Jeans "Eco-Cycle" – says: Break-In, Repair, Reuse, Recycle. Summed up in a few words that means: buy a Nudie dry denim jeans made of 100% Organic Cotton. Wear it, tear it, love it and do not wash it for at least 6 months, in order to break it in and let it become your second skin. If it cracks – do not throw it away! Take it to one of our repair shops and get it fixed for free. If the love is gone and you want to get a new pair instead, cool – just leave your old jeans at the store and get 20% discount off your new one. Your old pair will be collected and later on recycled.
If you own a pair of Nudie Jeans or you mean buying one, you can find all about the repair kit & the repair shops on their website.
Do you only design jeans?
No – we do not only create unisex jeans but four full men's contemporary collections every year: two main- and two pre-collections. Over the years our tops, jackets, and accessories became definitely one more than just "something to wear with our jeans", but a rich conceptual collection each season.
In which parts of the world do you produce?
Over 90% of our jeans are being made in Italy. Overall the majority of all our products are made in Europe – with Italy and Portugal being the main manufacturing countries. Besides that, in 2012 we started our backbone collection – consisting of basics like T-Shirts, tanktops, and long sleeves – which is fully made in India, within the Armstrong Knitting Mills – our first and only Indian supplier. The backbone collection was part of a FLO pilot project that aims towards an extension of fair trade standards in India. Today we integrated it into our mainline, and 68% of our tees, 25% of our sweaters and 100% of our underwear for Fall 15 are produced there under fair trade conditions.
You can read in all detail where we produce each product and get info on all our materials as well as suppliers in our online production guide. Even if we still have some goals we want to achieve in terms of becoming even more sustainable – we are constantly pushing ourselves innovatively to communicate our transparency and traceability efforts to our customers in a fluid and interactive way.
"Everything we do gets perfectly summed up by our credo or so-called Nudie Jeans "Eco-Cycle": Break-in, Repair, Reuse, Recycle!"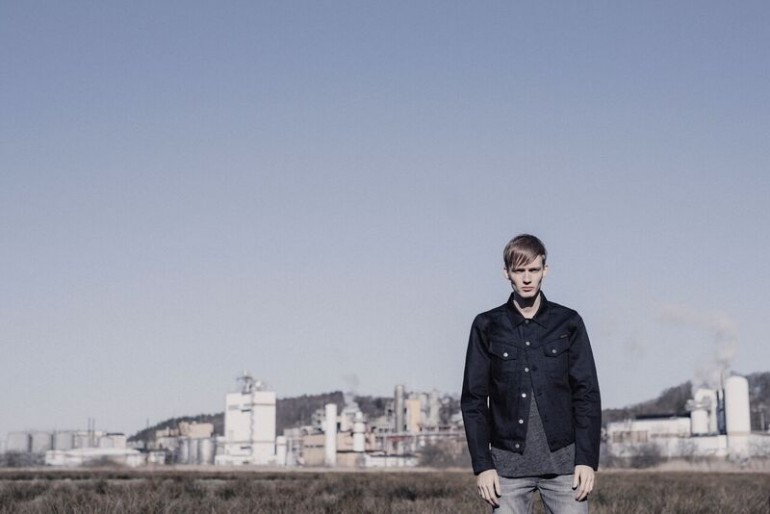 You produce all around the world and it's no secret that the world economy is not at its best. I'm always very interested in knowing whether that's having an impact on the fashion brands or not. Has the financial crisis affected Nudie Jeans?
To my knowledge, Nudie Jeans, as a company was not heavily affected by the European financial crisis to a large extent. Of course there are always challenges presented as in the case of everyday life and it is not a secret that the retail landscape is changing these days, but with being founded only 14 years ago, we are still a young company and kind of sprouted in times of this change. In fact, we are happy to still grow rapidly despite a financial crisis and quite a challenging denim trend. Maybe the current state of mind is even one factor for our growth since especially in these days consumers get increasingly more interested in sustainability and responsible consumption concepts.
What should we expect from Nudie in the near future?
In the near future we are looking forward to opening more repair shops across the world (so far there are 20, with our New York repair shop being the latest addition to the family). In addition to that we are always trying to find new ways to recycle our old denims. So far we have launched recycled denim rugs, camping chairs or created new jeans out of our recycled denims. However, we are constantly trying to find new creative and useful approaches and have a number of interesting recycling and limited edition denim projects in the pipeline – which is a lot of fun. Apart from that we still create four full collections every year, so we definitely never get too bored…
There is one last question for you. 
Our motto is "Nothing but hope and passion". What's yours?
As already mentioned before – everything we do gets perfectly summed up by our credo or so-called Nudie Jeans "Eco-Cycle": Break-in, Repair, Reuse, Recycle! "Nothing but jeans and passion" would be very cool as well, though… Do you have good lawyers?
—
All photos courtesy of Nudie Jeans. Find more about the brand on their website.