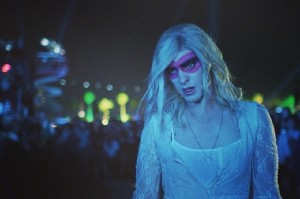 Indie music superstars ARCADE FIRE are back with a new music video for the track We Exist. It's the latest single off last year's longplayer Reflektor. And it comes with a really terrific little movie that was partly shot during the band's recent Coachella performance.
It stars acclaimed British actor Andrew Garfield aka Spiderman himself as the protagonist. And his participation really stands for great acting – including shaving his head and dressing up as a drag queen. But basically it's about freedom and idenity. And way more – watch the epic new ARCADE FIRE video right here.
[youtube id="hRXc_-c_9Xc" width="620″ height="350″]
German fans can watch the music video right here.
—