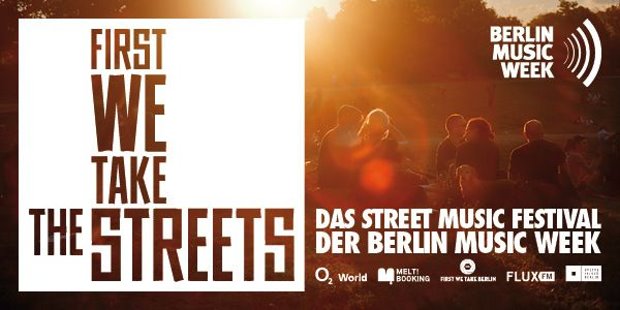 This year's Berlin Music Week will feature a brand new free event for all newcomers who want to present their music to a bigger audience. First We Take The Streets. Every interested band or artist can apply right here for a slot during the event on September 4 and 5 in Berlin. Artists will perform between 3pm and 9pm on various stages on the street between Berlin Music Week's conference and festival centre, the Postbahnhof, and the famous East Side Gallery. It's the perfect concept to bridge the daily conference program at the conference with the evening events at the First We Take Berlin. The latter will feature performances by acts like KINDNESS, GLASS ANIMALS, AMATORSKI and more. Find the full line-up below and more infos right here.
Curators for the First We Take The Streets main stage will be indie-folkers MIGHTY OAKS. You can find further accredidation details right here.
First We Take Berlin – Line-Up
ZOOT WOMAN, WANKELMUT, KINDNESS, M.A.N.D.Y., SINKANE, MIKROBOY, MARATHONMANN, GLASS ANIMALS, ELIZA AND THE BEAR, HIGHASAKITE, ALICE BOMAN, AMATORSKI, AS ANIMALS, ATLANTER, AURORA AKSNES, THE BARR BROTHERS, BLACK YAYA, BLAENAVON, BOEOES KAELSTIGEN, BRETT JOHNSON, THE BUSY TWIST, CATFISH & THE BOTTLEMEN, CRASHCAPTAINS, CRISTOBAL AND THE SEA, DJ SUPERMARKT, DJ T., ELENKA, EMIKA, FICKLE FRIENDS, FLYTE, GENGAHR, GERMAN BRIGANTE, GWLT, HEISSKALT, HEY ELBOW, HVOB, JAAKKO EINO KALEVI, KONVOY, LARY, LOT, MAS, M.R. J.A.H., NILS HOFFMANN, NOAH KIN, NORMA JEAN MARTINE, OY, PHORIA, PHOX, PIMF, PURPLE FERDINAND, RACING GLACIERS, ROLAND LEESKER, RÜFÜS, SEINABO SEY, SIVU, SUVI, SOAK, SOUND BOY ROCK, SWAY CLARKE II, TALISCO, TAYMIR, THE LEGENDARY TIGERMAN, TROPICS, TÜSN, VANCOUVER SLEEP CLINIC, WALDO THE FUNK UND DÖLL, WALDO, WERKHA, WOLFMAN, WYE OAK, ΩRACLES
Tickets
Get tickets for First We Take Berlin on firstwetakeberlin.de. If you have a 48h ticket for Berlin Festival, First We Take Berlin is for free.
––
NOTHING BUT HOPE AND PASSION presents this year's Berlin Music Week, Berlin Festival, and First We Take Berlin.