Björk releases 360° video for 'Stonemilker'
Back in March the almighty BJÖRK shared an impressive 360° video clip for Stonemilker, a song off her recent album Vulnicura. For the past months you could only experience it live during her exhibition at MoMA PS1 in Long Island City and in the the Rough Trade shops in New York and London. But now, thanks to Dazed, you can actually watch it at home. Well, if you have the proper Browser for it. You can interact with the new BJÖRK clip by dragging around the window. Experience it below.
---
---
Stars share 'No One Is Lost' music video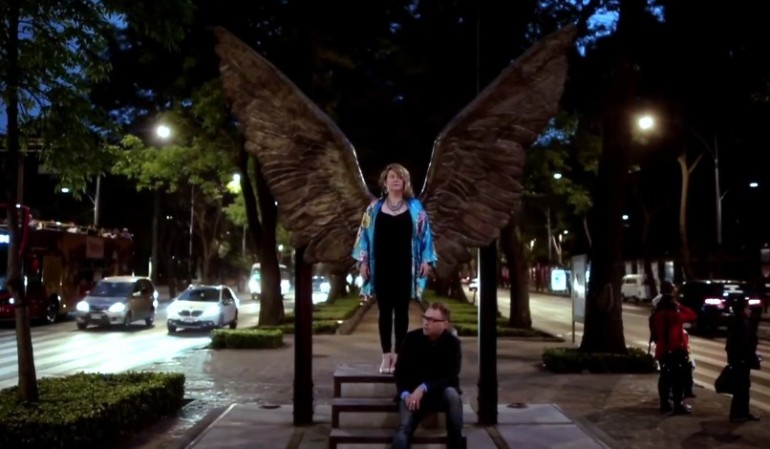 Canadian indie-pop STARS premiered a music video for the title-track off last year's seventh studio album No One Is Lost. And although the band is not really fan of shooting music videos they found a way to work around the problem. Instead they they made a little movie as they told Billboard: 'Our little movie is about time, and how fast it passes, and whether you should keep doing what you do until you die, or try something else before it's too late,' explains lead singer Torquil Campbell. He continues: 'You will see some lovely footage of Mexico City, a couple of semi-hilarious/semi-depressing conversations, and Amy channeling Meryl Streep.' Watch the really wonderful new STARS video right here.
---
---
Shura returns with epic new single 'White Light'
Crafted British synthpop newcomer SHURA unleashed her latest funky single called White Light. It's grooving piece of Balearic power pop that is over seven minutes long. If you are not familiar with her work please enjoy our big interview feature with SHURA from earlier this year. Listen to White Light below.

---
---
Jamie xx performed 'Loud Places' live with The xx bandmates
British producer prodigy JAMIE XX just released his really satisfying solo debut In Colour and just did a first TV performance for its lead single Loud Places at French TV show Le Grand Journal. And even better – Jamie was joined by his THE XX band mates Romy Madley-Croft and Oliver Sim for the event, basically making it the first band performance in a long time. Stella from WARPAINT was also on drums and the Une Chorale Gospel Parisienne joined the performance as well. Witness it in all of its beauty below.
---
---
Omar Souleyman unveils Four Tet-produced track 'Bahdeni Nami'
Always cool Syrian pop crooner OMAR SOULEYMAN released the title-track off his forthcoming album Bahdeni Nami. The track was produced by none other than FOUR TET. The new OMAR SOULEYMAN record arrives via MODESELEKTOR's label Monkeytown Records on July 24.
---
---
Braids premiere 'Miniskirt' music video
Canadian synthpop three-piece BRAIDS has shared a music video for Miniskirt, the lead-single off their latest studio album Deep In The Iris. It features lead singer Raphaelle Standell in a dark-twisted fairytale. Earlier this month she also wrote a piece about her favourite album of all time for NOTHING BUT HOPE AND PASSION. Watch the new BRAIDS video right here.

—