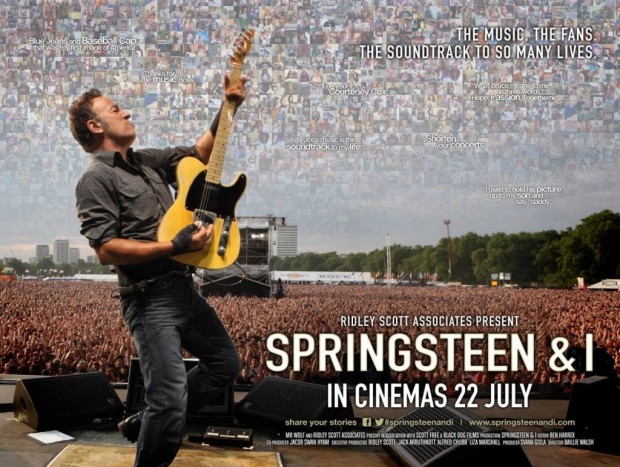 We are here for one reason. Because you are here.
'We are here for one reason. Because you are here.' With these words the 77-minutes homage to one of the most successful rock musicians ever starts. The Boss, the Working Class Hero, BRUCE SPRINGSTEEN. 'Can you feel the spirit?', he asks, pacing up and down the stage, turned to the audience in his typical manner.
If you experience a BRUCE SPRINGSTEEN concert, it's hard to not feel the spirit. With his blue jeans, his obligatory waistcoat and his shirtsleeves rolled up, he became the master of the working class, singing about the daily life of hard working people, about anti-heros, and about small-town love.
Whenever BRUCE SPRINGSTEEN stands on a stage, raises his arms with thousands of people in front of him doing the same, he conveys that this is the most important thing – the common experience, the joy, the spirit, the people. SPRINGSTEEN always gave them the feeling that he is one of them and in the documentary Springsteen and I the fans get the possibility to give something back to their idol. They were asked to shoot a video of them explaining, what The Boss means to them and sending it in. Hollywood producer Ridley Scott and director Baillie Walsh turned the material into a film, which was shown on 22 July 2013 in 50 countries.
In 2010 Ridley Scott produced the documentary Life in a Day with a similar pattern, asking people all over the world to send in scenes of what happened on July 24, 2010, in their lives. So he knows how moving it can be to watch a stranger telling his personal story and sharing one moment of his life with you. Beyond that it's of course a very cheap way of producing.
Anyway, the BRUCE SPRINGSTEEN fans did not have to be asked twice to share their emotions and memories. The film, that has come of it, is touching – you can't help admitting that.
Our motto NOTHING BUT HOPE AND PASSION could also be the motto of any SPRINGSTEEN fan. These words – hope and especially passion – are spoken again and again when the fans express what the rockstar means to them. SPRINGSTEEN's lyrics make him feel like he is going through a family photo album and like he is able to feel this family's sadness and triumph, says a man before he starts to cry.
Others show mementos and relics of their admiration, they tell of encounters with SPRINGSTEEN on the stage or at a spontaneous street concert and some just want to say thank you. In between there is footage of concerts, from very old black-and-white clips to big shows like at Roskilde Festival 2012.
In the end you have the feeling that you not only got to know his fans but also BRUCE SPRINGSTEEN himself a little better. On September 23 he turns 65 years old. Let's hope that hope and passion will be the oil of his musical motor for a long time so that he can bring those things into the lives of his loyal fans as well.
If you want to feel the spirit you have the chance on March 29 when Springsteen and I will be broadcasted at 10.35pm (CET) on ARTE. Watch the trailer below.

—