The music industry has undoubtedly mastered the art of pushing away even its most faithful lovers. On the pathway to success, the music business can quickly become deceitful, forgetful of where the whole system stems from: the passion for music. After a whirlwind within the hectic, more ruthless side of the industry, British songwriter James Page, aka Sivu, retired from the scene to start a new, slower life in Cambridgeshire: He started a family and completely abandoned the world of songwriting – or so he thought. With the silence and stillness brought by the first wave of the Covid-19 pandemic, indeed, the music started to flow out of Sivu.
"I had this little studio at home and at some point I just started to go upstairs and tinker on things, playing around… and then these songs started emerging… I guess subconsciously, in the back of my mind, I already started making that decision to write an album."
Unexpected like a summer storm, Wild Horse Running shook Sivu's world and resulted in a deeply liberating, cathartic experience – there were no expectations or pressure of any kind: "I was thinking about that kind of image: what is the most connotation of freedom and power? And that horse just seemed to really fit how I felt about the record – this free space to do whatever I wanted", he explains.
Switching Gears
Having parted ways with his major label after his first album Something On High (2014), he recognises now that his second album Sweet Sweet Silent (2017) was connotated by the tendency to go the exact opposite direction: from a heavily produced record, Sivu crafted a stripped down, acoustic album where his guitar could steal the show.
As if confirming what now seems to be a rule, Wild Horse Running's writing process was nothing like the previous two: bored by the idea of sitting on an acoustic guitar, James started to play around with synths and drum loops and eventually built on these new, exciting sounds in the studio with his friend and long-time producer Charlie Andrew. "It was really fun, a completely different process ⟮compared⟯ to how the other two albums came together. You know, in some part of my mind no one would ever hear these songs, so it was purely me indulging my musical brain."
Merging folky guitars with more electronic sounds, every track on the album seems to follow specific innovative urges, escaping the traditional way of songwriting: Sivu confesses, indeed, that the melodies and the lyrics came a lot later, which was not how he had been writing music for the entirety of his career. "Hopefully you can tell that there's an era of moving forward, which I wanted [for this record]."
Bound To Happen
Surprisingly enough, though, James did not know the value of his work right away. When Charlie Andrew first reached out to him during lockdown asking what he had been up to, he was reluctant to share with him the music he had been writing. "I knew what that meant… I knew what would happen once I went down that road", he confesses. Yet, art cannot be stopped, and once James made up his mind everything unfolded quite organically. Charlie's enthusiasm and a new manager put the fire into Sivu to finish off the album. "I feel in a really good place with it all now. I've got an amazing team of people around me that are on the same page as me. No one is sitting here expecting me to tour for six months."
The absence of pressure can be heard throughout the record. Experimenting with new sounds, Sivu let dance and electronic music inspire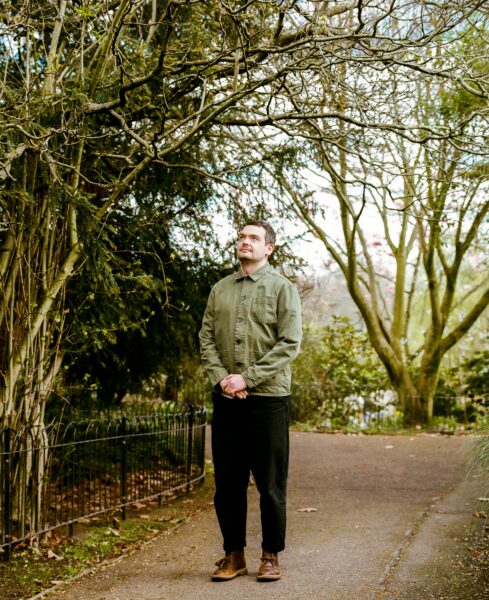 him. "I was listening to a lot of Hot Chip and LCD Soundsystem", he recalls, "But also Subtract and Björk. Her music is always a grounding place for me". On a quest for a more driving sound, he slowly departed from the safe place of quietness his music had been resting in and brilliantly devised Wild Horse Running.
"These are songs you can tap your foot to and move a little bit, which I've never really had before. It's always been very insular, the kind of music you sit down and listen to. There was something quite fun about the idea that people who come to show could actually slightly move their hips"
Directly Inspired By The God Of The Arts
The lead single from the record, Apollo, came to Sivu in a strange yet undeniable way. Working on the same loop for hours, experimenting with unusual drum beats and the bassline that would then be the spine of the single, he started humming random words on top of the music. "Apollo was one of the first things that came out, and it came out of nowhere" he recounts. Sivu immediately knew that was going to be the blueprint of Wild Horse Running: according to Greek mythology, indeed, Apollo is the God of art and culture. In Sivu's art, alluring vocals depict the addictive and undeniable relationship between the artist and his work, still shining bright through the nausea caused by the worst side of the music business: "All that strain / All it takes / All that fame / All these stakes / ⟮…⟯ Contemplating the pain / As it grows / I crawl from where nobody knows". With a newfound sense of confidence, Sivu tells us that nothing could get in the way of his music anymore.
"There's a thread through the whole album where there's a sense of a higher power, in terms of freedom. I had no pressures on me, no expectations. I put some character and a bit of cockiness into it.  That's so opposite to what I'm normally like. It was quite fun to play with that kind of character… Eventually 'Apollo' became this creative kind of monster".
Lucky In Love
Naturally inspired by the new life James created for himself after wanting to give up music forever, Wild Horse Running explores the themes of human connection, fatherhood, and love. After joking about how becoming a parent is seen as an extremely uncool thing for a musician, James reflects on how fatherhood has actually inspired him like nothing before.
"Becoming a father put so many things into perspective. The aspirations I had before become secondary. Obviously there was an ego battle with that as well – realising I'm not my own priority anymore. Touring for a month has to be considered now, whereas before I wouldn't think about it. It just really made me question what's important and what is not. And from a writing perspective, it definitely had a huge impact on how I am feeling emotionally. It made me incredibly sensitive to things"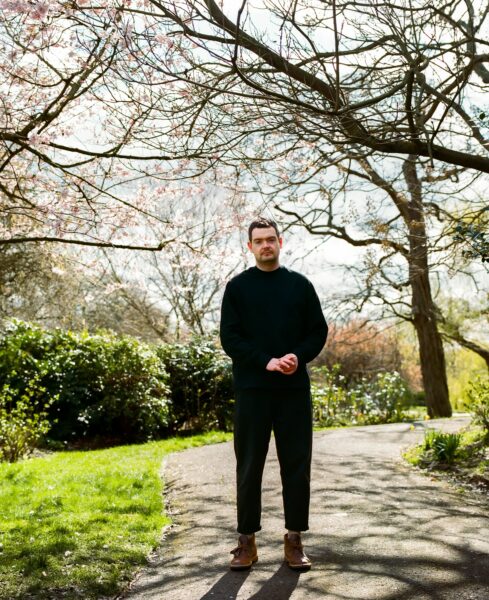 Recalling the Four Leaf Clover Love from his sophomore Sweet Sweet Silent (2017) in the track Afterglow, Sivu further elaborates on the love he has been surrounded with in the last few years. "Four Leaf Clover Love was this idea of falling in love with the feeling of being lucky. Afterglow still is me knowing I'm very lucky with my life, knowing that things are alright and that they're going to get better."
Ménière's Disease
Being diagnosed with Ménière's disease after his first album, James had to come to terms with the symptoms of a hearing-impairing disease, especially life-changing as a musician. Chronicling this struggle in his sophomore album, Sivu reveals how the whole experience affected, in the long run, Wild Horse Running: "I took a break, you know. I had all these reasons not to do music anymore". But then, during the pandemic, some light came through: new findings and research on hearing aids gave him a new sense of empowerment, reflecting on Wild Horse Running as well.
"That was real fuel. There's an element of hope in this record."
Able to now enjoy another kind of hopeful freedom, Sivu made a decision not to dwell on Ménière's disease anymore and to move on. "As a condition in this record I decided I was going to park [the topic of the disease]", he explains, "I didn't think everyone would want to hear me do another record about it and I didn't want to sing about it anymore either, so 'Wild Horse Running' felt like the right chapter to come to terms with that sense of self-loathing, to push it to one side and keep going". Everything was falling into place: a new manager, new hearing aids, Charlie's visions on the record's production. "It was all just kind of aligned and it was a beautiful thing", he smiles.
Where Do We Go From Here?
Circling back to the deep love for music that should propel the music industry in the first place, Sivu's main goal is now to serve the music and to find the right settings for Wild Horse Running. The plans for the future certainly do not include going back to the sweeping rhythm of a full-time career in the music industry. "I would like to do some more shows, especially now that we have a full band set up. I just want to do really intimate shows, speaking directly to people that really listen to my music".
Now purely committed to what feels good, without any commercial pressure of sorts, James admits that it all comes down to what aligns with the record and its grounding principles – creating art in the name of emotion and beauty.
All photos by Em Marcovecchio.
Wild Horse Running is out now via Square Leg Records. Get your copy on Bandcamp.