S. Carey – 'Hundred Acres'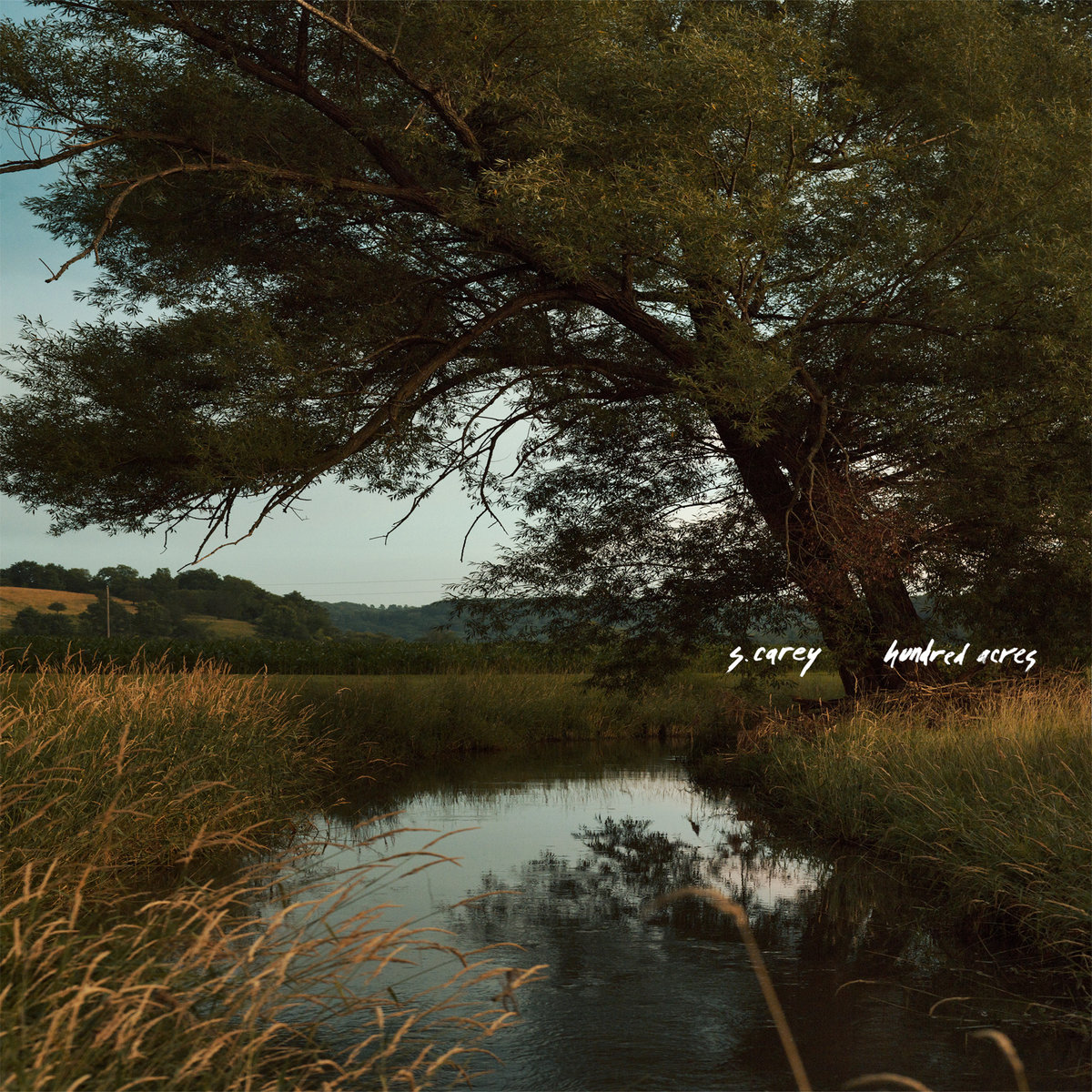 While Bon Iver recently moved their folk further into the future, one member decided to go the other way. The result is one of 2018's first great albums.
What makes life liveable in these troubled times? What do we actually need to get satisfied? Sometimes the solution can be a simple one. 'All we need is a hundred acres and a row of seeds' is one answer songwriter Sean Carey delivers on his third solo album. The Bon Iver drummer faces modern pace with a romanticization of a more reduced approach towards life. Hundred Acres is a tender call to arms … and Carey's weapons are love and understanding. Compared to the previous S. Carey records this new one might be his most accessible so far. He reduces his love for a Steve Reich-like understanding of structure and complexity in favour of more space within the actual songs. If you are a trained musician like Carey it's probably more of a challenge to actually limit yourself and don't fall for the progressive notion.
A gentle confidence dominates the sound of the record as Rose Petals and Hideout start the record in a delicate but partly also cinematic way. Guitars, piano, strings and Carey's fragile voice are the main ingredients of the LP and the songs are that good they actually don't need much more. S. Carey summons an honest 'back to life' feeling on this album, telling stories about love, nature and the beauty of things, reminding us how we slowly lose our ability to simply wonder and accept those simple aspects of live. 'We should lose ourselves before we lose our mind', the artist sings in the warm and harmonious Yellowstone, a sweet reminder to worship the here and now and train your own awareness about it. Although a track like the epic More I See shows a richer side of Carey's sound, the reduced songs definitely steal the show on this brilliant little masterpiece. There is an overall sense of longing and romance in Hundred Acres that is just too urgent and beautiful to be ignored. (Norman Fleischer)
Song to get you started: Fool's Gold
Stream it now: ► Spotify / ► Apple Music / ► TIDAL
---
Imarhan – 'Temet'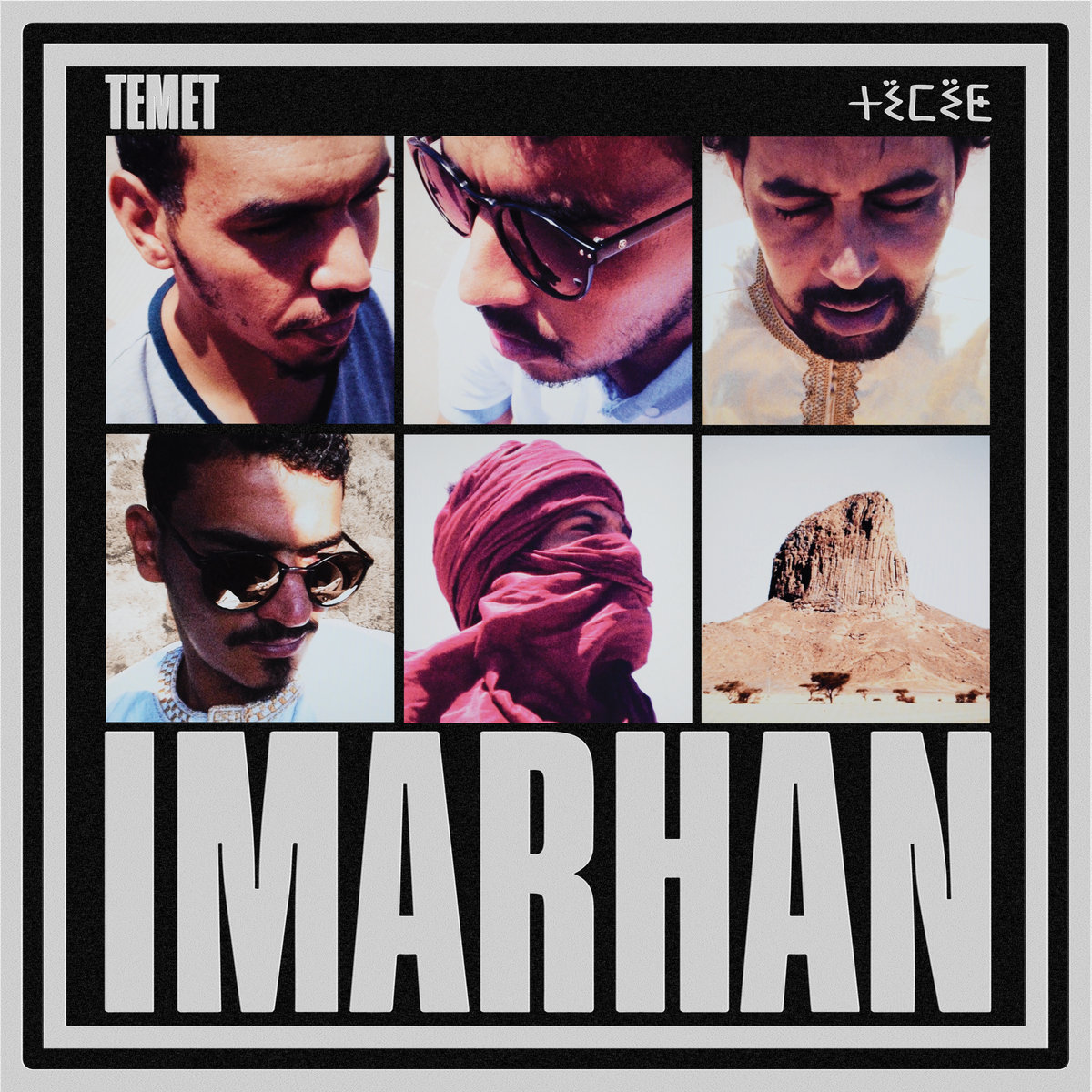 Let's get funky for a moment here and let's all plunge into this dynamic, thrilling experience together, shall we?
Two years ago, Imarhan managed to step out of their creative world with their debut album to pull us right into their mindspace that felt exciting and surprising in a lot of ways. It doesn't happen very often that the western world opens up to African bands and embraces unknown sounds as well as foreign languages which makes Imarhan's impact even more incredible. After having toured extensively with these songs far away from their home base in Southern Algeria, the five piece band spent some time in Paris in early 2017 to work on new ideas and record them with help from Patrick Votan. The album title Temet which can be translated as 'connections' beautifully grasps the deeper meaning of what we can find on these ten new tracks.
It truly is all about connecting with one another, isn't it? So that's what Imarhan did in the studio and what they have been doing all along by touring the world and connecting with new people, new cultures and a whole new world artistically without neglecting their rich musical roots that have been guiding them in the first place. And it really shows in what they have accomplished on Temet. Their urge to explore has gotten even bigger, their musical companionship has gotten tighter and speaking from a selfish western point of view the more isolated existing Tuareg culture has been extended on many levels. Most notably, the former 'desert blues' has gotten quite a bit funky if you look at the new songs. If Temet stands for unity, this record definitely wants us to be a part of that and we can't, quite frankly, resist. (Annett Bonkowski)
Song to get you started: Ehad Wa Dagh
Stream it now: ► Spotify / ► Apple Music  / ► TIDAL
---
All The Luck In The World – 'A Blind Arcade'
The second LP by All The Luck In The World is enchantingly beautiful, sometimes it's barely to handle.
After the incredible success of their self-titled debut album back in 2014, which was followed by plenty of big festivals and an sheer endless tour around the globe and following the huge success of the single Never, All The Luck In The World from Ireland were on the verge of becoming the next big indie/folk sensation. But instead of trying to use this hype to immediately release new music, they decided to take a fww steps back in order to write new stuff without any pressure. In their hometown Wicklow in eastern Ireland, they rebuild an old wooden shed into a small homestudio, wich they called 'haven'. For developing new sounds and song sketches, the trio took a lot of time and experimented with a few different things, for example have they sampled organic sounds for every track from the direct surrounding of 'haven'. The finished songs were finally recorded in Berlin, where the whole band also moved to in the summer of 2017.
The result of this creative process, the new album A Blind Arcade, is more adventurous than the debut, especially in terms of instrumentation. There are a lot of interesting things happening next to the beautiful guitars and gentle vocal melodies, which results in a very unique and delicate atmosphere. The guys still feel comfortable swimming in the sea of melancholy, without drowning in. Like a fish they take a more nimble and playful approach to it. The single Landmarks is also opens the album and is transports the quintessence of what defines All The Luck In The World. Listening to a song like that feels a bit like looking into the eyes of a person you love. It feels your heart with plenty of emotions and that's what the band is best at. All it takes are the right chords, melodies and fitting words and these guys know how to deliver them. A Blind Arcade is one of those albums that take you to another world, one full of feelings and pure emotions. It's a record that leaves you with a strange but good feeling after you return back to the February coldness. (Elia Schick)
Song to get you started: Landmarks
Stream it now: ► Spotify / ► Apple Music / ► TIDAL
---
El Perro Del Mar – 'We Are History'
The ambitious Swedish artist got a lot to say within only six songs.
Over a decade after releasing first music under the El Perro Del Mar moniker Swedish songwriter Sarah Assbring has come a long way with her alter ego. What once started as a dreamy singer/songwriter project has turned into an ambitious alternative pop monster with a clear artistic vision and an appetite to address political and societal topics in a more complex and thought-out way. And although We Are History is just an EP it might easily be Assbring's most ambitious release so far. The sixth tracks work as continuation of 2016's KoKoro as they deliver cinematic anthems that with a gloomy notion and big orchestration, making El Perro Del Mar sound like the missing link between their Swedish colleagues Lykke Li and Fever Ray.
Mirrors might start the EP in a tender way but you immediately sense that there's something threatening in the air. A gloomy notion lies upon the sound and the heavy Fight For Life is the outburst of that widescreeen melodrama. It's a very raw track about the animal inside you and your survival instinct. Assbring was inspired by the pre-apocalyptic feeling of our time and those songs channel this uncertain look for hope. 'Everyday I pray for luck' she repeats her mantra in Petals, one of the EP's more intense and darker moments. She does end We Are History on a positive note though as the magnificent Each Man To His Own spreads indeed something like hope. This release is a creative reminder that the achievements of our civilization are fragile ones and have to get used to fighting for them on a daily basis. (Norman Fleischer)

Song to get you started: Fight For Life
Stream it now: ► Spotify / ► Apple Music / ► TIDAL
---
Pale Waves – 'All The Things I Never Said'
UK's latest pop sensation delivers a catchy first glimpse into their enormous potential.
Although Mancunian four-piece Pale Waves only released a handful of songs last year the buzz in the British media was already heating up quite intensively and their first four-track EP will probably extend that. It doesn't feature last year's lovely hit singles Television Romance and There's A Honey which should have been part of it as well but that actually doesn't matter anymore in the age of streaming as you can decide whether you'd like to include them after all. In general, All The Things I Never Said is just a snapshot of a group which might have everything figured out already – the sound, the looks, the attitude and the ambition to become the country's next big pop sensation. Because that's what they actually are: a pop band. Aside from the obvious goth look of leading lady Heather Baron-Gracie and a few British wave pop references Pale Waves are a mainstream pop band, but one of those good credible ones like Duran Duran in the 80s and more recently The 1975. It's okay to fall for them. I did so too
The 1975 also had a crucial impact in bringing their fellow Manchester buddies into the limelight, in fact: Pale Waves sound quite a lot like them, delivering that sort of shiny and glossy radio-friendly instant hit pop that you either love within a second or totally despise. Those four songs on their debut EP are a testament of that sparkling, over-romanticized shimmering 80s nostalgia that teams up with naive teenage nostalgia and makes that recipe so tempting. 'I don't want to be alone on New Year's Eve. Do you even want to be with me?' sings Baron-Gracie in the powerful opening track. The Tide and Heavenly deliver uplifting dance pop while My Obsession delivers finest midtempo 80s glam. There's nothing 'indie' about Pale Waves, so don't look for any edges and complexity here. This is straight-up widescreen pop by a band that simply knows how to craft a good old-fashioned hook. It'll be exciting to see how that will work on a full-length album in the future. Until then they'll remain my favourite new pop obsession. (Norman Fleischer)
Song to get you started: My Obsession
Stream it now: ► Spotify / ► Apple Music / ► TIDAL
---