[one_half last="no"]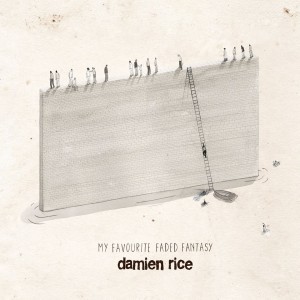 [/one_half]
[one_half last="yes"]DAMIEN RICE
My Favourite Faded Fantasy
Release-Date: 31.10.2014
Label: Warner
Tracklist:
01. My Favourite Faded Fantasy
02. It Takes A Lot To Know A Man
03. The Greatest Bastard
04. I Don't Want To Change You
05. Colour Me In
06. The Box
07. Trusty And True
08. Long Long Way
NBHAP Rating: 3,5/5
[/one_half]
The call of Shangri-La
If Rick Rubin invites you to his Shangri-La Studios in Malibu, you don't say no. No one would be surprised if the bearded legend could even spin straw into gold like Rumpelstiltskin. Of course DAMIEN RICE has brought more than straw from the farms where he partially spent his time out. Nevertheless he took care that his 'baby' would not be taken away from him and went to Iceland, a place which is no less magical, to complete the recordings.
Orchestral Opulence
The title track starts, RICE's falsetto sounds higher than ever and gradually guitars, drums, violins, a cello and a piano come creeping up, attack without warning and take no prisoners. The instrumentation is to the fore. It Takes A Lot To Know A Man extends over nine-and-a-half minutes on several levels made of shaking cymbals, vibraphones and trombones, crackles ominously and ends in a morbid dance of piano and strings.
Little room for feelings
There's no single second that is not thought-out and fulfilled with little bells, vibrating strings and exquisite arrangements that hug the words. But like a diamond cape all this splendor hides the man who made us cry by openly showing his vulnerability and whose lyrics made us speechless because they were so damn true and vivid. Apparently there's another record planned for next year and hopefully there will be a recollection of plainness.
DAMIEN RICE's 'My Favourite Faded Fantasy' is quite a statement but the orchestral pomp stifles the emotionality that moved us to tears on 'O' and '9.'
—