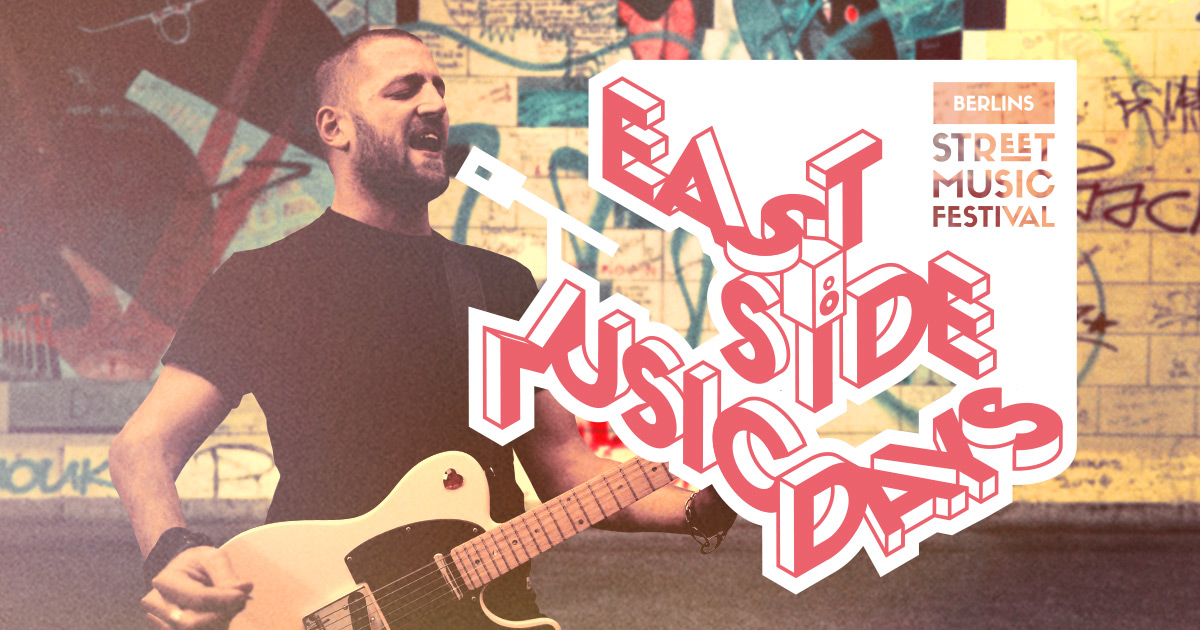 Summertime – the longer the days, the longer the fun and the longer the urge to stay outside and listen to music. But sometimes it's not just the highly stylized music of professionals that moves us but also the more spontaneous, rough and adventurous form: street music. In that field, Berlin's got a pretty vital scene and it's growing. For every lover of that special vibe good street musicians are capable to create and, more important, for every street musician with ambitions, there is a new place to be at the end of August: The East Side Music Days – Berlin's Street Music Festival, happening August 28th and 29th between Postbahnhof and Oberbaumbrücke.
The East Side Music Days are the legitimate successor of last year's First We Take The Streets event. The name might have changed, the concept has not: Musicians are invited to play little free and outdoor gigs along the famous East Side Gallery in Berlin. The application phase is officially over now and out of more than 700 applicants, the jury has selected a vast array of promising acts. It's not just about the opportunity to play in front of an interested audience and business delegates, though. There's also a chance for the selected artists to convince the jury and win a music scolarship at the British & Irish Modern Music Institute (BIMM) in Berlin. Apart from that every artist could possibly gain access to a recording session at the nhow Berlin and benefit from several workshops during the Street Music Academy happening at FluxBau.
The East Side Music Days combines what we at Nothing But Hope And Passion headquarters are always supportive about: A nice experience for visitors and lovers of street music as well as offering opportunities for up and coming artists. We therefore are more than glad to contribute to the festival's wonderful line-up by inviting the wonderful HENRIK JOSÉ  to play the main stage. Apart from that, we'll also host our very own stage on August 28th – on a boat! Including performances by ANTONIO GRAM (DJ-Set), ANNE HAIGHT, BEN BARRITT and PARI SAN. Get excited and make sure to check out the full line-up below. We'll see you at the East Side Gallery!
EAST SIDE MUSIC DAYS – Line-Up:
Charity Children | Noah's Tape | Natascha Bell | Beranger / An Equation for Happiness | Louise Gold | Ides Moon | Amira | ANIMI VOX | Berlin Syndrome | Sam King | Simon Benjamin | The TRUTH | Celine Love | an envelope | Betti Laila | Die Outlanders | DobBroMan | Amani Ami | Alex Nikols | Autumn Valley | Edwina & Deko | Fargo | Michael Hardie | Flonske | Keishera James | Adam Is A Girl | ADAM13 | DANiEL HiLPERT | Deeryona | Johnny Riser | Martin Tetzlaff | Snow Forest | Anikó³ | Berlin Pop Ensemble | Devil Named Jones | Those Guys Berlin | BEN BARRITT | big bad brady | CASINO GITANO | Golden Nomad | Hans Solo | ijaz ali | Kabana | Meinherz | Planet Kate | sonatheband | DAS MASKIERTE WUNDER | Efi Sussman | The Neigh Kid Horse | The Wildfires | Project Plan Beat | George Townsend Handpan | Sons of Settlers | Tarab Trio | Teresa Bergman | The Say Highs | Ulf von punos-solo | Yann Loisel | Shades Of Neon | Birds and Coughs | Lane Of Lion | Renee van Bavel | Ryan Ferris | Space Kit | The Roscoe | Blood & Honey | Pan Chimzee | ASRAMAN | colour your mind | Eveline | Geraint John Jones | Hank o'Hare | Herod Sons | Raposo live! | S. J. Sander | The Dead Lovers | TheLight | tomorrow's epiphany | Unknown In August | Vincent Sala | Kill the Darling | Loucielle | Bubba Ho-Tep | Ian Iott | Rontano | sleepwalker | Vello Público | We Are Waves | Caida Libre | Carabright | DELTAWELLE | dzaijl | Kiane | Koyotentrio | Laura Guidi | Lion O. King | Pan Salmenhaara | jordikuragari | Lia Andes | Mabloni | Pallet of Leaves / Nick Morrison | Anomalia Chikh | CURRAO | Veras Kabinett | Marcel & Herr Wiesner | ANNE HAIGHT | Bea Greenbook | by Henne | Circus Rhapsody | Delicate Place | Dominic Lanfer | ElaiNoha | Josie Malegría | KOLUMBUS KILL | Lightning limelight | Masha Potempa | Michi Hartmann/Tenthousandspoons | Rain On Robots | River Rats | Saarow Band | SEX IN PARIS, TEXAS | Stephan Rau | String Theory | THE SOMNAMBULIST | Gospelkollektiv | Hold Your Horses | Kalina Morcuende | The Pool | the preterite | Yatao | Phunky Bunky | Cats & Breakkies | Dominik Wrana | Stereochemistry | Noah Slee | PARI SAN | Irene Graziadei | Lapwings | Lebenslinie 8 | Leon Francis Farrow | Mini-Büro | Moritz Knorr | nils(niemand) | Nova fliegt zum Mond | Richard Lenz | WILLY WOMBAT | Zhenja Oks | The Stylz | Jimi Weissleder | HENRIK JOSÉ. | Silky and the Tossers | Tac City | The Sunpilots | Phia | ANTONIO GRAM | Redvers Bailey | Romano Licker | Combine | The Trouble Notes | Mr. Me | Goodnight Circus | Elm Tree Circle | Blue Moon Struck | Lione
—
East Side Music Days Homepage: eastsidemusicdays.de