HALDERN POP FESTIVAL is known for its outrageous familiar atmosphere. Amidst fields of corn, grazing cows and parading horses, only 7000 most friendly people share their love for nature and music, beer and body fluids.  Acts like PATTI SMITH, GRANT HART, SUN KIL MOON, LEE FIELDS & THE EXPRESSIONS, CONNAN MOCKASIN or KURT VILE & THE VIOLATORS built this years line-UP to an ivory tower for the audiophile. As family celebrations usually take a weird turn at some point, we tried to embrace a similar dramaturgy. It had disastrous effect on our staffs brain cells. Moments of despair and weakness stood align with cheering mania. Jubilating sun changed to relentless pouring clouds. We hear, people are relieved not having NOTHING BUT HOPE AND PASSION tattooed on their asses. Short: we fired on all cylinders.
As we want to avert being sued by the artists: we decided not to publish the photos we took at HALDERN POP. Too personal they were, smut, too disturbing, not polishable via photoshop.
HONIG
HONIG was certainly a very busy man on HALDERN. We spottet him all over the place and a certain friend of ours saw him dancing on tables, probably being fed with huge amounts of party-liquids.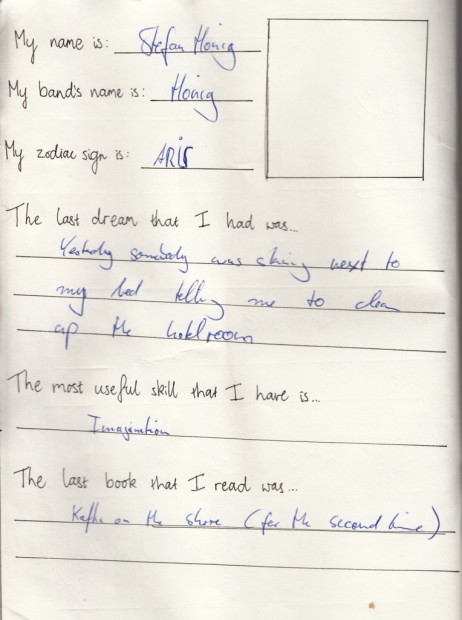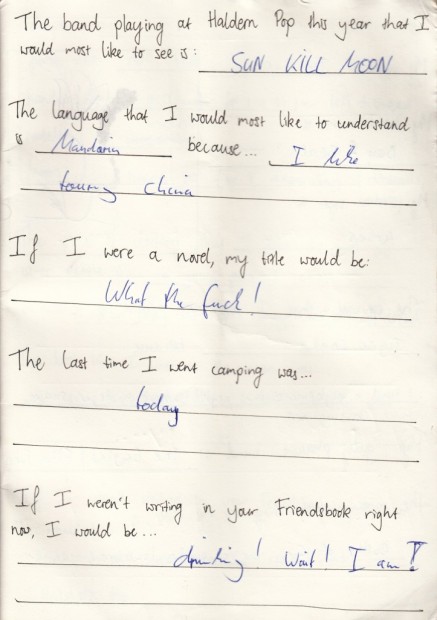 BOY & BEAR
BOY AND BEAR played a killer show at the Spiegeltent. Before that, they were warming up on cold beer in their caravan and playing with our Friends Book.
FINK
Sitting down with FINK was like catching up with old friends; seriously, this is one of the nicest bands we've ever met. From sharing travel tales to keeping a subtle eye out for Patti Smith, it was a wonderfully engaging chat. After releasing a new album just a few weeks previous, they were still adjusting to the tempo of touring. 'We'll probably be hallucinating and sweaty by the time we get to Pukkelpop next week, they laughed, penning in a postscript.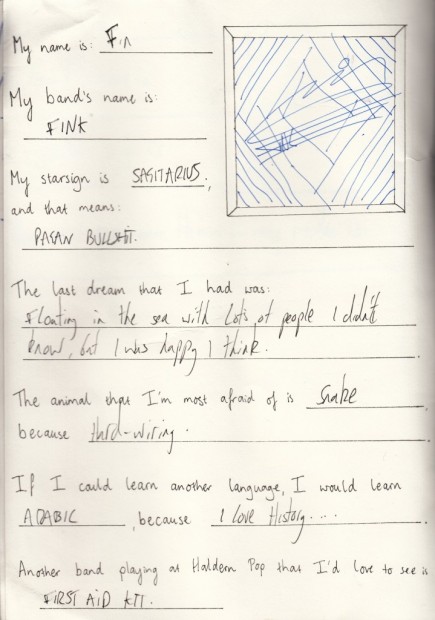 JEFF BEADLE
We caught up with
JEFF BEADLE
outside the Spiegeltent on Saturday's gloriously sunny afternoon. After playing the festival two days earlier, he was sticking around to catch some of his favourite Haldern acts.
'I kinda want to write 'ass' here,'
he chuckled, pausing at the final word association we threw at him.
'Can I do that?'
—