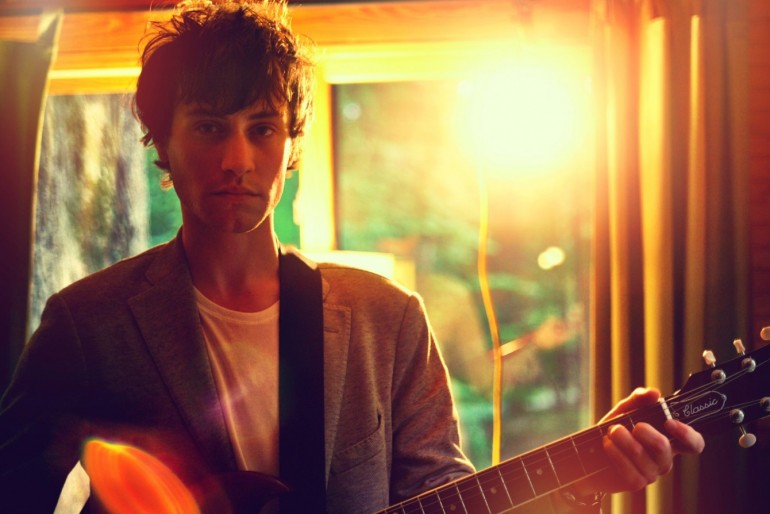 He seems like one of those musicians, who is still able to fully loose himself in his own music, pursuing a path to create something authentic. Being involved in all aspects of making his new record from song writing to experimenting instrumentally in the recording studio, MAX JURY does succeed in the task of finding authenticity. A task that is increasingly difficult to master in a world, which is dominated and dictated by sales of perfectly produced pop music.
When playing a solo gig, only him and his piano, he'll close his eyes and is able to make the hectic world around himself and his audience disappear for a little while. The different musical influences shine through in his varied tunes – a bit of country, a bit of soul, a bit of gospel, all of those united in an all American singer-songwriter style. MAX JURY's debut album of the same name is bound to be released on June 3rd.
From banging on blocks as a little kid to piano lessons as a reluctant teenager, music has always been an essential part of his life. 'I've been doing this for as long as I can remember. It's always been such a huge part of my life and who I am.' He remembers that music was always around the house in his childhood and clearly recalls his parents taking him to his first gig. It was Harold Melvin and the Blue Notes performing in a D.C. night club he now describes as 'seedy' and definitely not the right place for kids. It's one of those childhood memories he might never forget, sparking his passion for music.
Ending up on a stage with Lana Del Rey
Somewhere along the line music became what he did. He studied song writing for three semesters in Boston, but dropped out and started splitting his time between London and his hometown, Des Moines in Iowa. Grateful for the early piano lessons, playing piano is still a main tool to help him write songs and express himself. Max got in touch with his label through what he calls a 'series of mishaps', though his talent is undeniable. Having grown up in Des Moines made him feel detached from the pop music industry to a certain degree, but he has tested the waters by having toured with LANA DEL REY.
'I went from playing coffee houses in Des Moines to playing with LANA DEL REY, so it was a weird transition in job. It was fun, and terrifying and exciting all at once. I really respect her, she has a style, and an aesthetic and vision. Obviously she is a huge artist, but she doesn't compromise. She's like an icon almost nowadays.'
Same as Del Ray he wants to stay true to his essence, swearing to 'remain a descent person and have a musical integrity.'
When he isn't busy touring, MAX JURY admits that he isn't necessarily good with too much down-time. So he keeps himself busy with doing other things instrumentally, playing piano or recording vocals for other projects. It's the wide range of possibilities to experiment in a studio that he is most interested in and why he won't stay away from a studio for too long. Though the one thing he names more satisfying than anything else is finishing the process of writing a new song. The newcomer often wonders about the right feeling that motivates song writing.
'It's a mystery to me why that feeling happens and what's the catalyst for lighting that flame and feeling like you have something to say and writing something. Is it life experience? Is it a good breakfast? I don't know, who knows? I wish I could control that more, it's a mystery to me.'
His influences are the greats of classic songwriting, such as Joni Mitchell, Bob Dylan or Neil Young. Though he isn't shy to say that can also loves getting down to DRAKE or THE WEEKND. Whenever the production of his own record, he used jazz to get out of his own mind, enjoying the genius tunes of Thelonius Monk or Miles Davis. He likes the idea that back in the days of his idols marketing themselves via social media wasn't an issue yet. 'I always liked that mystery with artists, I don't want to know how a certain song was written, what they're doing or what they're having for lunch. I want them to remain sort of mystical creatures in my brain.'
'I'm married to my phone now, I'm in a relationship with Instagram.'
MAX JURY's own instagram account is cleverly promoting his album and pre-streams at the moment, with a mosaic display of images making up his album cover. Though he is all about the music, he knows how to get it out there. 'Social media is necessary. It took me about a year, but I learnt to love Instagram and Twitter. I love Instagram, I love the emojis, I love liking stuff, I love finding stuff, commenting on stuff. I'm all about Instagram now. I've learnt to embrace it. It's funny, in one short year I've gone from asking my management or my label to post for me, and now I'm all about it. I love it, I can't get away from it. I'm married to my phone now, I'm in a relationship with Instagram.'
Though he agrees that there can be a dangerous shift away from music to the person behind it. The simple importance of social media is an indicator for the strange shift that has been happening.
'It's just so important and that's what's weird about it. It becomes less and less about the music, but more about what you're doing and more about creating an image that's interesting to people. In a way they're sometimes buying you and not buying your music.'
If he's comfortable with that? MAX JURY doesn't seem too sure. 'It's tricky, I don't know if I feel comfortable with it. You're creating an idealized barbie doll version of yourself, where everything what you think is good is out there. That's not why I started music or writing songs or making the record. But if people are interested in, it's going to help sell your record as perverse as that sounds, it's just where we are at right now.' Understanding how social media works seems to be a key to success for young musicians today.
In the digital age, with new tracks coming out online everyday and music videos being dropped over night, subsequently becoming viral hits, it can sometimes be intimidating to try and make it as a musician, often overwhelming and scary. 'Sometimes I just have to stop and turn it all off, and work on my own music, because it's easy to get wrapped up in what people are doing and what's cool. Even when you're listening to a certain band or a certain artist too much, it creeps into your own music. Obviously I'm influenced and inspired by things, but I want to make something that's original. I don't want to be too influenced by trends, although it would be nice to be trendy. I just want to be able to make the kind of music I want to make, on my own terms.'
And his solo debut is certainly as authentic as it is honest. While the blurring of lines in between genres in the digital age might be a reason for the decline in music scenes that rise from a certain time and place, he uses the blurring of musical genres to his advantage, taking influences from all around and coming up with a sound of a soulful originality.
—