[one_half last="no"]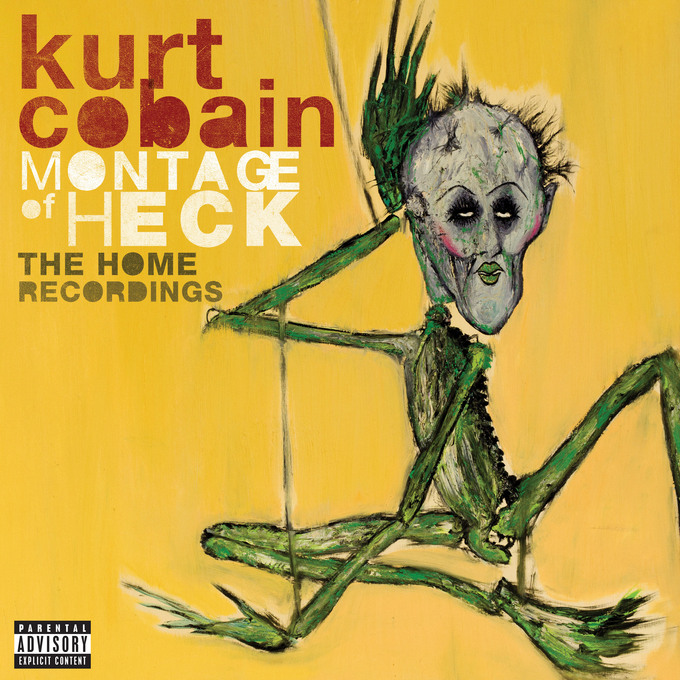 NBHAP Rating: 3,8/5
[/one_half]
[one_half last="yes"]KURT COBAIN
Montage of Heck: The Home Recordings
Release-Date: 13.11.2015
Label: Universal
Tracklist:
01. The Yodel Song
02. Been a Son (Early Demo)
03. What More Can I Say
04. 1988 Capitol Lake Jam Commercial
05. The Happy Guitar
06. Montage of Kurt
07. Beans
08. Burn the Rain
09. Clean Up Before She Comes (Early Demo)
10. Reverb Experiment
11. Montage of Kurt II
12. Rehash
13. You Can't Change Me/Burn My Britches/Something in the Way (Early Demo)
14. Scoff (Early Demo)
15. Aberdeen
16. Bright Smile
17. Underground Celebritism
18. Retreat
19. Desire
20. And I Love Her
21. Sea Monkeys
22. Sappy (Early Demo)
23. Letters to Frances
24. Scream
25. Frances Farmer Will Have Her Revenge on Seattle (Demo)
26. Kurt Ambiance
27. She Only Lies
28. Kurt Audio Collage
29. Poison's Gone
30. Rhesus Monkey
31. Do Re Mi (Medley)
[/one_half]
---
---
A revival?
NIRVANA was a generation and KURT COBAIN their chosen leader. His death at 27 ended 'NIRVANA – The Band' but it placed Cobain on a pedestal for forever more as a music legend gone too soon. Earlier this year, Montage of Heck – a movie biopic all about KURT COBAIN, came out. Now the accompanying album Montage of Heck: The Home Recordings, a collection of songs and demos featured throughout the film, is here for everyone to listen to. What strikes you first about the album is the sheer mass. A whooping 31 tracks compiled of voice recordings, demos and sounds, undoubtedly this is only a fraction of the collection has been found amongst COBAIN's things.
Too many tracks, too little structure
Although the tracks aren't long, is it quite a lot on first glance. You can tell that these tracks and demos were made to not be published in such a way, as they yearn for structure or plain reason. Tracks like Montage of Kurt (I and II) have COBAIN talking in varies voices and are somewhat rather disturbing and a little creepy to listen to. Then you have Aberdeen – the place he grew up in – also a track consisting of COBAIN talking but really explaining and giving insight into his youth.
Reverb Experiment is three minutes of the musician playing his guitar, however, one can just picture him standing close the boxes with the volume turned to max. So ultimately the randomness of the album sheds some light unto COBAIN's more complex innards that went beyond music and becoming more art than anything else. For those who want a more tuned down version of the album: the standard version is much shorter (13 tracks) and for all you cassette lovers out there – the album shall also be available on tape (yes, you read that correctly. Talk about an ultimate 90s revival).
Just another Nirvana album?
The question, one is left with is, why now? Over the years there have been plenty of NIRVANA/KURT COBAIN documentaries to keep us remembering. Perhaps the key element of having COBAIN's daughter Francis Bean Cobain as executive producer and heavily involved in making the story, is why this one is different. In an interview with the Rolling Stone, Francis Bean described the movie like this:
'It's emotional journalism. It's the closest thing to having Kurt tell his own story in his own words – by his own aesthetic, his own perception of the world. It paints a portrait of a man attempting to cope with being a human.'
And this can be said about the album. It most certainly portraits KURT COBAIN's thought process, the way he felt about life and society, his own stories. Although there are NIRVANA demos on the album (Clean Up Before She Comes, Sappy) it's more about the musician's' own art. In the process of making the film hidden and private collections of art, diaries, and music were found and used – thus making both film and album really more about KURT COBAIN than the band.
Was this all really necessary? Well, that's something for listeners to decide. However, with other celebrity documentaries swarming the market, it definitely wasn't a wrong move. Still, the album lacks a classic structure that makes plain listening to it hard. Going through it once mostly suffices. But for fans and all those interested in embarking into a mind of a genius, it sure is interesting.
Montage Of Heck is definitely not an album to just sit and listen all the way through to, however it will open your mind to the troubled but brilliant mind of KURT COBAIN.  Ultimately the whole thing is more of a supporting movie 'soundtrack', than a real solo record.
—