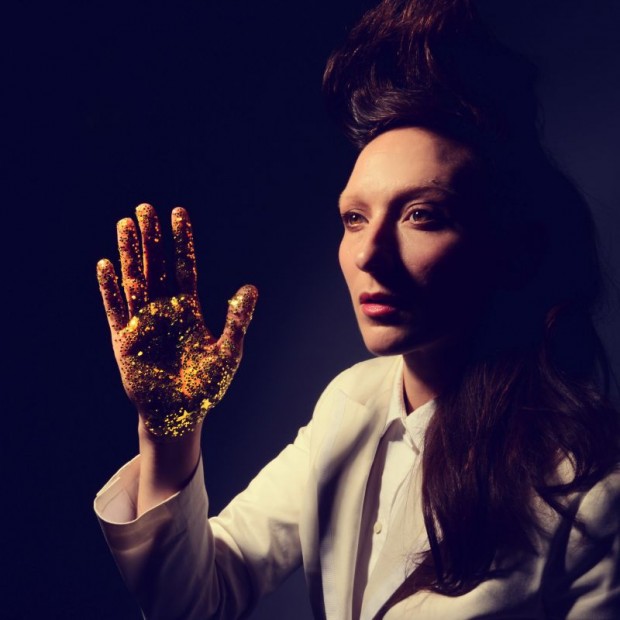 Shara Worden could have become an opera singer. She could have become a performing artist as well. Or a composer, or a multi-instrumentalist, or the lead singer of a rock band. But why squeeze your talent into one drawer if you can have the whole chest of drawers? So Shara didn't decide for one of those possibilities, but for all of them and her unpredictability makes her one of the most exciting women of the music world.
Shara Worden was born in 1974 in El Dorado, Arkansas, and raised by travelling evangelists. She learned to play the piano as a child, made a BA in vocal performance at the University of North Texas, then went to Moscow for a year and completed her education in New York, where she studied classical composition and operatic voice.
After releasing a solo record in 1998 and two albums with her band AwRY (2001 – 2003), Shara founded the project MY BRIGHTEST DIAMOND in 2006. Her first LP under that moniker, Bring Me The Workhorse, was released the same year. Since then the 39-year-old regularly crosses the lines between classical music, rock and electronic music. She collaborated with artists such as SUFJAN STEVENS, THE NATIONAL's BRYCE DESSNER, THE DECEMBERISTS and composer David Lang, performed in plays and composed various pieces on her own, recently a whole baroque opera called YOU, US, WE, ALL.
On September 16 her fourth album as MY BRIGHTEST DIAMOND will be released. It bears the title This Is My Hand and follows All Things Will Unwind from 2011. While her last album was inspired by Detroit, where she moved in 2009, and the birth of her son, the concept of her new work is based on something you may have done in school:
'I became really obsessed with marching bands and this idea of music happening in three-dimensional space. It's music that all of us can make together, not just professional people. If you think of the album, it's like a rock band with synthesizers meeting a marching band, that's what it sounds like', is how she explained This Is My Hand to NOTHING BUT HOPE AND PASSION when we met her at the stargaze festival at the beginning of the year.
The record starts with a drum roll and as the opening track Pressure unfolds with tubas, trombones, clarinets and kettledrums, it's indeed as if a marching band enters the room and fills it with its energy, accompanied by a muffled synthesizer beat. On this basis the singer builds her lyrical constructs, using her trained voice to go on self-referential journeys like in the title track or submerge in mythology:
'I am obsessed with the music moving through space and the ritual and the tribe and what the tribe looks like now. There is a book called 'The World in Six Songs' by Daniel Levitin and he talks about the six basic themes in songs throughout human history. One of the first things I did was trying to make songs on those themes.'
Uptempo and mid-tempo pieces dominate the first part of the album, while wafting electronic sounds characterize the second. The line 'You never know what shape I might take' from the ghostly Shape could stand for the whole work of the multi-faceted artist. And, as she told us, the most important aspect of this work is not necessarily to please people but to cause a reaction and to allow change:
'I remember when I first listened to Jeff Buckley or to Nina Simone or to Joanna Newsome, I hated it. It made me angry. But after a while I really began to love that music and to appreciate it. Not because it made me comfortable – I was actually uncomfortable with the music – there was something that I had to react to. It was so different that I didn't like it, but then over time my ears changed and I could hear the music in a different way.'
[one_half last="no"]


[/one_half]
[one_half last="yes"]MY BRIGHTEST DIAMOND
This Is My Hand
Release-Date: 16.09.2014
Label: Asthmatic Kitty Records
Tracklist:
01. Pressure
02. Before the Words
03. This Is My Hand
04. Lover Killer
05. I am not the Bad Guy
06. Looking at the Sun
07. Shape
08. So Easy
09. Resonance
10. Apparition
[/one_half]
—