Daughter – Stereo Mind Game
Sounds like … longing pressed into memory.

For anyone emotionally invested in the craft of Daughter will know that their albums have the effect of an intimate natural phenomenon – once engulfed in the fervent rush of the sonic theatre of desire and nostalgia, it is hard to let go. Stereo Mind Game, the long-awaited follow-up to 2016's Not To Disappear is exactly that. Coming back from their year-long silence, the trio around Elena Tonra, Igor Haefeli and Remi Aguilella have emerged from the shadows with a record that explores the pain of not being able to cross harsh physical distances, grief and the desire to connect, whatever the costs may be. This sounds familiar in the cosmos of Daughter's repertoire, but while earlier records would have stopped at capturing that kind of despair, Stereo Mind Game goes beyond that, looking ahead of the inherent melancholy, giving these songs the wings to fly out of the ocean they have emerged of.
It is with an almost cry that the Intro initiates Stereo Mind Game comes to a sudden halt, as the signature piece Be On Your Way goes down in melancholic harmony, slowly building up the pressing drama about a wistful connection between two people, that equally remains diffuse and troubled. "I will try and find you / Maybe we could reconstruct the scenе? / I have a feeling / That we'll repеat this evening", Tonra sings, shuffling between lost connections and the everlasting intimate certainty of emotion. While the Daughter signature sound of trembling electric guitars and the drowsy base sections remains and appears more refined than ever, the level of intimacy of Stereo Mind Game surpasses any sonic dream waves. And as pieces such as Swim Back, Junkmail or Future Lover keep rushing through, it is the notion of desire that keeps kicking through the beating drums of every song. The subject of the lyrics is a longing and loving one, reaching out to the other in a desirous and relentless way. Such is the essence of tracks like Future Lover, which calls out at one point: "When we're apart, it's when I start glowing in the dark". The pain of isolation and the longing to cross distances no matter what go hand in hand on Stereo Mind Game, but eventually it feels like we have crossed the sea of yearning with Daughter, as the fittingly closing piece Wish I Could Cross The Sea meanders through the air, in symphonic and redemptive fashion. (Andreas Peters)
Stream It: ► Spotify / ► TIDAL / ► Apple Music
---
Lucy Kruger & The Lost Boys – 'Heaving'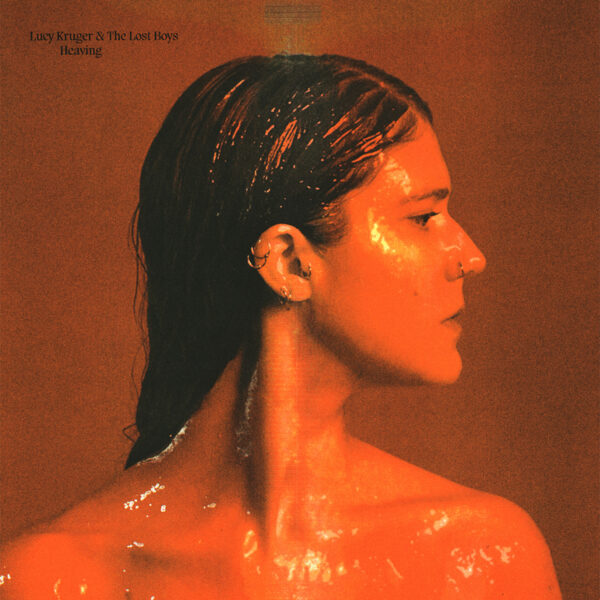 Sounds like … the darker colors of the night.

I used to describe Lucy Kruger's sound as nocturnal, as confidently tip-toeing, as commanding whispers of an artist who knows the ones listening will lean in to hear. Heaving shows the artist in new colors. At the core, she is still the singer who released the soft Tapes trilogy, and the dynamics and rhythmic scheme of the record are classic Lucy Kruger & the Lost Boys. The bone structure remains the same, but the flesh has changed.
On Heaving, the artist paints emotions with a broad brush. She sings and howls from an anguished, angered place, a place of lust, allowing unhinged expression to the point where she digs deep enough to leave beauty behind. Beyond, she finds something captivating. "You're beautiful", she screams gutturally on Howl. The track is not beautiful. It is raw and ugly and embraces its edges. Burning Building bursts into screeching guitars and a spoken-word-type recital. Finally, the tension of Heaving unloads in the subdued Tender and Undress. Nocturnal is still a word that fits Lucy Kruger's music. But the colors of the night have changed with Heaving. Soothing ocean breezes have turned into urgent winds as violence walks hand in hand with tenderness. (Liv Toerkell)
Stream It: ► Spotify / ► TIDAL / ► Apple Music / ► Bandcamp
---
Yaeji – 'With A Hammer'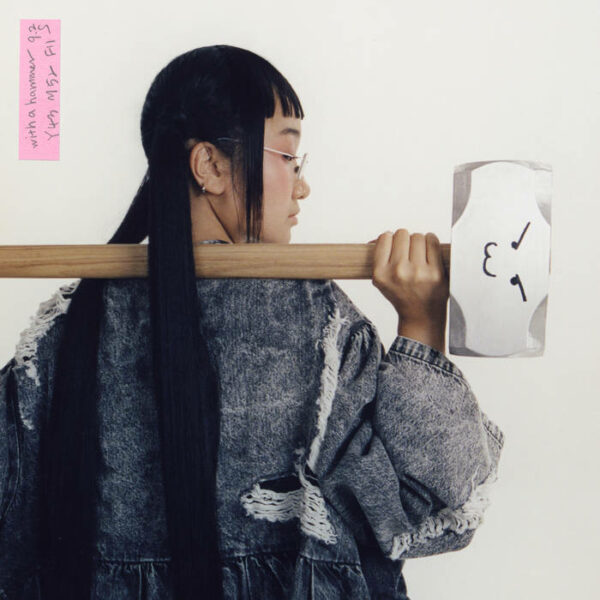 Sounds like … soft and rich rage.

The rage and frustration on With a Hammer is subtle and well-contemplated without being apologetic or timid. Between 2020s What We Drew and this release, Yaeji has gained structure and strength in her expression as well as courage – because it does take courage to be a woman and be publicly angry. By presenting the facets of her heritage, language and sound in a world that really prefers people to be one thing, Yaeji shows her growth as an amalgamation of identity.
Opener Submerge FM is a dystopian perspective with a hopeful refrain moving smoothly between Korean and English and establishes the red thread of the 13 tracks. The fear of the future can be drowned by gratitude on the following loops of For Granted, the singer checks herself slightly anxiously and how she relates to life. The highlighting of her voice as a further example of growth is given more room beside synth and beat so that the lyrics as well as the tonal differences of both languages can shine. In reference to the past few years and the communal wounds the pandemic brought to Asian people all over the world, Yaeji processes her personal hurt and hate on the title track: "There were days I gave up / And put a mask on my face, brain, and heart / To take a break from the truth / To take a break from the false". The subsequent I'll Remember For Me, I'll Remember For You builds on this idea by dedicating the song to the listener and expressing the universal wish of freeing a feeling for many by giving it space as one. After focusing on her own experience during the first half, the second half of the album invites collaboration mirroring the process of healing by investigating the self and then allowing a dialogue with others. On techno-esk Michin, Yaeji is joined by fellow producer Enayet and picks up the metaphorical hammer to destroy the thoughts and despair that hinder progression. With lyrics added from Nourished by Time, Happy becomes an fountain of sound and mood changing from overflow to contemplation while K Wata's production of  the maybe-Fugees' nod Ready or Not stays in a pondering timbre. Lastly, contrasting 1 Thing to Smash with the softest flute and Loraine James mumbling over it: "One thing I like to do is smash it up in two". The denouement of With a Hammer seems to be that though it's justifiable to keep fury or a painful inner monologue to yourself, it only helps you evolve if you express and share it. Then it has the power, perhaps of a hammer, to rebuild your story. (Anna-Katharina Stich)
Stream It: ► Spotify / ► TIDAL / ► Apple Music / ► Bandcamp
---
Temples – 'Exotico'
Sounds like … the psychedelic and dreamy playground where everything is possible.
Imagine a place called Exotico. It's a sun-drenched idyll, full of mystic sounds and nostalgia. The hypnotic rhythms slowing down your understanding of time and space with immediate effect. Unimagined freedom. The ultimate escapist dream. English four-piece band Temples have set their compass to exactly this dreamy destination on their fourth album that offers the listeners another glimpse of their wide spectrum of spacey psychedelic textures, dream pop influences and much more across the 16 songs. Absorbing the overall vibe and the songs distinctive settings and moods, you would hardly think the core of the album mostly fell into place in their native country England as well as the urban buzz of New York City. The band only spent 12 days in upstate New York to record the tracks – handing over production duties to Sean Ono Lennon. A fruitful musical alliance that is matching the songs' tone well. Despite the rather tight recording schedule, nothing seemed to have been set in stone for the quartet on the sonic spectrum.
While a great deal of the new album clearly places them in their psychedelic-krautrock comfort zone, the sessions in New York also unveil a strong urge for the bandmates to shake off any too familiar habits of working together. The ultimate goal in sight: a genre-bending soundscape that feels more like a listening experience than anything else. Adding to this dynamic, the band explores a great variety of themes along the way – from life and death to time and space, daydream-like encounters to our connection with nature and our own emotions. Blurring the lines of what is real and how far we can let go of control to really sink into all that Exotico has to offer. Each song comes with its own setting and underlying meaning always creating enough fuzziness to let your own imagination wander. Occasionally, the band fails to stick to their forward-thinking approach and the sonic palette becomes a bit too repetitive with Temples helping themselves to some of their familiar patterns. The general line of approach is clearly visible, though. To say it with their own words: "The genre should always just be Temples." (Annett Bonkowski)
Stream It: ► Spotify / ► TIDAL / ► Apple Music / ► Bandcamp
---
Everything But The Girl – 'Fuse'
Sounds like … the refreshing return of a long-lost musical friend.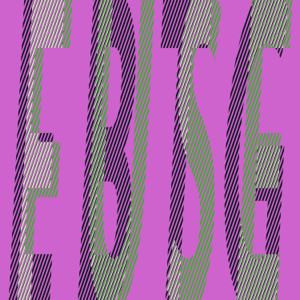 The life-changing effect of the Covid-pandemic already resulted in unusual and unpredictable artistic endeavours in various forms. Not only did it give us countless lockdown records but also unlikely comebacks. Out of all, the return of Ben Watt and Tracey Thorn aka Everything But The Girl might be one of the most surprising. The married couple only split musically after their 1999 album Temperamental but kept working together on various solo adventures. So, there was no falling out but after two decades of profound indie releases (and a surprising global smash hit with 1995's Missing) the story of the band was told. Now, 24 years later we're getting a surprising new chapter. It's a risky adventure Watt and Thorn are engaging in but Fuse does a lot of things incredibly right by focusing on the band's past strength while keeping its vision in the here and now. Fuse is not a retro album. Instead, it takes the familiar melancholic notion of their music and transports it to the 21st century. The band's earlier works fused indie, jazz and nu-wave their turn towards electronic beats in the 90s brought them a huge following and functioned as a blueprint for groups like Hot Chip and The xx that combined sensitive songwriting with tight beats.
Luckily, Watt and Thorn still know how to deliver that formula in 2023. Nothing Left To Lose opens the record with tight breakbeats that remind of Bicep while Thorn finds the right words and sings: "Kiss me while the world decays". Having turned 60 a few months ago, she obviously sounds a bit older but there's still a haunting and unique presence to her voice. Especially in those late-night-moments like the smooth Run A Red Light and Time & Time Again she still works as the perfect beacon to guide the audience through the looming darkness. The intimate and relatable stories she's telling in these songs help to underline that notion, resulting in more than one memorable little pop moment on the album. That's why a track like No One Knows We're Dancing manages to balance emotional intimacy and club euphoria with dignity and delight. And although the musical relationship needed a moment to manifest itself in the studio, the old chemistry is still strong. Fuse is finest happy/sad-material that sheds a limelight on one of pop's way too underrated bands of the past forty years. Consider this a fitting start to explore the duo's other ten albums which got way more to offer. Until then, Fuse delivers enough listening pleasures for old and new fans. (Norman Fleischer)
Stream It: ► Spotify / ► TIDAL / ► Apple Music
---
Lael Neale – 'Star Eaters Delight'
Sounds like … light crashing on a mosaic and reflecting a thousand different colours on your face.
Two sides of the same coin: Lael Neale's latest release Star Eaters Delight seems to be a mirror to her previous body of work, Acquainted With Night (2021). While the latter answered the need of finding peace while being surrounded by the loud and bright LA, indeed, Star Eaters Delight was born in rural Virginia mid-pandemic as the lovechild of deafening silence and isolation. "The unbroken silences on the farm compelled me to break them with sound. This album is louder and more external, calling out to the world". As a consequence of her minimalism (Lael still uses a flip phone), no screens were involved in the making of the album. With producer Guy Blakeslee by her side, Lael Neale explores bewilderment and plays around with references to transcendentalism, the Elizabethan theater and the Bible (that she has never read). "I like to use archetypal language because I want to get a rise out of people. I want to trigger a response. A single archetypal word carries more weight and punch than an ordinary word. Jesus means more to us than Joe".
Star Eaters Delight is held together by three pillars. I Am The River opens the record and sets the scene with a dynamic explosion of meadows, trees and country churches, instantly catching the crowd's attention with Lael's impassive voice and fast-paced writing. Recalling Joy Division's Disorder, the track is an optimistic reminder of what life can sound like: "Remember dancing, remember magic". The second pillar can be found right in the middle of the record: In Verona rewrites Shakespeare's Romeo and Juliet as a complaint towards a society torn to pieces, where humanity and empathy seem to have been replaced by bleak finger-pointing and selfishness. The drum machine and the obsessive repetition of certain lines ("Cast no stone" above all) turn Lael's song into a mantra: even when everything seems to be crumbling down, the lyrics ground her and keep her projected towards a higher ground. Thirdly, Lead Me Blind is the most unexpected yet perfect ending to the album: the piano sounds heartbreakingly fragile and real, diverging from the bold, almost irreverent facade Lael Neale has put up throughout the other tracks. It is at this point that the listener understands that Star Eaters Delight is a record about healing – about how beautiful mosaics can come out of a million broken pieces, on condition that we are brave enough to collect them and glue them back together. (Giulia Leonarduzzi)
Stream It: ► Spotify / ► TIDAL / ► Apple Music / ► Bandcamp
---
Perlee – 'Speaking From Other Rooms'
Sounds like … a vast exploration of love, destiny and beauty.
Berlin can be a tiring place and blessed are those that manage to find a fertile hub among the vast spaces of the city. Perlee, made up of Saramai Leech and Cormac O'Keeffe, came to the German capital around four years ago and found themselves exactly that – a rehearsal space down in the industrial Moabit district served as the creative centre of the married duo and gave way to countless low-key performances around the city and nourished the artistic coming-of-age of the Irish duo, eventually giving life to Speaking From Other Rooms. Also coinciding with the birth their first son, their first full-length is a tender and expansive reflection of love over distance, moving through life and finding one's destiny.
Slow Motion Impact treats your ears with a slow and guitar-drenched intro to the record, oozing into the interlacing windings of the atmospheric rush. Pairing warm synth-waves with unbolting electric guitar pickings, Speaking From Other Rooms opens a tender sonic space that leaves significant space to get lost in – and while tension is skilfully built up, there is a brimming sensuality breathing through the fibres of the pieces that does not fail to enchant and delight. Bad Night's Sleep and Pomegranate are tunes that exemplify this vividly, the latter one falling almost choral-like into a slumber of rising guitar walls of sound. That dream-like vision is here and there disrupted by more progressive and rhythm-fused pieces, for instance on Lampshade or Reckoning, where the delicate musical craft of Saramai and Cormac are fuelled by the driving forces of rhythm and explosive riffs. The couple does have a knack for dramatic impulse, which ultimately comes down in the final song The Wave, which is a climactic peak in its own right, bringing to a close the duo's manifold virtues by letting the sensitive burst out into frenzied sensation. There is so much beauty in the chaos of our lives and Perlee have poured that notion into a mold, for us to experience that again and again. (Andreas Peters)
Stream It: ► Spotify / ► TIDAL / ► Apple Music / ► Bandcamp
---
Indigo De Souza – 'All Of This Will End'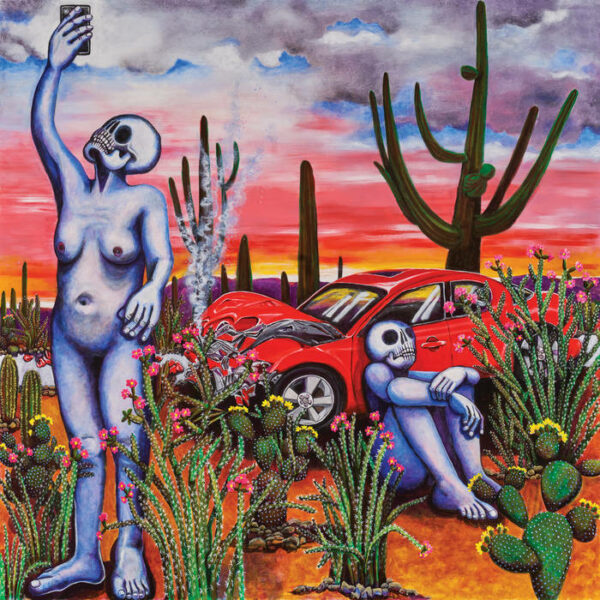 Sounds like … finding beauty and hope for the here and now.
For a record that supposedly deals with mortality and decay, Indigo De Souza's All Of This Will End strikes with brimming stamina. Following her breakthrough Any Shape You Take (2021), her latest full-length embraces a new phase for the North Carolina-bred songwriter, and admittedly a bold and fearless one on all levels. All Of This Will End marks a turn from being lost in one's past towards the here and now and to fully emerge oneself in the consciousness of the present time. Needless to say, the record assembles pain and sorrow, and yet there is a spirit of resilience, blaring through the song's spaces, as the mantras of joy and victory keep blinking up over what seem to be deserted landscapes of dust. 
"Every day I wake up thinking that this could be the end", Indigo De Souza says, which captures the sentiment of the record in all its audacious and thrilling roughness. Somewhere between synth-pop and fine rock-anthem like sensations, songs like You Can Be Mean, Wasting Your Time rush through the hazy atmosphere of All Of This Will End, while more dreamy tunes like Losing bring you down in a sentimental fashion, reminding you of the central decadence motif. What unites all these songs is their inherent catchiness and the utmost force with which they draw you in and swirl you through the maze of the distinct sonic world. Comparisons to the verve of groups like Porridge Radio or Wet Leg do come to mind, but in the end the record remains an authentic expression of growth and maturation. The awareness, that everything will end eventually is not necessarily something sad, as Indigo De Souza finds, but may also be "something really valuable: today I'm alive, and someday I won't be in this body anymore. But right now, I can do so much with my life". (Andreas Peters)
Stream It: ► Spotify / ► TIDAL / ► Apple Music / ► Bandcamp
---
Nabihah Iqbal – 'DREAMER'
Sounds like … gentle-handed invitation into lush synthy dreamscapes.
London-born artist Nabihah Iqbal weaves dreamy soundscapes on her fittingly titled second LP DREAMER. Usually known as a curator and radio host, the artist took the time to slow down and hone her creative expression on the album. The result is a collection of vast, ethereal synth-driven songs that move in gauzy worlds of synth-pop and indie electronica. Her vocals are at times part of the instrumental technicolor glow, bent and stretched to undiscernible choirs, at others raw and spoken word recitals like on the 80s reminiscent This World Couldn't See Us.
DREAMER may fool the listener with its lush instrumentation and hazy expression. There is a lightness to the electronic compositions that glosses over the hard times that the artist dissects in the lyrics. Burnt out and broken-handed, the artist hit a low point in 2020 and spent some time with her grandparents in Karachi, Pakistan. There, she reconnected with her love for songwriting and started working on a collection of intimate songs. Away from her studio, she worked with the acoustic guitar and the Harmonium again, spinning songs like the tender Lilac Twilight and A Tender Victory. The acoustic songs harmonize surprisingly well with the soft techno-reminiscent Sunflower and Sky River. Nabihah Iqbal conjures a transcendent vibe with her music, be it acoustic or electronic. DREAMER is a gentle-handed invitation to join the artist in the airy weightless realm of the record. (Liv Toerkell)
Stream It: ► Spotify / ► TIDAL / ► Apple Music / ► Bandcamp