Melody's Echo Chamber – 'Bon Voyage'
Meldoy Prochet's musical return is short, but very very sweet.
Melody Prochet's journey to her second album has been a strange and unfortunate one. The kaleidoscope beauty of her self-titled debut won her a lot of fans, but that was six years ago. Songs from what would eventually become the follow-up started to emerge soon after (Shirim first surfaced in 2014), but still it took its time. Then last year, with the album seemingly ready to go, Prochet suffered an accident which caused the record to be delayed and her tour plans to be shelved. So after all that, we're finally here with Bon Voyage.
In a strange way though, that long journey to this record kind of helps to take the pressure off, the gap meaning that the music world's eyes aren't so laser-focused on Prochet to see if the debut was a fluke.  Bon Voyage can live as a project in its own right, out of the shadow of its celebrated predecessor. Which is lucky, because it's a strange sort of comeback. It's only seven songs long, and four of those have been heard before in some way before the record's release. So we can take Bon Voyage as less of a 'reveal' of the new Melody's Echo Chamber, and more as a whole project in its own right. And this album has a lot to recommend it. Prochet collaborated with members of the Dungen for this record, which probably provided the inspiration for the Swedish-language scrappy acoustic middlepoint Var Har Du Vart. Whether theirs was the influence that inspired a stylistic change here, something certainly did, because Bon Voyage is an successful update of Prochet's sound. Songs like Cross My Heart and Shirim import funk basslines and soul inflections, and filter them through Melody's Echo Chamber's psychedelic soundscape. Elsewhere, the singles Breathe In, Breathe Out and Desert Horse feel more vulnerable and raw, the distant composure of the first album taken away and real fear and trauma running just under the surface. Overall, it feels like at 33 minutes, Bon Voyage is probably a little too short to be a classic, classic MEC album. It's very good, but it can feel like it goes by a little too quickly. But there's an awful lot to like here, and individual songs might be candidates for her being her best (hello there Shirim). But it's important that this album is here at all, and the Prochet is back on track. Because even if this isn't a straight 10/10, on the evidence of it you'd back her to do it on the next one. (Austin Maloney)
Song to get you started: Shirim
Stream it now: ► Spotify / ► Apple Music / ► TIDAL
---
Johnny Marr – 'Call The Comet'
One of Britain's creative constants isn't interested in slowing down anytime soon
It feels as if Johnny Marr's ongoing musical relationship with Hollywood blockbuster composer Hans Zimmer rubs off on his own recordings at last. The premise for Call The Comet is one that could also work on the big screen. Because the former Smiths mastermind is not only calling the asteroid to wipe out all the Trumps and other narrow minded minds (greetings to his former bandmate right here) from this world but it also brings us an extraterrestrial race (The Tracers) which will show humanity how finally create utopia. So, they come in peace and are not interesting in blowing everything up which limits the chances for Hollywood to jump on board for this one. Marr himself probably couldn't care less – he continues to walk this path in the most stubborn way, believing in the good of the people, raising a middle-finger to those who don't agree with him and keeping the spirit of British guitar rock alive.
Because, let's face it, like its predecessors Call The Comet isn't the most innovative album. But you shouldn't expect that from a man in his fifties. However, he still got all the fire it needs. Rise, The Tracers and Hey Angel open the record as smashing rock anthems before Hi Hello pays tribute to The Smiths' There's A Light That Never Goes Out. You can only get away with it if you've written both tracks, right? It feels as if Johnny Marr's confidence increases even more with every solo release since his 2013 debut. It's also his most experimental record so far. Tracks like New Dominions and Actor Attractor recall Manchester's legendary industrial and post-punk roots while the cinematic new wave monster Walk Into The Sea might have really been influenced from his soundtrack work. His guitar play remains as wonderful, unique and melody-driven as ever and it still is the anchor of these catchy songs. Maybe it doesn't need aliens to get us back on course, just one of music's most restless characters. (Norman Fleischer)
Song to get you started: Walk Into The Sea
Stream it now: ► Spotify / ► Apple Music / ► TIDAL
---
Girls Names – 'Stains On Silence'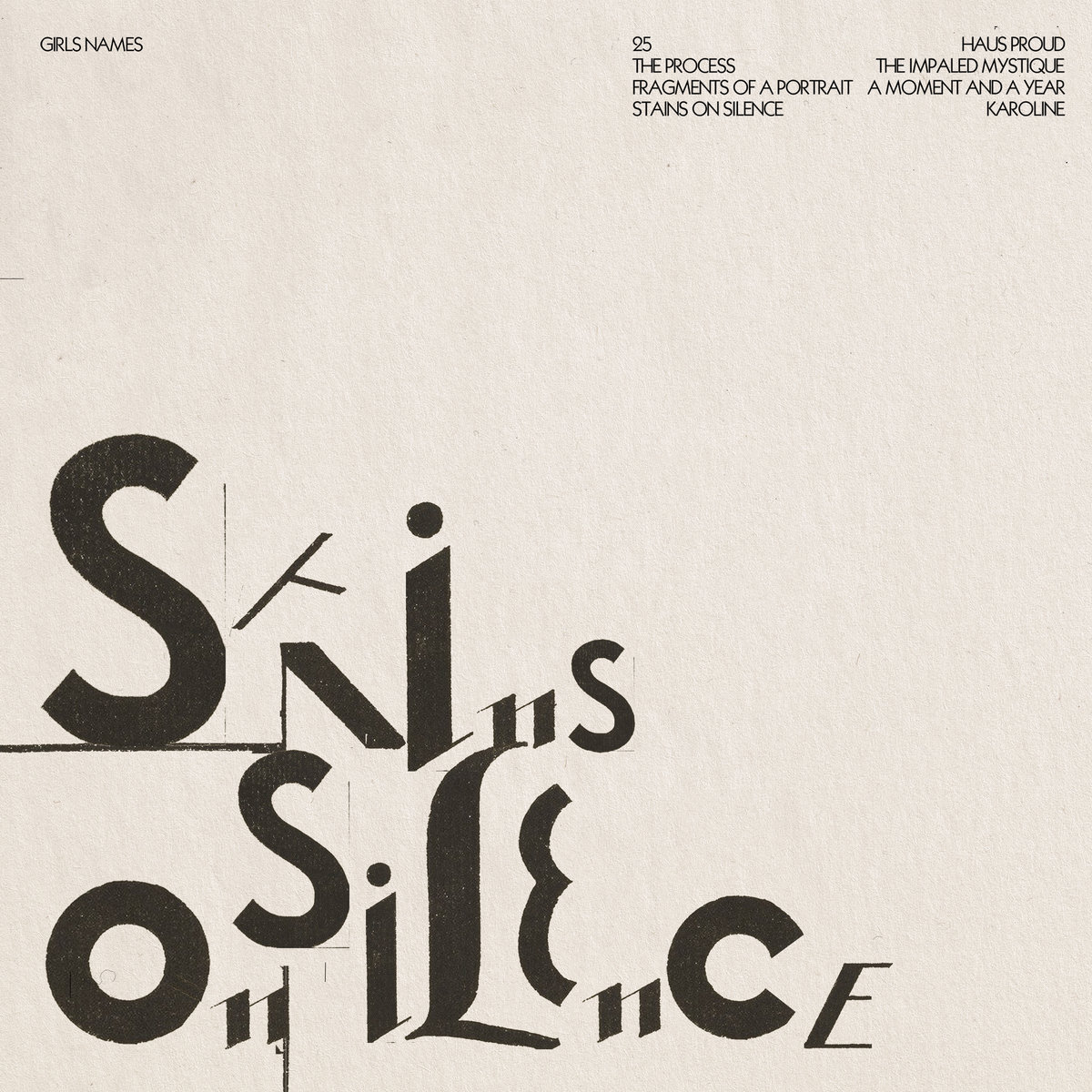 Things are getting even darker in the cosmos of these folks.
Amazingly, Belfast's Girls Names are approaching ten years as a band, though the time between here and their last album, 2015's Arms Around a Vision, has been a tumultuous one. After their drummer Gib Cassidy left in 2016, the band took a break after scrapping the original mix and deciding to re-create the record with a darker, more electronically indebted mix as opposed to the dreamy indie-pop that gave their fame on 2011's Dead to Me and 2013's The New Life.
The result, then, of Stains On Silence their 4th album is a mysterious voyage down some shady back alleys and corridors of a film noir city. This comes in direct opposition of their recently released Primative Desire collection, which catalogues the band's earliest, much brighter demos. Right from the opening drums of 25, we are treated to an almost David Lynch-esque world of reverb-drenched lounge jazz, met with the synths of Vangelis and the voice of a shadowy figure offering a deal with the devil. Though it's not quite the same as Talk Talk's reinvention into a luscious post-rock band, Girls Names have taken a similar risk to create something that pushes their boundaries to places unknown, and are all the better for it. Singles The Impaled Mystique is the kind of gothy anthem that would sit amongst the best late 70s/early 80s post-punk, a modern day Bela Lugosi's Dead, if you will. Finale Karoline is one of the only moments reminiscent of their earlier sound, and is a wise choice to leave last as a shining light at the end of the tunnel. (Adam Turner-Heffer)

Song to get you started: 25
Stream it now: ► Spotify / ► Apple Music / ► TIDAL
---
Mourn – 'Sorpresa Familia'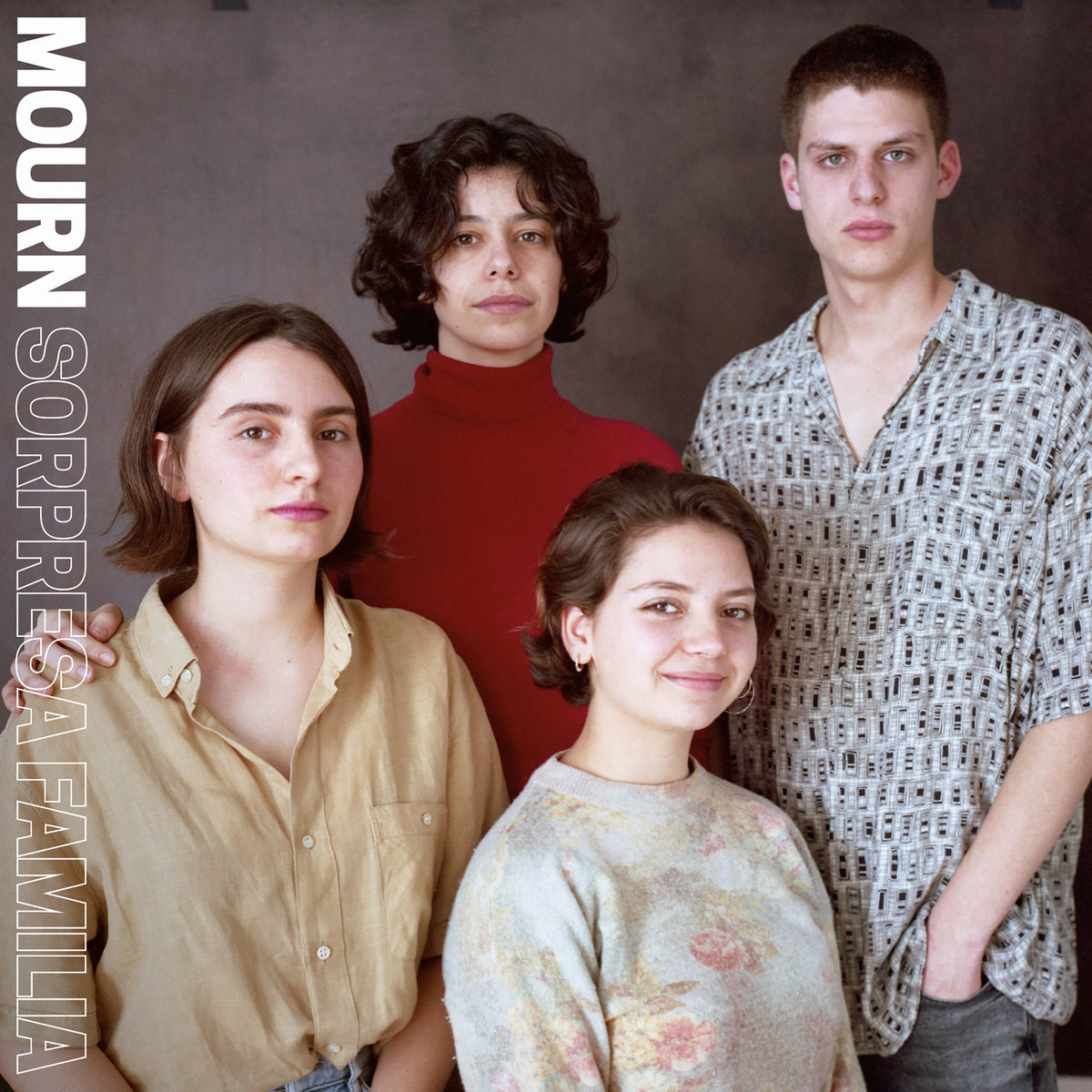 The Catalonian quartett are one of the bands you could watch growing up whilst being in a band.
Mourn do thingsin their own way. Their self-titled debut was released in 2013 while the second album Ha, Ha, He! from 2016 was postponed due to problems with the record label. Whilst Mourn grew with every album to be a mature and less naive band, their third album Sorpresa Familia is the final product of that process. You can almost smell the anger and frustration in the air that colors the album. While Barcelona City Tour is a feisty post-punk anthem, Skeleton isn't less feisty but more dreamy than its predecessor. In Stranger singer and guitarist Carla  Pérez Vas yells out the question 'Who are you to say what I am?'. What follows is an atmospheric track blazoned with lo-fi, post-punk and garage rock elements that couldn't be technical more accurate. Fun At The Geysers is – as the name tells – a more fun than earnest matter. Followed by the more laidback and melancholic  tracks Candle Man and Orange, Doing It Right is another feisty anthem that deals with Mourn's record label problems. They even put mails with their record label in lyrics. With Thank You For Coming Over and Bye Imbecile! the quartet sticks to their rant vibes. Sorpresa Familia is another versatile album from the furious four-piece that proves that the band has grown compared to their previous two albums. And it gives hope that we'll soon see more of these four feisty Catalonians. (Louisa Zimmer)
Song to get you started: Barcelona City Tour
Stream it now: ► Spotify / ► Apple Music / ► TIDAL
---
Gui Boratto – 'Pentagram'
One of the musical constants from Cologne's restless Kompakt Records label explores new worlds outside the club cosmos.
After one decade in the international techno scene it felt a bit as if the great but often quite similar formula of Brazilian producer Gui Boratto was worn-out. 11 years after his breakthrough debut album Chromophobia his sound surely needed a few new twists and luckily his fifth studio album delivers them. Pentagram is not actually reinventing the wheel and a Gui Boratto record remains a Gui Boratto record but you immediately sense these new tricks once it starts playing. The Walker starts the record with an undeniable cinematic 80s pop flair that partly reminds you of the Stranger Things soundtrack although it's been actually inspired by Tears For Fears. The Black Bookshelf delivers a more pop-friendly melody and a stylish breakbeat that clearly avoids four-to-the-floor club patterns. Overload sees Gui Boratto teaming up with beloved vocalist (and wife) Luciana Villanova again for a sharp piece of synthpop that also embraces the artist's love for more conventional pop structures.
But don't worry, techno kids, the man still knows how to craft a pumping floorfiller. Forgotten and Forgive Me are heading directly for the club but are also immediately followed by a piano-driven downbeat piece called Scene 2. The Phoenix, on the other hand, features a male vocalist (Nathan Berger) which also adds a new element to Boratto's musical cosmos. Pentagram feels as if the artist wanted to challenge himself and his audience by heading into all possible directions. He still manages to keep the album's vibe intact by mixing all those different styles and ideas in the best possible way. Gui Boratto's sound remains as playful and charming as on his previous releases and it's even more enjoyable to see him expanding his creative field. (Norman Fleischer)
Song to get you started: Overload
Stream it now: ► Spotify / ► Apple Music / ► TIDAL
---