Mitski – 'Laurel Hell'
Sounds like … the sweet spot between heavy-hearted and light-headed

Considering that it took Mitski Miyawaki more than 3 years to finish up her new album one might have feared it could burst with too many ideas, maybe even being too conceptualized. The old, constant threat for the artist: overthinking. So good news first: Mitski still manages to open up a whole world within the frame of songs that barely extend the three minute mark. Written in or even prior to 2018 and finished in 2021, Laurel Hell, despite the fear of the devoted listener (me), might easily be her most accessible to date. Thanks to the go-to century for sweet pop, the 80s, the eleven song sparkle with joyful songwriting, hitting the sweet spot between heavy-hearted and light-headed.
Where Mitski Miyawaki without a doubt had a knack for the edgy approach towards indie songwriting on her former records, Laurel Hell presents itself clearly less unwielding but with a generous touch of 80s sweetener. Mitski's songs profit from the nowadays more refined tension between inner turmoil and shiny surface. You'll get instant hits like Stay Soft, The Only Heartbreaker or Love Me More but you'll also get reduced, sketchy grandezza (There's Nothing Left For You) or playfulness (Should've Been Me). Equal parts intense and diverting, Laurel Hell marks yet another highlight in Mitski's still young career. It might not be her Jubilee yet but she's definitely on the way. So: "open up your heart like the gates of hell"! (Henning Grabow)
Stream It: ► Spotify / ► Apple Music / ► Bandcamp
---
Black Country, New Road – 'Ants From Up There'
Sounds like … all the emotions of life right now, unfolding at once.
When British seven-piece Black Country, New Road dropped their debut album For The First Time one year ago it was much needed dose of refreshing chaos to shake us all up during the depressing lethargy of the lockdown winter. The album was hard to categorize, ambitious, raw, full of fire and beauty – an outburst of energy we were all craving for and it turned the band into one of the most exciting new outfits of the scene. Well, one year later the pandemic is still in full swing and just like the virus that special feeling of winterly lethargy mutated into something else. In this whirlwind of exhaustion, depression, frustration, anticipation and resignation the band delivers a follow-up that feels like the right sound for the right time once again. And on top of it they managed to do something quite rare: topping the quality of their debut and delivering an even better sophomore album. Recorded during the relatively free summer of 2021 at the Chale Abbey Studios on the Isle of Wright, Ants From Up There combines all the strengths you love about last year's record while simultaneously adding more musical depth and emotions to these songs.
All in the all, the album is a more moody and melancholic affair than its predecessor as if the ongoing exhaustion also caught up with the band. That results in songs like the tender Concorde (almost a power ballad) and Bread Song (with a very cinematic finale following a gentle start) which show a new side of the band. However, Black Country, New Road aren't interested to please you with ordinary indie rock ballads here since their wild mixture of prog rock, glam, jazz, klezmer still fuels these songs and they rather include a surprising twist than heading for obvious structures. That's why a more moody song like Haldern can turn into a noisy bastard at the end. And while the group has always been known for quite extended song lengths they really outdid themselves with the final trio of songs which last almost half an hour together and mark a true highlight in the still young career of the band. The Place Where He Inserted The Blade is loaded with big gestures and wild saxophone extravaganza while Snow Globes takes the listener through a variety of emotions in its 9-minute long runtime. Bleakness meats chaos and in the middle of it singer Isaac Woods feels like the magnificent captain to take us through this wild ocean. I won't even start to explain the mighty over 12-minutes-long closing track Basketball Shoes. You have to experience it to understand it. Last year I was jokingly comparing Black Country, New Road to a weird twisted take on the Arcade Fire formula but with this one they are actually getting closer to the vibe of the indie heavyweights. But luckily they are on their own edgy path so far and it's such a tremendous and fulfilling joy to follow them to even higher heights. With lead singer Isaac Woods announcing his departure earlier this week it will be interesting to see how that path might actually look and sound like. Ants From Up There is an outstanding piece of work, a musical revelation and – like its predecessor – already on its way to become one of the year's most essential records. In a confusing time when we're running out of words to label it, these folks found the right sound for whatever the heck is going on right now. Do yourself a favour and do not miss this album! (Norman Fleischer)
Stream It: ► Spotify / ► Apple Music / ► Bandcamp
---
Los Bitchos – 'Let The Festivites Begin!'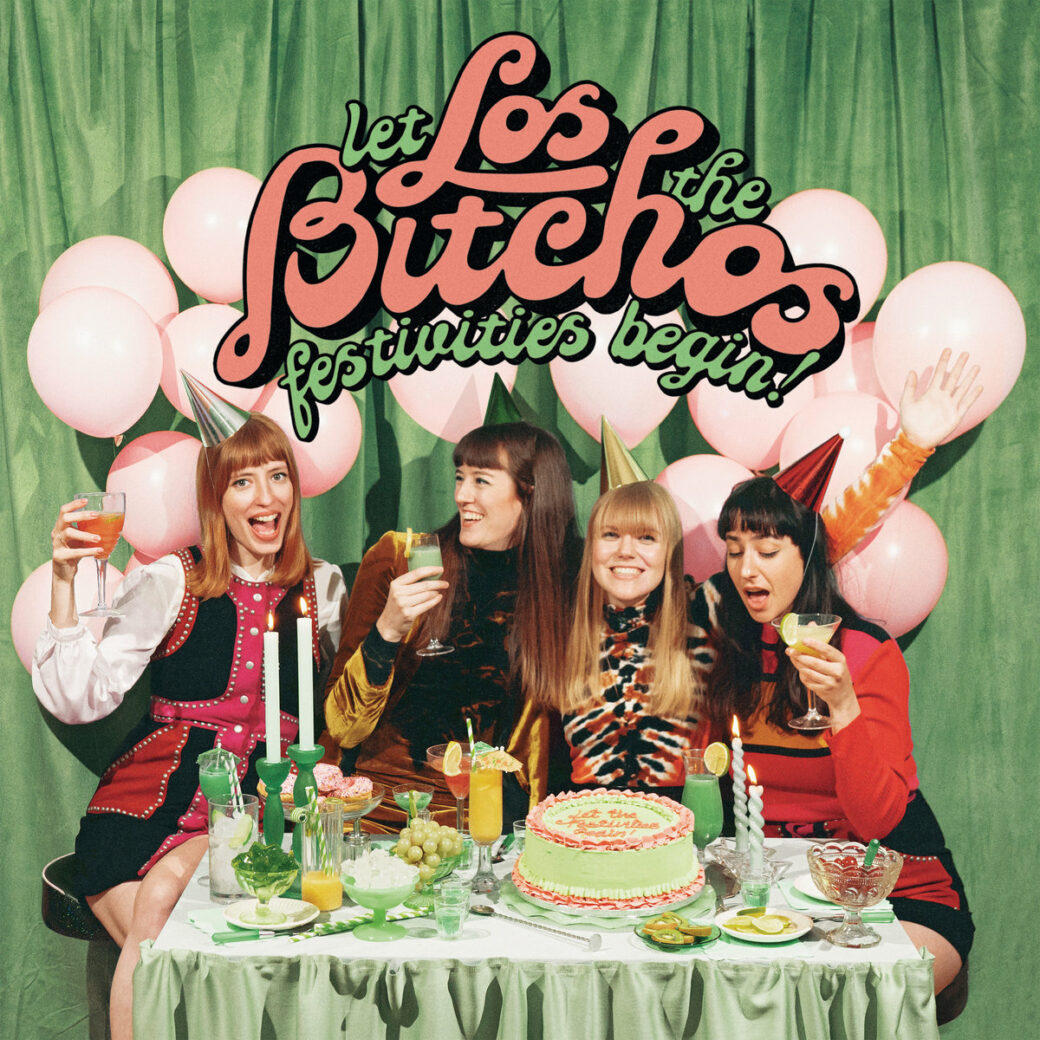 Sounds like … fireworks that shine from London to Lima.

Sometimes we take music so seriously that we forget that it is also the core of any good party. Los Bitchos bring that mentality back into their music making. Let the Festivities Begin!, their debut record is a bright instrumental album that bends genres and makes bodies move. Jumping between Cumbia's psychedelic cousin Peruvian Chicha, retro surf-rock vibes, disco bass lines, and Anatolian-tinged guitar melodies, the record is a true mixed bag. Grown from the diverse musical background of the four musicians, comes a musical cocktail that defies expectation and categorization.
Pista (Fresh Start), the beautifully Cumbia-brazed lead single finds its match on the psychedelic organ-synth of Tropico. For Los Bitchos music is about being together and having a good time and that translates into their output, of course. The humorous song titles like Tripping At A Party or Lindsay Goes to Mykonos add to the bright upbeat instrumental texture of the album. Let the Festivities Begin! is an invitation to the private party of the band, taking you on a musical trip full of colorful grooves. From their Londoner base, the quartet travels to dusty desert bars on Good to Go and to the core of Latin Rock on Change of Heart. And if you can keep still listening to the record, then your volume is not turned up high enough. (Liv Toerkell)
Stream It: ► Spotify / ► Apple Music / ► Bandcamp
---
The Slow Show – 'Still Life'
Sounds like … the melancholic comforting we sometimes need.

There are bands that'll always comfort you if you are in a specific mood. It doesn't really matter from which point of their discography you enter their world; it's always a very unique but also sometimes slightly arbitrary experience. The melancholic Mancunians of The Slow Show definitely belong to that species. The trick for a sustainable career of such artists often is to balance expectations and growth. Over ten years of existence and four albums in, Still Life presents The Slow Show at such a subtly transformational point. You'll get what you were looking for but if you're willing and into it, you'll also find that there are moments of growth. The Slow Show still manage to find a way to slowly, gently expand their very own melancholic universe.
"I'm sorry life can hurt so bad", murmurs singer Rob Goodwin in his distinctive voice and voilà: Mountbatten immediately sucks you into the familiar and comforting Slow Show-universe. Still not enough of an artsy crooner like Stuart A. Staples but also still quite different from the Matt Berningers of our time, Goodwin is of course the beating heart of this album. Musically, these two poles, the champer pop delicacy of Tindersticks and the refined Sturm und Drang of The National, are quite obvious as references. The arc of suspense within songs like Rare Bird from its piano playfulness to its big finale or the political stance of Breathe add the aforementioned moments of evolvement. As a result, it is as it always was: Sometimes it just feels right to dive right in to The Slow Show's melancholic universe. Not because you're desperate for innovation but because it is comforting. (Henning Grabow)
Stream It: ► Spotify / ► Apple Music
---
Imarhan – 'Aboogi'
Sounds like … warm winds.
Tamanrasset, Southern Algeria. The desert winds are blowing, and the temperatures are climbing up the thermometer. In the vast heat of the Saharan town, the quintet Imarhan created a musical oasis. In 2020 the band finished building the first recording studio in their hometown naming it Aboogi, after the name their nomadic forebears gave to their first established settlements and villages. Aboogi is also the title of the Assouf band's third record, for the first time recorded on native soil. The bandleader Iyad Moussa Ben Abderahmane, aka Sadam, recalls the colors and everyday experiences of Tamanrasset on the album. "We give space to the wind and the natural energies, to the sun and the sand. We want to express their colors through music."
Imarhan invite their community into the studio and onto the record through several collaborations. Working with Tinariwen's singer Abdallah Ag Alhousseyni and the local poet Mohamed Ag Itlale, the soul of the album lives from the resilience of the Tamanrasset community. Sung in Tamasheq, the band keep the traditional language of their ancestors alive and carry on the musical tradition. Yet, they incorporate the diversity and the growth of their hometown and musical influences in the record. The fingerpicked Asof combines the five voices of the musicians to a rich textured reverberation. An act of resistance at its core, their music gives room to the frustration many Tuareg people have experienced in post-colonial Algeria as well as drawing from the traditions of the culture before the violence imposed by French colonial rule on Tindjatan. Sadam expresses the struggles of the youth on Adar Newlan singing "the sons of my country are exhausted". On Taghadart they team up with the Sudanese singer Sulafa Elyas who sings in soft Arabic verses melting into the deep intonation of the Tamasheq language. Aboogi lives in the culture, community, and environment Imarhan experience every day and encompasses all the facets of life – from the otherworldly beauty of it, to the unbearable pains. (Liv Toerkell)
Stream It ► Spotify / ► Apple Music / ► Bandcamp
---