Pale Waves – 'Who Am I?'
Sounds like … adolescent anxiety meets 90s radio pop/rock.
Ever since British indie-pop four-piece Pale Waves first showed up on the musical map four years ago they've been a 'love it or hate it' thing. Heavily polished and over-the-top their version of indie-pop isn't rough around the edges at all – it's a sparkling, shimmering selection of highly melodic hooks that are criminally catchy. And their second album only fuels all these emotions you might feel about the group but this time they take the retro notion one step further. While the 2018 debut My Head Makes Noises was more based upon a glossy interpretation of 80s wave pop and rock Who Am I? moves forward in time and feels like one big cotton-wrapped tribute to the shimmering radio pop/rock of the late 90s and early 00s. Think Avril Lavgine; think Alanis Morissette and you'll get an idea where the band and acclaimed producer Rich Costey (Foo Fighters, Muse) are heading on this album. Emo-rock attitude meets Top 40 pop and you have every right to hate this mixture – if it wasn't for that damn catchy melodies and the charming emotional honesty of the lyrics from band leader Heather Baron-Gracie. "I sat in the shower couldn't leave for a few hours," she documents the heartbreak in the opening Change which really feels like it could have been released twenty years ago. The aspect of giving comfort in troubled times remains a steady motivation for the songwriter. The wonderful She's My Religion is the midtempo queer power pop ballad Baron-Gracie wished she would have had access to in her own teenage years. "She's cold, she's dark, she's cynical / She's forever angry at the world / She's no angel, but she is my religion" – that's the stuff adolescent heartbreak is made of.
Pale Waves deliver eleven songs of heartbreak but also empowerment on their second album. The surprisingly punk-infected Tomorrow is a stunning anthem for all the outsiders and misfits, You Don't Own Me delivers stubborn confidence. If you grow up today the heart-wrenching emotional core of these songs will speak to you, if you're a bit older you might at least appreciate the consequent late 90s radio pop/rock sound which the band manages to recreate in a very satisfying way. I Just Needed You even shamefully rips off The Smashing Pumpkins' iconic 1979 riff. Fuelled by nostalgia Pale Waves trigger something with their music, a forgotten attempt to mix the catchiness and universal messages of pop music with a certain amount of musicality honesty. Today, people tend to label it indie-pop but twenty years ago this would have been a wide mainstream success. Well, it might still be. The lines are getting blurry and this band frees its music from the expectations of time by specifically playing with it and the pop musical references. It doesn't matter because in the end it's the songs that matter. Pale Waves want to provide the catchy anthems for the confusing teenage years and that aspect might feel a bit cheesy once you leave your adolescent years behind. But if you try to remember that feeling you had when you were 15 and once you manage to leave the cynicism behind this is a pretty stunning piece of music. (Norman Fleischer)
Stream It: ► Spotify / ► Apple Music / ► Bandcamp
---
Claud – 'Super Monster'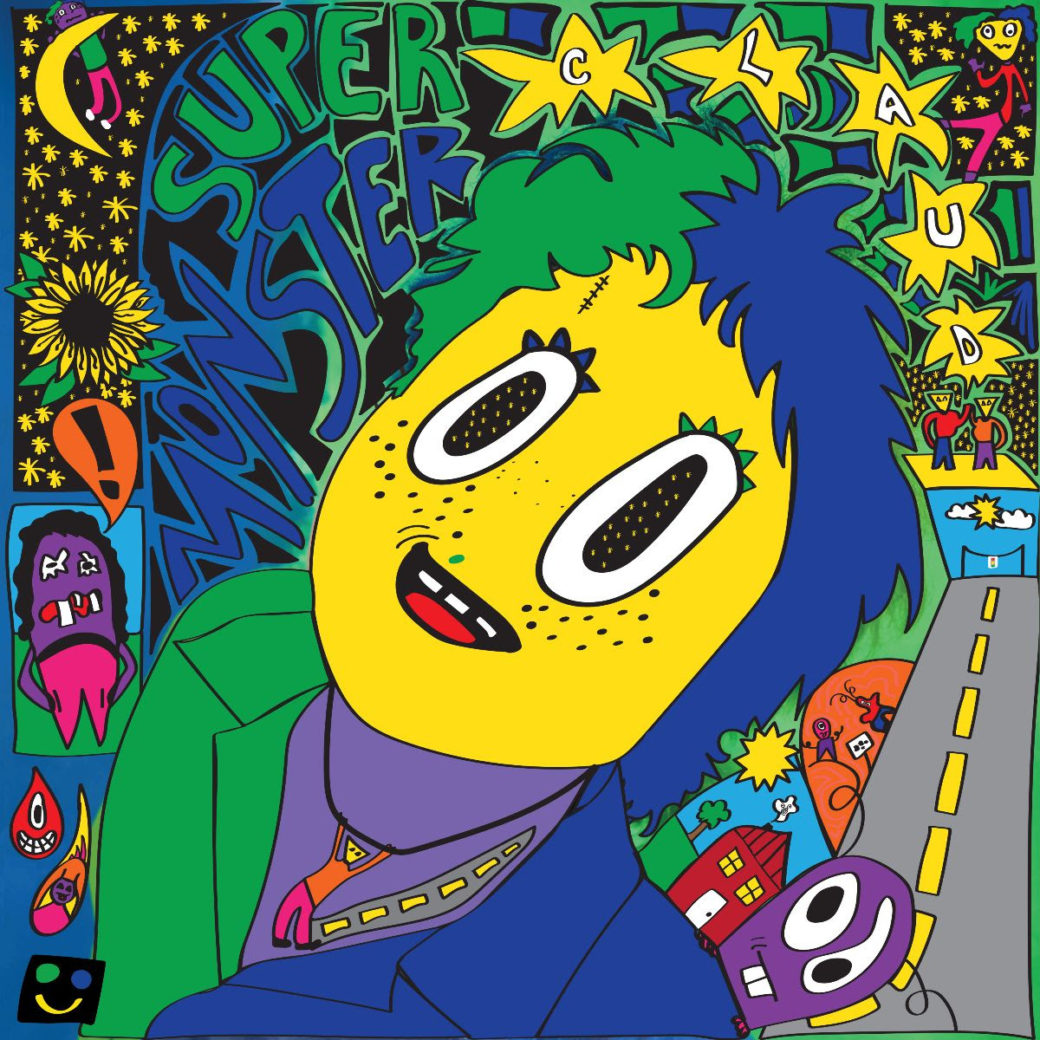 Sounds like … lyrical and musical depth beyond bed-room pop.

Claud is stepping from the side lines into the spotlight. Super Monster is the singer's debut LP and follows Sideline Star – the EP which first distinguished their sound. Coming from the bedroom indie pop scene, Claud discerns their musical and lyrical style with a steady hand. The indie pop arrangements are ridden with melancholia yet convey an upbeat energy.
Super Monster observes the struggles of 21st century love and relationships under a microscope. From the never-quite vanished love for an ex on Soft Spot, to toxic crushes on Pepsi, and the pained lament of betrayed trust on Guard Down, the album is a journey through different emotions that we are probably all familiar with. The dreamy textures of the song hit the same tone but vary in style; surfy reverb on Cuff Your Jeans, beat driven Guard Down, and fuzzy nostalgia drenched This Town. Listening to Super Monster is at the same time uplifting yet digs into the core of heartaches and painful memories – but most importantly Claud manages to make you feel and isn't that why we are listening to music in the first place?! (Liv Toerkell)
Stream It: ► Spotify / ► Apple Music / ► Bandcamp
---
Jon Foreman – 'Departures'
Sounds like … whispered confessions from the underground.

San Diego songwriter Jon Foreman has always been one to go all the way, no matter how turbulent the journey appears to be. Driven by an untamed desire to turn your own life into enduring melodies of hope and desire, the Switchfoot and Fiction Family wordsmith and front singer, his more than twenty year long career has not only taken him to Grammy-winning success with his main band and alt-rock outfit Switchfoot, but has seen his poetic craft as far as the imaginative The Wonderlands EP series some years back, resulting in performing 25 pop-up shows throughout San Diego in 24 hours.
Yet, just like on everyone else, last year's pandemic blow hit him particularly hard and his new album Departures is his way of coping with the changed realities, as he explains: "I fought hard against this year and the year has won. But the journey that brought me here was not completely in vain. In fact, I would not trade it even if I could. During the lowest moments, I turned to meditation, prayer, and songs, attempting to find a vehicle to sing into this new storm of doubt and despair." This is the ground from which Departures is born, and it amounts to a powerful canon of songs that "embrace the moment we're in".
The Ocean Beyond The Sea is a solemn entrance, fusing Foreman's sombre voice register with a cinematic musical scope that builds up a sonic expanse, dripping with dramatic classical potential. Yet, on the following Education, the modern troubadour picks up a more familiar folky note on a tune dedicated to the transformative powers of committing yourself to another person: "You lose yourself / when you love someone". A main part of Departures is committed to more classic acoustic gems such as A Place Called Earth, a passionate outcry, featuring Foreman's voice driven to the edges of control. The adjoining Red And Gold may well be one of the tender highlights of the record, in that it exposes Foreman's craft of fusing brilliant lyricism with imaginative talent and a heartbeat of emotion running all the way through the piece. Times may be tough, but "we're on our way home", the songwriter concludes, which is indeed soothing and reassuring. And isn't that what we long for in music? Meanwhile, Jon Foreman's spiritual edge may be more strong on Departures than it has ever before and yet that doesn't lead him to easy answers, but drives his will to remain strong amidst storms of doubt and despair. "In a world of war, love is the rebel song", he sings at one point. And who would argue against this right now? (Andreas Peters)
Stream It: ► Spotify / ► Apple Music
---
Django Django – 'Glowing In The Dark'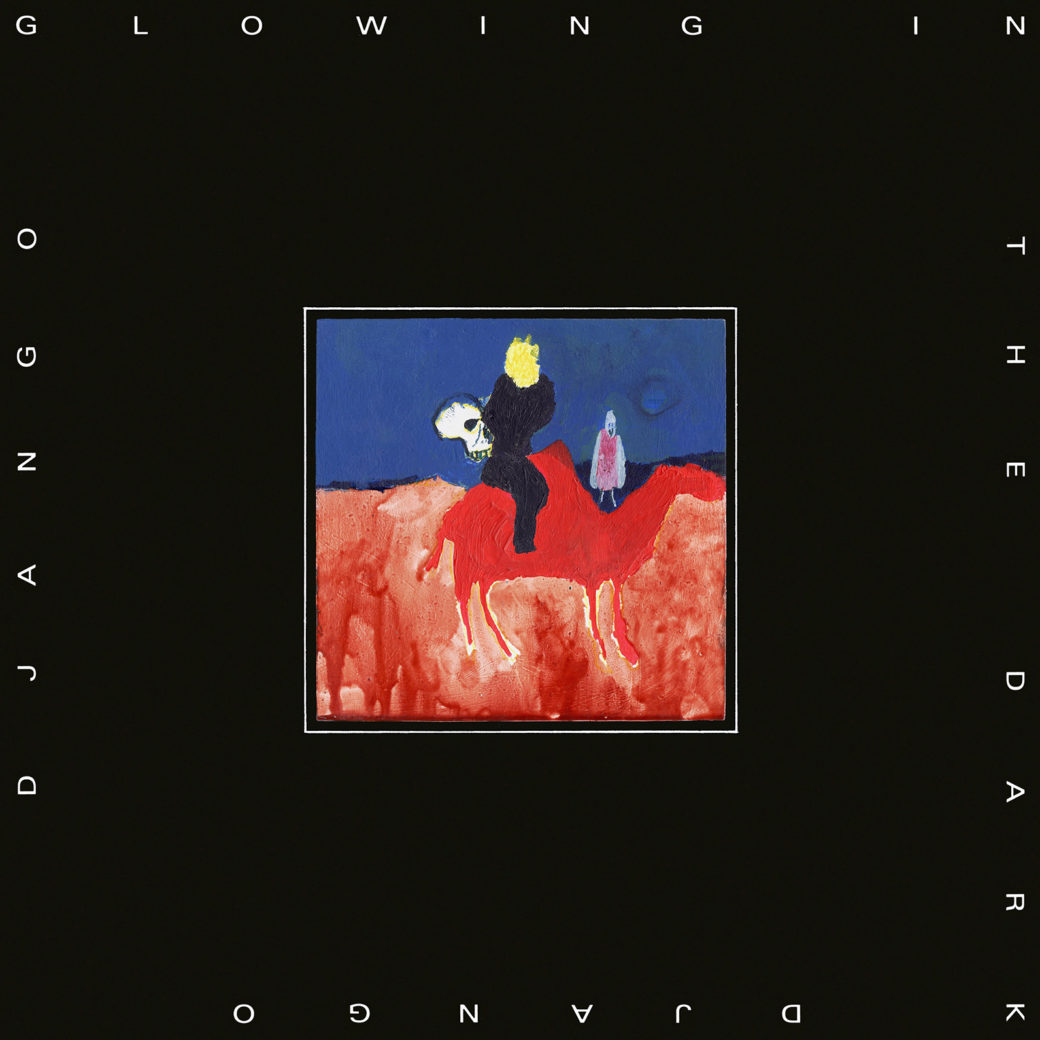 Sounds like… the next arty escape into the world of sounds and percussion.
Django Django's approach to music has always been an unconventional one. That's what brought them a Mercury Prize nomination for their self-titled debut in 2012 and that's what kept this band interesting since then. On their fourth record Glowing In The Dark the band doesn't break with that tradition but continue their very progressive interpretation of what pop music can or even should sound like. Fusing genres and styles from different centuries and different parts of the world into one has always been an easy task for the band. But it's still impressive to see with what ease and casualness the band manages to bring 60s sounds, global rhythmics and modern dance music into a fitting whole to create a soundscape that defies any strict genre classification.
Like the predecessor Marble Skies from 2018 the record needs some spins until it fully reveals its catchy side. But once laid out, this record is not only fun to listen to, but also full of musicality and thoughtfully placed details. It's especially the ambivalence between surf- and psychedelic-rock sounds and elements from contemporary electronic and pop music that gives Glowing In The Dark its charm, like the pre-released single Free From Gravity. Right The Wrongs has a Beach Boys flair, the following Got Me Worried grooves light-footed on a South American rhythm and ends with applause, which fades right into the next track Waking Up with a guest appearance from Charlotte Gainsbourg. Night Of The Buffalo is a mysterious garage rock track ending with a sting solo, before the acoustic The World Will Turn takes over and covers the record in a peaceful vibe. The title track Glowing In The Dark is pure club dance track with a pumping beat and sampled vocals. Once again Django Django break all musical boundaries and rearrange them in way only they could imagine. (Abhilash Arackal)
Stream It: ► Spotify / ► Apple Music
---
Christian Löffler – 'Parallels: Shellac Reworks'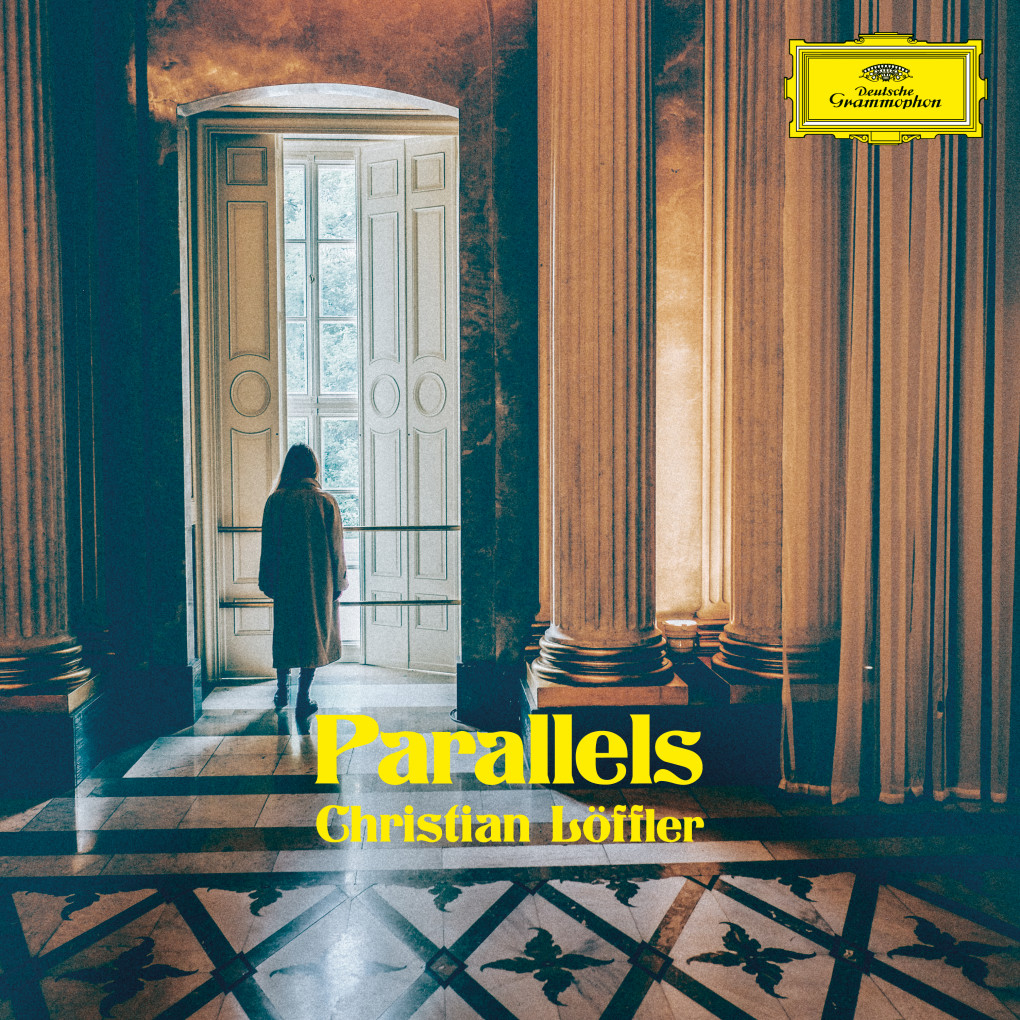 Sounds like … the classic of the past can go hand in hand with modern electronica.
Although these current times are full of surprises it doesn't totally come out of the blue that German electronic music producer Christian Löffler is making his debut on acclaimed classic label Deutsche Grammophon now. Löffler's vibrant and dreamy take on techno always had one foot set in the neo-classical world and over the years that tendency in his music became more visible, his sound drifted more and more towards the space in your mind than the one on the dark dancefloor. This album however is not a straight neo-classic record; it's still pretty close to the Christian Löffler sound you've come to know over the past decade. The concept of Parallels: Shellac Reworks is a different one. The German composer was given access to historic sound recordings of some of classic music's most iconic figures: Wagner, Bach, Smetana, Bizet, Chopin and – most prominently – Beethoven. Löffler then created tracks around the old samples and themes; he transports the sound from the past into the here and now. It's quite an ambitious adventure but it's fascinating to witness how well the past and present meet on this adventure and how Löffler manages to free these century-old pieces from their notorious bombast and introduce them into his well-known mellow electronic sound cosmos.
In the opening Parsifal the samples still appear to be hidden in the fog, wandering between the ambient layers. On Moldau they come a bit more into the foreground but Löffler manages to give Bedrich Smetana's iconic ode to the river into a gentle techno update that's riding on a subtle yet quite present beat. Even the iconic key theme of the piece makes a cameo towards the end but it feels only logical. Once these classic originals step into the limelight of the tracks it first feels a bit out of place (in comparison to Christian Löffler's past work) but you'll get used to it quite quickly. He turns the choir of in the recording of Bach's Dir Jehova into a reverbed echo from the past that feels like waves crashing in. The highlight of this fascinating Shellac sampling adventure mark the final four pieces which are all based on Beethoven's work and were already released as an EP last year. By now the listener is used to the concept and it makes it quite hard to separate the producer's work from the 1920s recordings in songs like Pastoral and Fate. There's a moment in the epic almost 14-minute long closing track Funebre where Christian Löffler gives the sample all the space and lets it run without any alteration, only to immediately head to the dancefloor again. It's like seeing past and present in a joint wrestling match with no clear winner (except the audience, of course). Parallels: Shellac Reworks is an unusual but very satisfying take to give the outrun neo-classic concept a new spin. (Norman Fleischer)
Stream It ► Spotify / ► Apple Music
---