[one_half last="no"]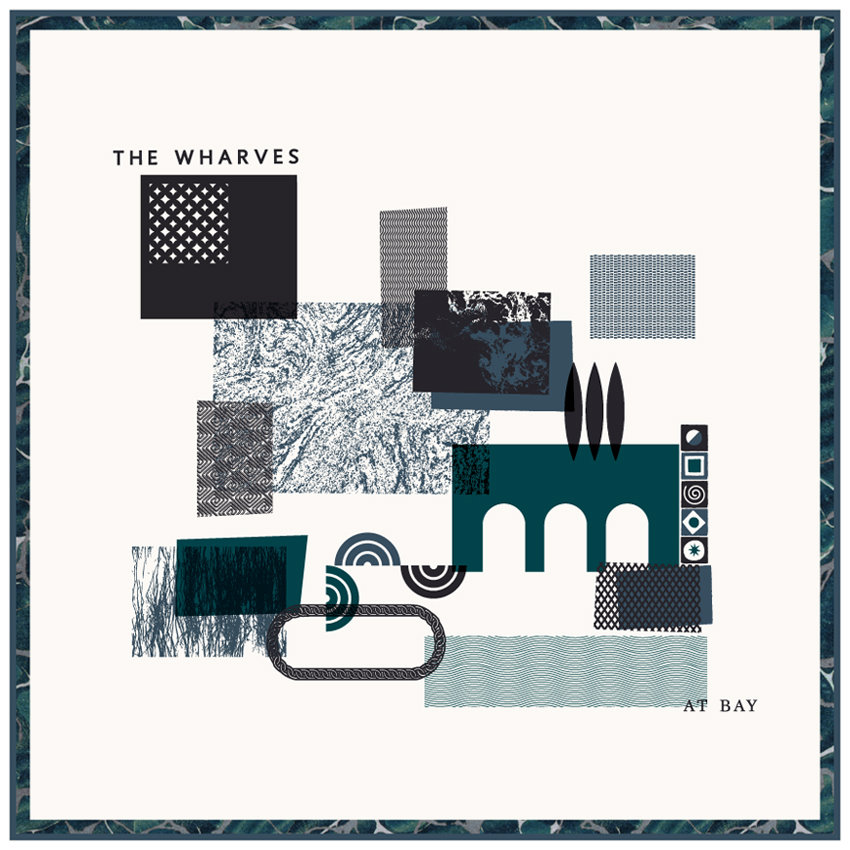 [/one_half]
[one_half last="yes"]THE WHARVES
At Bay
Release-Date: 03.11.2014
Label: Gringo Records
Tracklist:
01. Left, Right And Centre
02. The Grip
03. Scarlet For Ya
04. Turtleneck
05. Faultline
06. By Hook Or By Crook
07. Ode à Jimmy
08. Renew
09. Keep On
10. Mother Damnable
11. The Crane
12. Stir
13. First Day Back

NBHAP Rating: 3,5/5
[/one_half]
Flash from the Past?
THE WHARVES sanguinely strike the bass drum in their debut album, At Bay, to declare their presence as a (much-needed) original and talented girl rock group. The international trio, from Ireland, England and France, are as rooted in the proggy vibes of their predecessors as they are intrigued by new sounds. As Dearbhla Minogue and Gemma Fleet develop incredibly focused vocal harmonies, they are continuously aware of the powerful beats that hark to many a bygone punk girl band. In many tracks, in fact, it's Marion Andrau's incredible force on the drums that drive the trio into a more rocky vibe that they otherwise tiptoe around.
But Not a Time Machine
While THE WHARVES should be commended for their range of influences and willingness to develop their sound (this is, after all, their first album) sometimes the record appears frustratingly disparate. Bikini Kill's powerful chords and New Order's engaging lyrics seem to be making an appearance on this album right beside the brooding folky tunes of The Staves. Renew has the simplistic chords and lyrics of every other singer-songwriter while tracks like Mother Damnable expresses the bands willingness to power through with a punky feel that shows them at their best. The fairest evaluation of At Bay is that it is a little less "shouty" punk. Acknowledging the brilliant vocal duo of their bassist and guitarist, THE WHARVES have left their particularly punky influences to Andrau's rhythmic but boisterous drumming.
Off to a Great Start
Perhaps the track in which the trio best fuse their folk and Prog rock influences, By Hook or By Crook is an exciting, standout track for the album. The chorus of harmonies flows effortlessly between Andrau's beats and the distortion on the guitar. THE WHARVES are clearly pushing at the boundaries for modern rock. Many of us were under the depressing assumption that the music industry had left bands like this were left by the wayside after New-Wave 90s punk. Something in THE WHARVES' intelligent lyrics and seriously confident drumming might just raise our hopes again.
London-based newcomers THE WHARVES combine minimalistic psyche-rock with fuzzed out-folk on their debut 'At Bay', raising hopes for a potential future.
*Retraction*
As a woman and a feminist, I apologise for the way in which the original article could have been misconstrued. It was written without considering the wider implication of my reference to 'girl' bands. I intended to highlight the originality of THE WHARVES and did not mean to devalue them or the contributions of other female rock groups.
—