---
---
PJ Harvey – 'The Hope Six Demolition Project'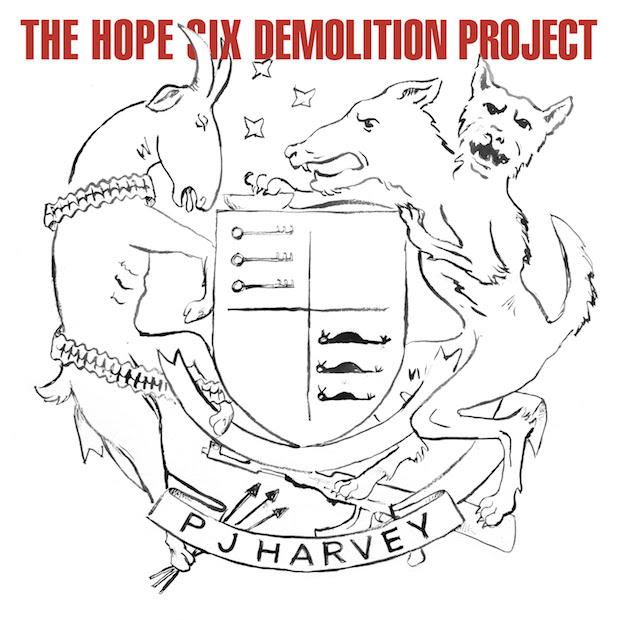 Release-Date: 15.04.2016
Label: Universal
Five years after her epic, Mercury Prize winning Let England Shake PJ HARVEY reports back with her next exercise in contemporary art rock. The Hope Six Demolition Project are eleven songs that were written on the basis of HARVEY's visits to the poor communities of Washington DC, as well as to the Kosovo and Afghanistan, produced and recorded live in front of an audience at Somerset House in London. Apparently, the process of writing this record is already a statement about immediacy, a brainy play with the old issue of authenticity and it's one step further for HARVEY to becoming the one white voice of reason within pop music.
PJ HARVEY 2016 – that is more of a refreshed version of agitative 60s folk with a champer pop twist and influences reaching from her blues rock roots to gospel. This record is not as much a coherent masterpiece as Let England Shake was and clearly, one might mourn the disintegration of Polly Jean the edgy rockstar. But to me, this is still PJ HARVEY at the peak of her art: literate, focused, depicting melody and beauty within her Argus-eyed observation of ugly things surrounding us without ever excluding herself from the problem. Whenever she seems to be pointing fingers, she frames it with narrative perspectives. F.e. in the already widely criticized description of the Ward 7 ghetto in Washington as 'drug town' with 'just zombies' in it in the lead track The Community Of Hope. This record is not as easy as its often lighthearted sound might suggest. So don't get fooled – this is a flip-flop image of who we are. (Henning Grabow)
---
---
Sophia – 'As We Make Our Way (Unkown Harbours)'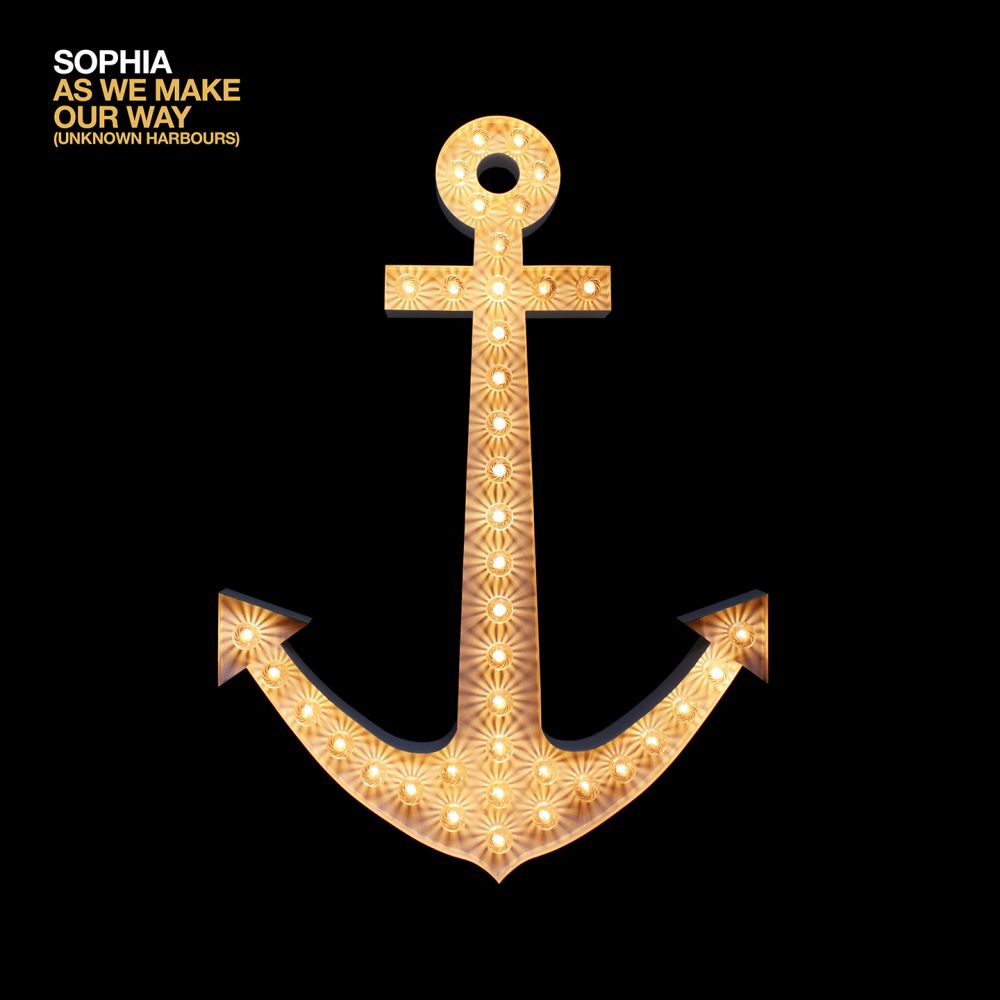 Release-Date: 15.04.2016
Label: Motor Music
Sometimes it occurs that the distance of time between two releases of one and the same artist makes you kind of feel old. Well, it's a bit of a cliché to say so (and quite a cheesy way to start a review indeed) but we all know that it's true. Nowadays, Robin Proper-Sheppard is mostly known and recognised for the beloved music he creates as SOPHIA. And so it's well worth to mention that it's been seven years since the release of There Are No Goodbyes and even 20 years since debut album Fixed Water saw the light of day. Therefore, the release of his newest solo work As We Make Our Way (Unknown Harbours) is as much a nostalgic as joyful event.
This emotional ambiguity we might feel regarding SOPHIA's newest output can also be traced back in the ten new song the record offers. In a recent interview with NBHAP Robin states that it took him some time to really find out what he could write about. Consequently, As We Make Our Way adds some new elements to the project's beautiful discography. There is of course the melancholy and the personal experience to be found in the music as we know this to be the case from previous SOPHIA records, but the view on these experiences is somewhat broader and so Unknown Harbours turns out to be the first record by Proper-Sheppard that is not exclusively about his own persona. It's about us. It's a record about life. Verses like 'We're the sum of our choices and the chances we take' reveal a touch of hope and positivism in times where this is truly needed. Musically, the tracks are often quite minimalist and calm, rather supporting the lyrics than overshadowing SOPHIA's words. True highlights turn out to be Resisting, featuring a powerful choir towards the end of the song, and The Drifter, a ballad about people of different ages drifting along in their lives. We can be glad that this record is out now. It's like an old friend paying an unexpected visit and there are good times ahead. Just drift off – who knows what harbours we are yet to reach? (Chris Hegholtz)
---
---
Xiu Xiu – 'Xiu Xiu Plays the Music of Twin Peaks'
Release-Date: 16.04.2016
Label: Polyvinyl/Bella Union
Anyone who has ever watched David Lynch's mesmerizing TV-series Twin Peaks will agree that a great part of its fascination is established by Angelo Badalamenti's compelling soundtrack. So when Australia's Gallery of Modern Art commissioned American avant-garde band XIU XIU to interpret the soundtrack for an exhibition on Lynch last year this was certainly a project to be curious about. Currently, XIU XIU are touring the US and Europe, and the album is released via Bella Union on April, 16th (Record Store Day).
While Badalamenti's original soundtrack mainly alternates between dark, ethereal songs and those that are melodic, tender, even cheesy at times, XIU XIU take the music to another level. It is still uncanny but the band add a layer of Rock and Pop avant-garde to it that makes the songs more aggressive to some extent and also quirkier – probably due to the fact that the band not only uses synths but also actual instruments like xylophones and percussion. They manage to turn even Lynch-singer Julee Cruise's dreamy songs into nightmares. Thus, when XIU XIU's Jamie Stewart sings 'are we falling in love?' (Falling) it sounds less like Julee Cruise's shy question but more like an opera singer's evil threat. If possible one should really see the band perform the album live. On stage Stewart looks like Twin Peaks' James Hurley, dressed in black, 50's style, playing his guitar; he performs like a madman reminding one of both the 'man from another place' and 'Bob' alike. His two fellow female musicians contribute to the eerie atmosphere of the event by making no contact to the audience whatsoever. In the end, one of the women reads a passage from Laura Palmer's diary in an almost Brechtian way, making sure the audience feels as uneasy as possible about the teenager's confessions. (Julia Doppelfeld)
---
---
Dave Harrington Group – 'Become Alive'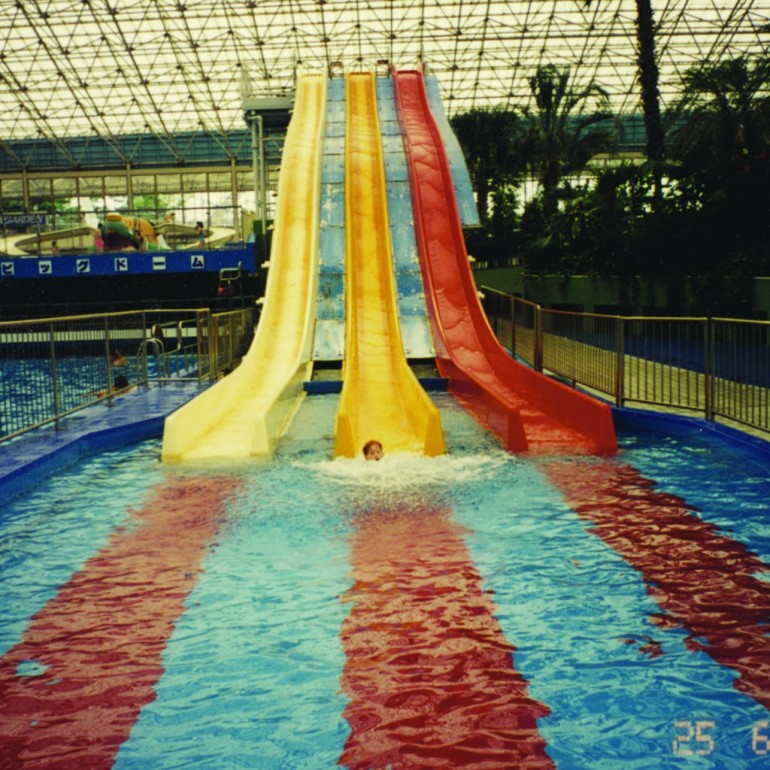 Release-Date: 15.04.2016
Label: Other People
It's kind of hard to define what actually awaits the listener on this collective creative output called Become Alive. Multi-instrumentalist Dave Harrington has never been a fan of clear dividing lines and genre limitations and over the years he was lucky enough to find comrades who think alike. NICOLAS JAAR might be the most important one. He made Harrington a crucial part of his live band and together they later formed DARKSIDE, resulting in general and worldwide appraisal to an amount that probably surprised the two protagonists the most. While the group had to vanish to allow both artists new creative freedom, Harrington is joined by JAAR and many others again for this interesting project. Still, the DAVE HARRINGTON GROUP is not the logical continuation of DARKSIDE. It sees its protagonist and his avant-garde artistic friends drifting further into the abstract. Harrington and his companions free themselves form any structure-based limitations. According to the musician this LP is 'the result of improvising with different combinations of people, and then processing and re-sculpting those improvisations.'
The eight tracks slow down every heart beat, providing a full range of sounds, ideas and emotions, defined by an overall feeling of vagueness. White Heat starts the LP with spooky sounds, Harrington's guitar shimmers like a noise in the wind, makings its way through the synthetic sounds every now and then. Can we officially call that 'space jazz'? It takes three tracks before percussive elements join the game (The Prophet) before jazzy drums take the DAVE HARRINGTON GROUP straight to the sound of an almost Western Movie-like setting. Sometimes Harrington's guitar echoes in the night (Steels), sometimes it gets a bit noisier like in the ambitious, almost ten-minute long title-track. The closing All I Can Do almost feels like a blues traditional, although set in a slightly unusual environment. Harrington manages to recall familiar sounding musical patterns while placing them in an unusual environment. Become Alive is not your every day album, it's no easy listening… it's joyful 'uneasy' listening and a must-listen for all fans of adventurous sounds. (Norman Fleischer)
---
---
—