---
---
Låpsley – 'Long Way Home'
Release-Date: 04.03.2016
Label: Ignition Records
Oh yes, there's always this excitement while hearing a debut piece of a promising newcomer – we all know the first album is an artist's life-lasting one, the songs they kept inside their heads and on paper before even starting professionally working on their carreer. Holly Lapsley Fletcher, better know as LÅPSLEY, seeks, like so many boys and girls her age (soft 19, btw), answers to questions which couldn't be easier and more difficult at once: how to overcome a heartbreak, find some inner peace, moving on. Yeah, heavy stuff to all sensitive souls out in the woods.
Gladly, the British singer/songwriter mixes her lyrics with light and chilling electronic elements, dreamy choirs and great melodies. The perfect recipe for some melancholic moments. It's no secret the genre of electro-pop gets used by young artists more than ever, so it's even harder to stand out among all the talented musicians. LÅPSLEY isn't trying too hard to be authentic – her music just flows, her voice is special enough to impress, the messages are old but gold. A good work for a young artist she is, let's see what the future will offer – and how hers will sound. (Kai Hermann)
---
---
Kendrick Lamar – 'untitled unmastered.'
Release-Date: 04.03.2016
Label: Aftermath/Interscope/Top Dawg Entertainment
As if KENDRICK LAMAR wasn't already qualified enough to be the 'Anti Kanye' this move only underlines his status as rap music's new leading figure. He doesn't need countless Twitter rants, public album title changes and a fashion line – he just releases an album without a warning. Boom! And what a record it is. 2015's To Pimp A Butterfly already was a testament of strength, superiority and ingenuity. LAMAR became the musical leading man of the 'Black Lives Matter' movement, managed to become Barrack Obama's favourite rapper and even inspired DAVID BOWIE on his final album. The stunning Alright music video summed it up pretty good back then. The stakes are high but untitled unmastered. manages to keep the level of quality up. The fact that those tracks are basically all untitled and we don't know yet who produced them and who's part of it only makes them more effective. The man from Compton forces the songs to stand on their own.
untitled unmastered. might not be the second To Pimp A Butterfly but it remains on the same level. LAMAR's delicate flow is still riding on those dark and jazzy beats, sinister piano melodies and soulful trumpets that just give his music a more profound feeling than all those synthetic 808-based hip hop beats of these day. The rapper delivers subliminal greatness while spreading the right messages. From the soulful untitled 01 | 08.19.2014. to the intense flow of untitled 03 | 05.28.2013. – that's when the rapper is at its best. But there's also room for a sleazy piano skit with soulful female guest vocals (untitled 04 | 08.14.2014.), the almost funky beat of untitled 06 | 06.30.2014. and the hit quality of the grooving untitled 08 | 09.06.2014. He even allows himself a guitar-driven freestyle at the end of  untitled 07 | 2014 – 2016 which seems so natural and honest as it only can be. If anything this album is just yet the latest stunning testament of great and meaningful storytelling, magnificent and adventurious production skills and one hell of a flow. This is another prove for KENDRICK LAMAR's position as one of contemporary music's most important characters. This is the life of K-Dot and the death of Pablo. Pimp, pimp hooray! (Norman Fleischer)
---
---
The Coral – 'Distance Inbetween'
Release-Date: 04.03.2016
Label: Ignition Records
Distance Inbetween is THE CORAL's first studio album with new material since five years. Quite risky to wait until a release for a band that is still considered as a leftover of the early 2000s Indie Rock hype. But THE CORAL were always different to other bands and know when to stop as our big interview with Nick Power showed. Boredom was the reason why they called in a hiatus in 2011 – because of boredom, not an argument.
While Distance Inbetween presents far darker psychedelic indie than previous albums, it proves why they were – and still are – one of the most talented bands around. They want to make tight music and they actually can. With songs such as Million Eyes or Chasing The Tail Of A Dream the Merseyside boys create their own dark and haunting psychadelic world. With Distance Inbetween THE CORAL prove that they're the most underrated psychedelic rock band that the UK has to offer. I'll know where I'll be this summer – in the creative paradise that the Merseyside has to be. (Louisa Zimmer)
---
---
Poliça – 'United Crushers'
Release-Date: 04.03.2016
Label: Memphis Industries / Indigo
With their first two releases, Channy Leaneagh and her band POLIÇA have established themselves as a voice with strong messages within their field of electronica infused pop music. The edginess of their beauty and the harshness that shone through their catchy tunes is essentially what made them stood out. Now, with their third album United Crushers which was produced amidst the second pregnancy of Leaneagh, the usual trademarks are still there – but somehow there's a struggle sensible to find the right balance of development and preservation.
Sadly, events have caught up with what POLIÇA worked with for years now: A claustrophobic indisposition caused by everyday life in the US; that feeling fueled the dark twist to a superficial brightness that is – still – delicately expressed in POLIÇA's electronic pop. But: Their music used to bear the potential of being a little ahead of the situation, a little more aware – now it's just plain common sense, visible for everyone. It's nothing to blame on POLIÇA but it makes United Crushers feel much less immediate and urgent in its political moments. The personal songs though are still the more classy version of FLORENCE + THE MACHINE's hyperventilating anthems and in that: very welcome. (Henning Grabow)
---
---
Nada Surf – 'You Know Who You Are'
Release-Date: 04.03.2016
Label: City Slang
It is somewhat hard to start criticising NADA SURF for who they are and what they do. After all Matthews Caws and his fellows have always been truly nice chaps who constantly please us with sweet indie hymns and a voice that has not aged a bit throughout the years. The majority listeners remembers them for instant classics like Popular and Inside of Love. The younger listener who joined in later grew up with gems like Always Love, Blankest Year, and See These Bones. Alas! Has it really been 20 years since NADA SURF released their first album High/Low? Yes, indeed. Time flies.
Therefore, we should be glad that NADA SURF – a band that has always done things their own way – survived and that they still manage to release that sweet indie rock/pop we know and love. However, it is fair to say that especially since the release of Lucky in 2008 NADA SURF have not been able to add anything particularly new to their sound and discography. This also applies to their latest release You know who you are. The first track Cold to see clear is a good representative of that fast and guitar-driven indie sound we regularly get from NADA SURF. They have always been good at picking the right singles. Out of the dark, a second highlight, is a feel-good song that surprises with a horn section towards the end. Sadly, all additional tracks turn out to be average mid-tempo pop songs that lack great melodies and interesting lyrics. At this stage of their career, Caws and his band  unfortunately know too much who they are. A bit of a change and reinvention would do them good. (Chris Hegholtz)
---
---
Muncie Girls – 'From Caplan To Belsize'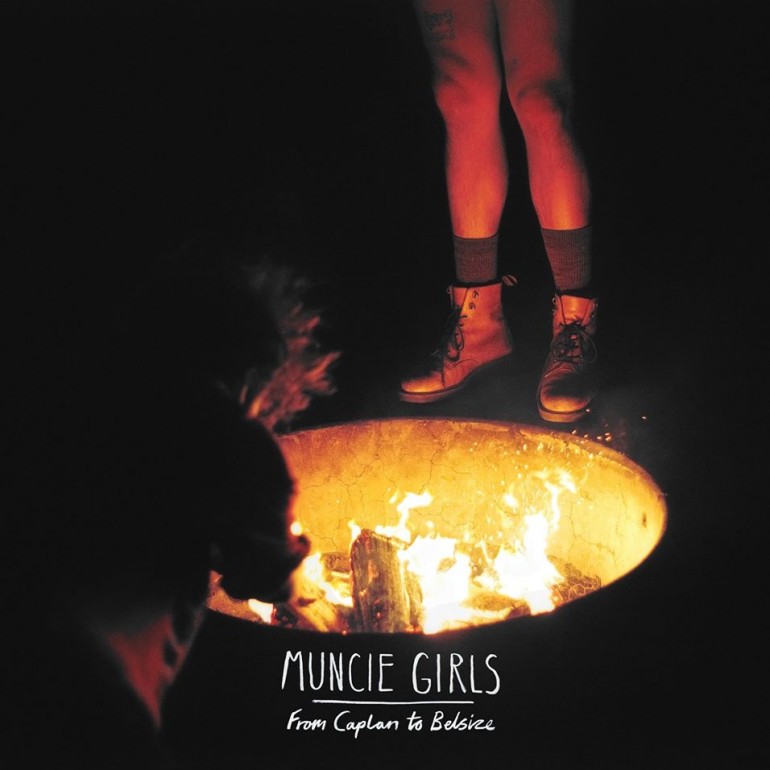 Release-Date: 04.03.2016
Label: Animal Style Records/ Specialist Subject Records/ Uncle M Music
Sometimes one can wonder what happened to good old-fashioned punk-infected female independent rock. And we're not talking about the WOLF ALICE– or BEST COAST-version of it. We talk about the rough and a bit harder understanding of it. Exeter-based MUNCIE GIRLS might be the group that saves the subgenre, thanks to charismatic singer Lande Hekt. Her dry and unembellished writing style dominates the band's debut album From Caplan To Belsize and carries the listener through the 11 tracks.
Born out of the local British punk spirit MUNCIE GIRLS deliver a satisfying first full-length that spreads all the lovely 'riot grrl' attitude you've come to love and partly also miss lately. Tracks like Gone With The Wind and Balloon are both – hard-rocking and irresistibly catchy. Hekt and her two bandmates carefully place slower moments on the album (like the sweet New-Wave-infected Social Side) but aim for a harder tone in general. From Caplan To Belsize lives from its furious and fearless spirit and proves that not all hope is lost in the subcultural scene of today. A highly recommended record for all riot girls and boys in the world. (Norman Fleischer)
---
---
Heron Oblivion – 'Heron Oblivion'
Release-Date: 04.03.2016
Label: Sub Pop
It was only last year that we grew fond of prolific Philadelphia based songwriter MEG BAIRD. After her really beautiful solo effort she's now back with a full band called HERON OBLIVION. These three guys + MEG BAIRD herself joined forces of East and West Coast and present a debut album that's as dreamy as it as captivating. A sinister vibe accentuates these seven songs that reminds us of the more dangerous and dark areas of psychedelic rock.
Since it's become a thing again to establish late hippie acid excess, long hair and meters of effect pedals in considerable chart regions, one is tempted to forget what that genre in its widest sense is also capable of. So, if you're eager for a little rollback of contemporary psychedelic circa TAME IMPALA, KURT VILE etc.: Taste HERON OBLIVION and rediscover these sprawling, meandering guitar tunes regardless of any commercial appeal. (Henning Grabow)
---
---