---
---
M83 – 'Junk'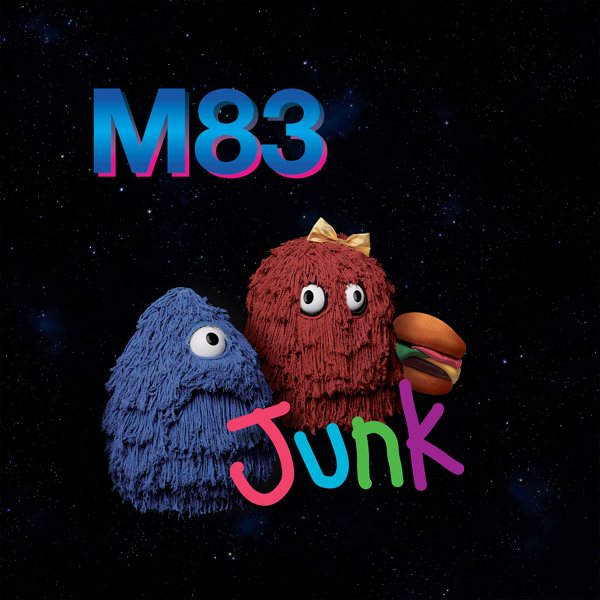 Release-Date: 08.04.2016
Label: Mute Records
One could easily get the impression that Anthony Gonzalez got a bit sick of whatever happened to M83 in the aftermath of his 2011's Hurry Up, We're Dreaming. He slowly but steady built up a reputation prior to it and then – boom – the pop super jam Midnight City happened, the concert venues got bigger, the Grammys found him and his music become a priority pick when it comes to movie trailers and movies itself (remember when he scored 2013′ sci-fi flick Oblivion with Tom Cruise?). Still, although Gonzalez finally got M83 to the next level and a certain financial stability, he was clearly overstrained by the sudden rise to fame. He needed to cut things down again, return to the essence of his music and… well, having adventurous fun again in the studio instead of just delivering the next 'epic M83 trailer piece'. Junk is the result of that, an attempt to deal with whatever happened as Gonzalez is looking for answers in the past of his musical influences. The seventh album by his alter ego is inspired by 80s TV themes, jingles and all those nostalgic sound elements that make you think 'Ah, I remember that from somewhere…'
Right from the start Gonzalez leaves no doubt where the journey is heading to. Do It, Try It opens the record with a joyful retro piano before turning into familiar M83 upbeat territories. Still, there's a gentle lightness in its sound that you'll find in many moments on Junk. Go!, for example delivers every ingredient from the 80s recipe, featuring cheesy saxophone moments, a synth brass section, slap bass and a way too stereotypical guitar solo in it. Bibi The Dog even surprises the listener with a 'Chipmunk'-styled vocal, coming right out of nowhere. 'Familiar'-sounding surprises dominate Junk. Moon Crystal and The Wizard feel indeed like lost TV Themes from 1979 while Gonzalez' friend SUSANNE SUNDFØR delivers an outstanding powerballad performance as she drowns in a sea of strings in For the Kids. The mastermind himself steps a bit down from singing duties this time but when he does, he's equal to his guests (like on the powerful Solitude). Junk is packed with wonderful little pop gems, sometimes a bit more light-hearted (catchy sing-along in Laser Gun), sometimes a bit more laidback (the sweet chanson Atlantique Sud where Gonzalez revisits his French roots). The new M83 record is a treasure box of perfectly captured retro pop. Nothing on it seems pretentious, it's an honest bow for those long gone times, delivered by one of contemporary pop's finest characters right now. This might be one of the best albums in 2016, so the whole 'superstar' thing might not be done for Anthony Gonzalez yet. Sorry for being not sorry, man. (Norman Fleischer)

---
---
All Saints – 'Red Flag'
Release-Date: 08.04.2016
Label: Universal Music
It feels hard to believe that ALL SAINTS' heyday already been 18 years ago. Until now, the past dew years of the bands seem to have been a struggle between a really bad selling album – Studio 1 in 2006 – and appearances of band members in TV shows such as The X Factor or Big Brother. But unlike 10 years ago, this time round ALL SAINTS really seem to feel and live their comeback in any possible way. Of course, the whole album is heavily influenced by Nicole's divorce from Liam Gallagher, even though Shaznay Lewis still cowrites most of the songs.
But this comeback is far from bittersweet, more sugary in any possible way. There are uplifting pop tunes such as One Strike or Tribal or the more danceable or more balladesque tunes such as Who Hurt Who or Fear. In the end, Red Flag is an album that is all that ALL SAINTS were and are about – at least in their good moments – just four women having fun. And in the whole mess that this world is so full off, it's sometimes just nice to lean back and enjoy some harmless pop. It's good to have you back,  ALL SAINTS. (Louisa Zimmer)

---
---
Deftones – 'Gore'
Release-Date: 08.04.2016
Label: Warner Bros. Records
A flock of flamingos flying around beautifully with the word Gore printed on them. There couldn't be a better artwork for the eighth DEFTONES album to underline that balance the band has been practicing for years now. More than ever, Gore is about the juxtaposition that defines Chino Moreno and his group – the ugly, noisy and angry side of life exists right next to the beautiful melancholia and sweet aspects of human existence. DEFTONES have always been passionate about turning negativity into positive aspects but also the other way around. It might be a reason why they basically are the only remaining band that came out of 'Nu Metal' scene alive without losing any form of dignity or creative strength. More than on 2012's Koi No Yokan Moreno wants to set positive signals with Gore. Still, fans can relax as the band is still not interested in pleasing the masses.
Prayers/Triangles starts the record with a dreamy note and its undeniable single appeal. Right after the beginning, the heavy noisiness of the spooky Acid Hologram quite quickly reminds us that DEFTONES are obviously still DEFTONES. Doomed User and the following Geometric Headdress are further reminders of the band's unconditional love for screaming metal energy. The rest remains surprisingly familiar but on a high quality level. Hearts/Wires mixes tender and dreamy verses with screaming chorus while Xenon swirls around in a hurricane of metal guitars with the unique drumming of Abe Cunnigham who still sounds as raw as he did in 2001. Do we really need this band to sound any different? Every now and then there are some surprising moments (like a really cheesy 80s guitar solo in Phantom Bride) but most of the time, the band sticks to the familiar recipe. Still, despite all the noise there's a certain mature and positive spirit in Gore. It's hard to put your finger on it, but it's there. Making progress in small steps is another typical DEFTONES thing to do and Gore leaves no doubt that they haven't reached any finish line yet. (Norman Fleischer)

---
---
Frightened Rabbit – 'Painting Of A Panic Attack'
Release-Date: 08.04.2016
Label: Atlantic Records
Painting of a Panic Attack is the first FRIGHTENED RABBIT record since 2013's Pedestrian Verse which they remark as being 'lazy bastards,eh?' There you have Scott Hutchinson and co in a sentence. Cheeky yet determined. This record is unique in that it's easily recognisable as the Scottish band but it's different. Less guitar, more forlorn vocals and the same sharp lyrics. 'An open mouth screams and makes no sound' in Death Dream, a song unsurprisingly about loss.
Each track makes Painting of a Panic Attack, a FRIGHTENED RABBIT classic yet they stand alone as uni masterpieces. Get Out a heart broken tale of a love that won't shake 'she won't get out my heart'. A lyric so saddening yet beautiful it really reminds you why FRIGHTENED RABBIT are a favourite heartbreak band. They simultaneously make you believe they know how to deal with this heartbreak whilst reminding you they're as lost as you. (Hannah Fahy)

---
---
Parquet Courts – 'Human Performance'
Release-Date: 08.04.2016
Label: Rough Trade Records
Human Performance is the latest album by PARQUET COURTS, one of the most critically acclaimed bands of the last five years. The fifth studio album arrives not even a year after its predecessor Monastic Living, so they are busy keeping the whole 'one album every year' strategy alive and this one is destined to push the garage rock outfit into new sonic territory. Human Performance starts with Dust, a pumping post-punk tune with a hypnotic rythm that ends up in noise. But all along the album flows like a will of experimentation perfectly combined with the familiar sound of the band. Something in the style of VELVET UNDERGROUND emerges in Steady Of My Mind and the congas in No Man No City are another example of the sonic change within the band's sound.
PARQUET COURTS have always been interested in the opposition between heart and brain, passion and rationality: Human Performance tries to link these two opposite poles while going beyond themes like refusal or burning adolescent questions. The more important question that leading man Andrew Savage asked himself is: has his own humanity always been as sincere as he thought, or if it was just a performance. The answer might be a 'malfunctioning apparatus,' he states. 'Like a machine programmed to be human showing signs of defect.' You can feel this answer everywhere, in classic songs like Captive Of The Sun or Pathos Prairies, where the influence of PAVEMENT is evident, and you can feel it in the changing elements too. The tender ballad Steady Of My Mind with its STROKES-vibe might a fitting example, as well as the sharp-cornered I Was Just There. PARQUET COURTS took their sound to the next level with Human Performanc being the probably most mature-sounding album of the NYC band. It might have never been as easy to fall in love with these guys as with this release. (Fernando Renis)
---
---
No King. No Crown – 'Without Yesterday'
Release-Date: 08.04.2016
Label: KTF Records
There's nothing quite like the sweet dulcet tones of Dresden based singer songwriter René Ahlig and his alter ego NO KING. NO CROWN. As a regular visititor of NOTHING BUT HOPE AND PASSION you know that we've been following adventures of the crafted German artist for a few years now, still wondering why international fame and folk music fortune didn't happen so far. The musical arguments are clearly visible, that much is for sure. The new record Without Yesterday leads you on a trail of beautiful serene vocals in attractive stringed instrumental backgrounds. The sound is contemporary without the usual misplaced swagger. Capturing a vintage sound without a corny after sound. It's in one word: genius.
There's no need for for NO KING. NO CROWN to not be mentioned in a BON IVER context, or at least on the same level as his fellow countryman, German songwriter HONIG. The single Homesick has such bittersweet lyrics like 'I start fuelling my unspoken words/take them with me to the sea'. Imaginative lyrics. Conjuring up picturesque images of serene beautiful days. Lionheart is another enchanting track, we can recommend. Just don't expect any happy sing alongs on Ahlig's new album. The only thing he needs now is his a hit and for the world to listen to this highly enjoyable piece of gentle folk music. Shouldn't be that hard, right? (Hannah Fahy)
---
---
—