Among the many concert opportunities this year had in stock, the ones where one is not particularly acquainted with performing acts were certainly the most intriguing kind. Although music is everywhere these days, it does have a special appeal to not know the acts on stage all that well, as one might find a sweet surprise there. After being cancelled in the spring of 2020 (we all know the reason), the Pitchfork Berlin series, just premiering its first German branch earlier this month, provided such an opportunity for me, with interview slots for Fake Fruit and Nation Of Language opening up just hours before stage time at the charming halls of Columbia Theater. What a way to get acquainted indeed. 
Nation Of Language
Both your albums, Introduction, Presence and A Way Forward have been released in the midst of the pandemic and you have entered the scene in quite the outstanding way, nevertheless. Looking back on these two years, what are your thoughts on your growth as a band, and also personally? 
Ian Devaney (lead singer): We came out of the pandemic certainly with many more fans than going into it, that was a very strange phenomenon. It was weird being in a lockdown, we could see in statistics that more people were listening to our music, but we weren't able to play shows. We couldn't really process it, it was difficult to understand. Now it's really nice to actually play these albums in front of people, see their reactions.
Your sound quite takes me back in time with the blend of stark melancholy and drenched synth soundscapes. How would you describe the sonic world you created on your records and what does it tell about the band you aim to be?
Ian: In my head it's kind of this blend of new wave, modern indie rock, 70's krautrock and just a touch of shoegaze… all of these things blend in together for me. They're all kind of in there. 
"A lot of times a song starts with a drum rhythm, either that or some kind of synthesizer melody or base guitar melody and then building on that with whatever is the most exciting next thing within grasp. Sometimes it will be going into vocals pretty quickly, but usually there's putting in synthesizers and guitars."
Ian: I don't really know what the tone of the lyrics should be. The lyrics are not being informed by the tone in the music.
Let's go back to the beginnings for a bit. What can you tell me about the origins of Nation of Language?
Ian: It started just as a personal writing project. I didn't really intend for it to become a band, necessarily. But, I recorded some demos with a friend and then my friends helped me turn it into a live band. That line-up changed a lot over the years. And now we circled it in on the three of us.
Looking back at A Way Forward, how did the songs evolve and what is the overall idea behind it? In your opinion, does the record do justice to its hopeful title? What is the "way forward" and how does it relate to specific songs for you?
"There is certainly optimism in the title, that I wanted to get across. In my mind it is almost like the sad songs feel sadder, but there are more optimistic songs. Personally, the emotions are going in both directions in a way it was exciting and satisfying. It's a line from one of the songs on the albums, Former Self, something about it just captured this feeling that we had when everyone was locked down and we felt like the only thing we could do was to go back and to writing, recording, trying to stay creative and always chasing the next thing."
In your work it seems that the gloomy dark sentiments align with a soaring and hopeful melodic twist. What is your take on that? 
Ian: I've always been very drawn to melancholy music. But at the same time when I get to open up my voice and exist in that soaring, optimistic space… I'm always trying to find the balance between those two things.
How do you feel about this year in terms of touring and the live aspect of music? Has something changed significantly, looking back at the pandemic era sort of?
Ian: We've had a very crazy year of touring and recording. It's been very much full-steam ahead. We're very excited to be back on the road. It's really nice.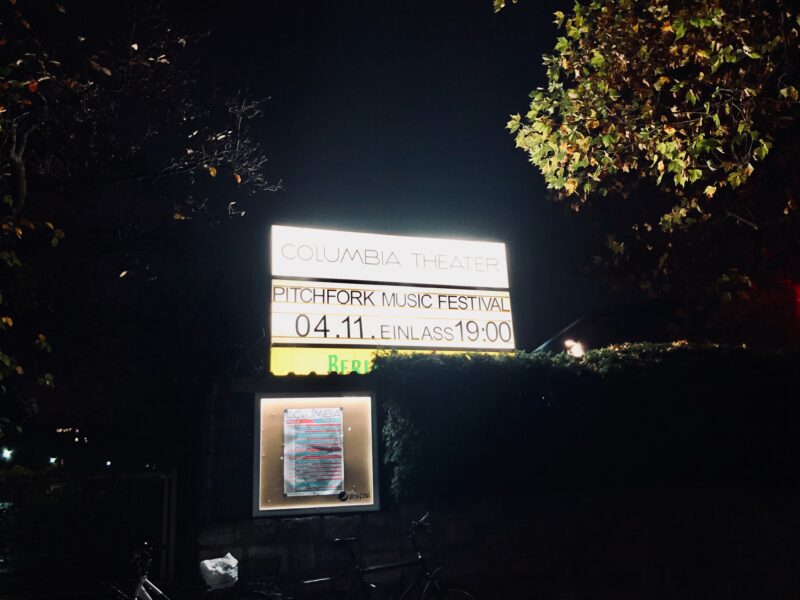 Fake Fruit
You released your fierce debut in the height of the pandemic and despite that delivered a strong statement with your self-titled release. Looking back on the past years, what are your thoughts on your growth as a band, and also personally? 
"We are just as amazed as you are, really. We really expected it to get completely buried in the whole of the chaos of the world. This was a period where everyone was really holding on to their albums, thinking that the pandemic would kind of end quickly. We were like, if we wait even further, it will also get buried under the mass of other releases, and so for our mental health we decided to release it right then in 2021." (Hannah D'Amato, lead singer)
Did you even manage to play live shows after the release last year?
Alex Post (guitarist): Our first show was actually four months after the release, in October. It took a while. We did one film show however, so that was nice…
It must be quite strange to get out of the studio and not being able to get the songs out to the audience.
Alex: We finished recording in May 2019…
Hannah: It was really weird dragging it around behind us for such a long time. We started writing so many new songs for the second record. And we always kind of feel we are perpetually behind. We have the whole second album written already and will record it in December, but everybody knows us from the first record.
You're hitting quite the nerve with the energetic appeal, giving indie-rock a new direction in a fiercely contested genre. How do you describe your own sound and what does it tell us about the kind of band you aim to be?
Hannah: I feel like I've learned a lot about genre, as many other people talk about it. Scronky is a word that I learned, what do you guys think? So, welcome to the world of scronky. 
Alex: I don't know, I would describe it as post-punk adjacent, that quite captures it. A lot of influence comes from post-punk sounds.
Your sound hits a sweet spot between raw and noisy territory and yet has a vulnerable side to it. Where do you situate the heart of the songs?
Hannah: There's definitely a vulnerable side. Miles (the band's drummer) told me a good term for the more vulnerable songs, tenderonies. It's what we like to call them. 
"Initially I felt I had to be loud and mad to have people listen to me. But there are a couple of songs on the record that are really tender and vulnerable. And I feel I'm starting to tap into them more. I feel like playing music. It's done a lot for my confidence."
Looking back at the self-titled record Fake Fruit, how did the songs evolve and what is the overall idea behind it?
Hannah: I feel like most of them were just a patchwork of a bunch of songs I had written in different cities. There wasn't something like a general theme, or an overall concept. The three songs I enjoy the most on the record are the ones that we wrote together are No Mutuals, Milkman and Swing And A Miss. I feel like the next record will have a little more coherence, this one comes like an archival collection of sorts, a bunch of songs that took a long time to record. 
What can you tell me about the origins of Fake Fruit?
Hannah: It started in New York City, I was just playing by myself and then I had my ex play drums with me. We were a two-piece, we played two shows in New York to basically nobody. Then I moved to Canada and I got a new line-up going and then moved down to the Bay. So yeah, I've been in this for a while. 
"This is home for now. This is the first time I wanted to plant roots. Whenever I get kind of restless, because that's my personality type, I have the band to anchor me. Because the permanent line-up and the people to write the music with, that is the biggest change."
For many people in the industry, 2022 was about taking off the shackles that Covid forced on us. How do you perceive that as touring musicians? You feel like something substantial has changed, in regard to the appreciation of analogue live culture, as opposed to the digital realm?
Hannah: It's been really nice and really rewarding to get back to it and I feel, even if it's exhausting and chaotic, I feel super grateful to do it.
What is your connection with Berlin so far? What are your plans in the city after this?
Hannah: We were supposed to have a day-off here tomorrow, but things got changed around. But I do have one really good friend here… 
Alex: She's a graphic designer / screen printing operator, they do design work and merchandise.
Hannah: They made our merch as well, which we brought with us. They have done an awesome job, you should check them out. 
---
The self-titled debut of Fake Fruit and the two records of Nation Of Language, Introduction, Presence and A Way Forward are available everywhere.