I miss Hong Kong. The sensation of missing Hong Kong hits me weirdly specifically, in the car through the Danish countryside. It has something to do with the light and the air. It's that crisp tasty fall breeze that brings a dark promise, of something different, not necessarily good, not necessarily bad, just something different coming.
The trees around the highway are dying. Magnificently dying, giving us an explosive color palette of brown, gold, blood and dirt. A beauty that cuts like a knife.
It's just all so very Hong Kong.
And it echoes like an animal's mating call, for a memory inside me. Involuntarily, almost, I succumb to the delights of the sensory displacement, and move back in time.
I'm playing a festival. I smell smoke machine smoke, beer, sweat and the faint flicker of a street kitchen frying pan. I see the Mountains, and the skyscraper skyline glittering it's neon signs at me, all enveloped in the dark evening waters of Kowloon Bay. The crazy city view, visible from the stage, distracts my eyes from the rowdy mass below, my audience of screaming, dancing, shouting, crying fans.
I jump down.
A girl in the audience beckons for me to take a picture with her. In the confusion of the show I get too close. Our heads meet. Our eyes meet. A question and an answer. I kiss her on the mouth. She kisses back. It's like throwing a match on the already hyped Hong Kong crowd. They burst into flame, a shockwave of electronic madness spreads, soon not knowing it's own origin.
Only a few actually saw the kiss. The rest; They go crazy, not knowing why.
This used to be my normal. My life, a burning testament to impulse and sudden unexpected connection. A professional illusionist, I would use my lights, my tricks, my sounds, my eyes and my beats to draw people out of their normality. And into mine.
The impossibility of this image, now, two years later, is almost absurd.
Exchanging air with strangers, now, is still a terrifying line to cross for some. There are many who still get nervous in the train when the seats are too full. It's easy to think, now; how could I ever have risked not only myself but the health of
Everyone
In
The
Entire
World (™)
for such a short intermission, an exchange of saliva, with a stranger?
Impossible now.
Impossible. Now a word that has gotten new meaning in my life. As my normal faded, and I felt myself forced into everyone else's.
Have you ever tried giving an angry cat a bath?
That's how hard I tried to claw my way out of it.
The borders of Hong Kong are closed. Like so many others. I don't know when I will make my Hong Hong Fans scream or cry again. Or my Mexican fans. Or, closer to home, even my German fans. We don't know, they keep repeating to me, in emails. As we cancel shows. We don't know. In phone calls. We were too optimistic, we booked shows in countries that are not yet ready. The logistics are overwhelming. We don't know. We should print it on posters and hang them outside the venues of the world that are still closed.
I should tattoo in on my fucking forehead.
We don't know.
Expressions like 'losing momentum', and 'last years news', start to circle around my self confidence like crows on an evening sky. I must blink them away with force. Which is not always easy.
I am an indie artist. I don't have big broad radio hits. I've played my shows patiently, building a fanbase, all around the world, with no help from big PR budgets or the playlists of the major labels. I'm so proud of where I am. I work with amazing people from so many different places, people I miss and think about, and worry about, because they too are indie, and work mainly with indie artists.
This is not a good time to be small, to be indie.
I could make this a piece where I tell you all the reasons why. Expand the fear, show the numbers, explain the dynamics at play and the consequences, mentally and financially, for the artists and the people who work with them.
And I could beg you. Beg you to buy vinyls, buy T-shirts, buy tickets and actually just buy everything you can get a hold of, from your favourite bands, labels and agents. Urge you to share, like, follow, and be the best internet friend you've ever been. And I do, I do, I do, I urge you.
But this is not what this piece is about.
Because, the thing is, I've been really lucky. When the world closed down, and my entire life got cancelled, I turned to the internet, I went online and did all these kinda stupid livestream things. I'd play music, compose live, read from books I liked. Anything to feel close to people. Some livestreams would start out with me saying how shitty I felt. And we'd go from there.
A film director called. She'd seen one of the livestreams and wanted to talk about me making the music for her film. A lifelong dream of mine.
A few weeks later, another. A fiction TV-series.
In the same summer, I built up courage, and wrote a debate piece, speaking out against a very sexist reviewer of a big national newspaper. I ended up in TV-debates with the head editor. It became a part of a second wave of the Me-too movement in Denmark.
And then I went back to bed.
People started calling, from newspapers, wanting me to comment on things. A professional opinionist. It felt like the same tricks I used on stage, now present in the media. Illusions.
This might be interesting for you as well
At the end of 2020, I was running around, creating music for two plays, a film and tv-series. I had my own radio show on national radio. My life, so utterly changed, all that was me before, the touring, the travelling, the adventures, gone.
I don't think I've ever experienced myself, the patterns within I acted and the forms of thinking I was involved in, change, so quickly and so involuntarily.
Forced to change, forced to adapt. Brutal transformations, the wooden dust of the sawmill, got into your eyes, your throat, it camouflaged the road forward and ripped open wounds in whatever fragile part was exposed. It was manic laughter. It was muted screaming.
I think every musician might have gone through something like this during the pandemic. The violence of your entire world, your goals and dreams, changed.
Personally, I almost broke. Several times. Surviving only with the immense help of close friends, these endless phone calls, unravelling the madness. It was just madness, wasn't it? Like this weird thing, we felt we knew; normality, had broken. Would anything ever be normal again? Would we?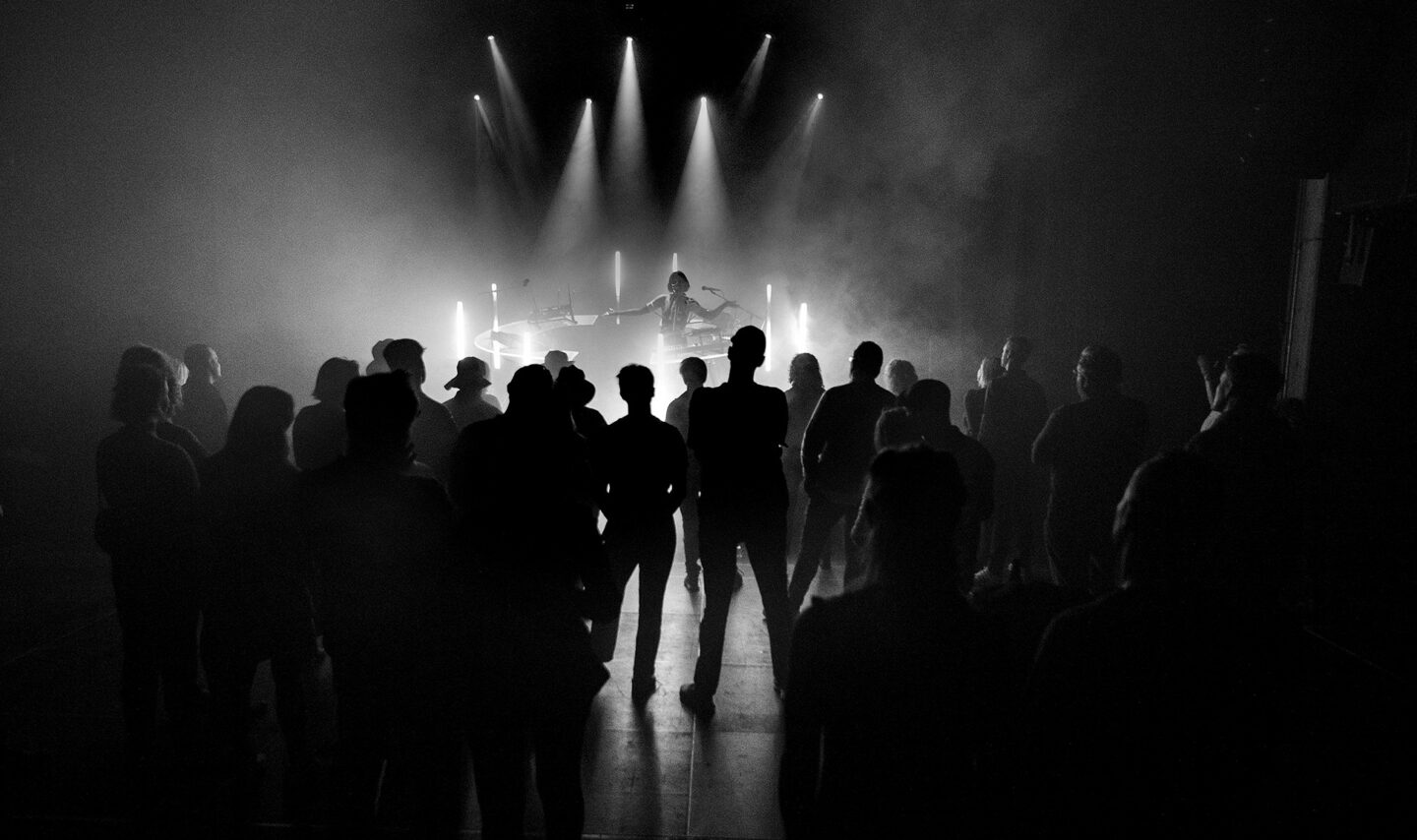 I learned a lot, about the importance of friendship, of sharing fragility, of being able to be dark, together. I know more about my friends, now, than I ever did.
As the fuckedupness of everyone swam to the surface.
The mental health care system in Denmark is almost collapsing, there are huge waiting lists to get help, because everybody needs it, right now.
Sometimes I think maybe we did all along.
I'm tired of people concluding, or finding silver linings. So I won't.
I've made my fall tour show, an ode to crying, a warm complex conversation with my audience about fragility. I've poured every single drop of love I have, into it. And still, it doesn't feel like it's enough. To fill the hole.
And now, here we are. Slowly trying to crawl out of the darkness. I'm actually touring. In rooms with people standing. They connect. They cry. They scream. I'm reading philosophy in backstage rooms. I learned to fucking meditate.
It's so different, I have no idea who I am. I thought I knew before, but I didn't. I'm ok with that, for some reason. I like this woman I've become. I wonder if she kisses strangers too.
I guess we will see. As the world, the love, the heartache, the books, the concerts, the friends, the dying, the living, the birthing, the coffee, the cars, the politicians, the money worries, the hangovers, the sex, the awkward conversations, the busses that smell of feet, the forgetfulness, the hotel parties, the office small talk, the bike route to school, the church, the techno club, the boredom, all of it, invades us again, and however briefly gives us this illusion of normality, that all of us, in our so very different little universes, need so much, to survive.
But don't become too fooled. My friends, We were never normal. And we never will be.
It is, afterall, just a trick. I should know, I do tricks for a living.
All Photos by Kristian Gade, shot at Kulturværftet, October 14
Lydmor's latest album Capacity is still out there waiting to be discovered by those of you who haven't yet. And despite having to cancel lots of shows lately you might be able to spot her on a stage near you. Trust us, you won't regret it.
21.10.21 – Tøjhuset, Fredericia (DK)
22.10.21 – Gimle, Roskilde (DK)
23.10.21 – Bygningen, Vejle (DK)
27.10.21 – Train, Aarhus (DK)
28.10.21 – Turbinen, Randers (DK)
29.10.21 – Stars, Vordingborg (DK)
30.10.21 – Tobaksgården, Assens (DK)
04.11.21 –  Store Vega, Copenhagen (DK)
09.11.21 – Gent – Handelsbeurs (B)
10.11.21 – Sint-Niklaas – De Casino (B)
11.11.21 – Brussels – AB Club (B)
25.11.21 –  Malmö – Babel (S)
26.11.21 –  Stockholm – Bar Brooklyn (S)
27.11.21 – Vienna – W.U.K. (A)
06.12.21 – Berlin – Privatclub (D)
08.12.21 – Oslo – Parkteatret Scene (N)
Get your tickets right here.