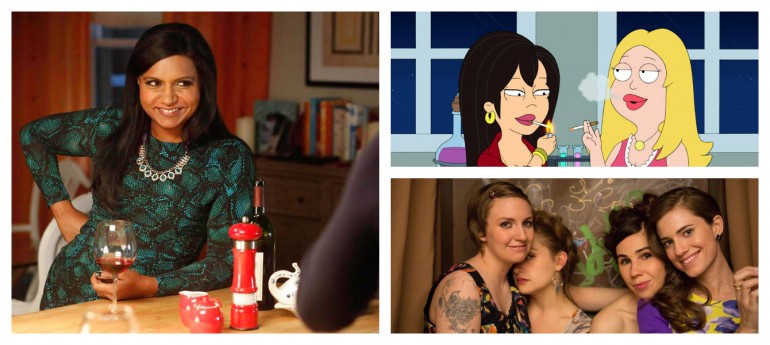 They are on TV. We learnt to love them. We live with them. We know them well. We care about them. We've seen them laughing, crying, crushing on someone. Yes, you got it right. We're talking about the fictional characters of our favorite series.
We created a list with all those ladies who we secretly wish we could switch places with. Although most of them get through much (like much much), they make misery look cool. They are cool. And their closets rock.
And just to let you know, there will be an edition for gentlemen, as well.
1.The ultimate lady: Mindy Lahiri (Mindy Kaling, The Mindy Project)
Who wouldn't agree? Mindy is bringing color to our screens. She's the ultimate TV dream. Classy, colorful, girly, doctor. I mean, come on! If you ever wished that Bridget Jones was a TV show, Ms Kaling heard you and created this amazing, quirky series.
Mindy Lahiri is never scared of the color and she loves skirts. Her clothes match perfectly with her personality – which is the most important thing, after all. She's our favorite and we don't hide it. In case you read this, we love you Mindy. We really do.
2.The cutest girl: Jessica (Jess) Day (Zooey Deschanel, New Girl)
Jess is naturally funny. She's an adorable woman who will always and forever be young. She mostly wears cute, vintage dresses and big, sophisticated glasses. And yeah, she might be a little bit of a hipster, but in the most genuine way. Deschanel created a character who's just perfect. Because everybody wishes she was real and they could be friends with her. Jessica's positive outlook towards life and her trust in the people make us smile every time we tune in for the show. We're looking forward to the new season.
3.The charming, confused 20-somethings: Hannah, Jessa, Shoshanna, Marnie (Lena Dunham, Jemima Kirke, Zosia Mamet, Allison Williams Girls)
If you're a girl in your mid-late twenties, there is no chance that you don't identify with one or more characters of that show. It's so well written, by Dunham herself, that's presenting the ugly truth. And that's beautiful. Watching this show makes you feel normal. Because what's happening to you can happen to anyone and that's ok. The characters are real. Raw. They dare to be seen as uncool and this is deliberating. They wear what makes them feel good. They accept each other the way they are. They will fight, they will cry, they will make up afterwards and be best friends again. The girls from Girls are mirroring every young woman out there. Girls is definitely one of the most empowering TV shows out there.
4.The Princesses TV squad : Spencer, Aria, Hanna, Emily (Troian Bellisario, Lucy Hale, Ashley Benson, Shay Mitchell, Pretty Little Liars)
Although we kept it quite alternative, we couldn't but include those power ladies. A TV series that's written to go viral shall have an "A" cast (pun intented). Beautiful, fashionable, brave and smart – those girls have it all. And although they are far from being real life characters, they've stolen zillion of people's hearts. Aria, with her impeccable sense of style and her kind eyes, Hanna – the ultimate girl boss, Spencer, who combines class with smarts and last but not least, the sweet-but-tough Emily. We grew up together with those girls and that says a lot.
5.The Wine Moms: Veronica, Pam, Ashley, Ella (Lesley Fera, Nia Peeples, Laura Leighton, Holly Marie Combs, Pretty Little Liars)
Busted! We love this show. We feel bad that we don't know what happened to the moms after the Summer Finale. In fact, we're backing up Buzzfeed, since we'd love a Wine Moms spin-off. This is clearly missing from the TV.
6.The First Lady: Claire Underwood (Robin Wright, House Of Cards)
Robin Wright's Claire Underwood is showing us what a woman is capable of doing. Sometimes it's plain scary – this show is plain scary. Claire is a strong woman and strong, ambitious women are sometimes missing from our TV screen. Period.
7.The coolest mom in the world: Francine Smith (Wendy Schaal, American Dad)
Francine from American Dad is cool. She's tough, easy-going and a sweetheart. She's putting up with everything her family gets her through and manages to look flawless pretty much always. Plus, since she's having a naughty background, she's the kind of girl who doesn't have repressed wishes. She's a woman who knows how to live her life. And she looks great in pink.