Swedish shoegaze band Star Horse kicked off the year with their excellent debut album You Said Forever, and they ended it by taking that album on the road in a big way. November saw them pull off a feat that not many Swedish bands manage – a six-date tour in China, stretching all the way from Guangzhou to Beijing. So we asked them to bring along a camera and document it for us.
On our way to China for a six date tour over the course of eight sleeps. We're all brimming with excitement, like kids the night before Christmas eve. What are we in for? Someone said the airplanes heading that way aren't even half full this time of year. And very true, there was plenty of room to stretch out. We started off this planet-killing spree (we flew to the next city almost every day) by sitting as far away from each other as possible.
We arrived in Guangzhou, the city of flowers, in the evening, having met our tour guide and all-around amazing person, Train, in Beijing a couple of hours earlier. It was the day before our first show, and we were looking to offset the jetlag with some pizza and quality time with this stray cat.
You're allowed to wear your own merch on tour, right? Stepping out the next morning we found our poster outside the venue. Starstruck! Also, heat struck, Guangzhou reported 27 degrees celsius.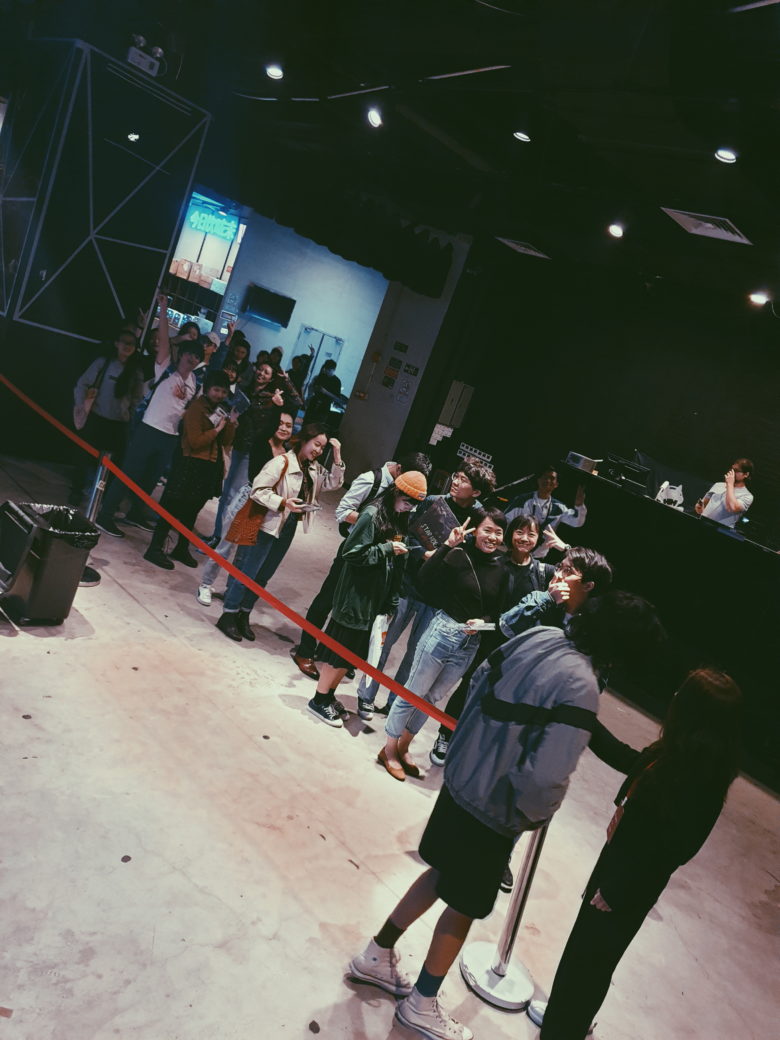 The first night really blew our minds. Playing at MAO Guangzhou we were treated like rock stars, nothing we're at all used to. It was strange and wonderful to finally get to stand there and play our songs for fans we didn't know we had here, and see them sing along. Meeting our the fans after the show for the first time was so special. Look at this line of cute people waiting for an autograph and a picture!
After soundcheck in Nanjing we were introduced to some local cuisine; Fried frogs. Magnus, our sound engineer and friend, happily tried them out. It tastes like a mix of a chicken and a fish, he said. Magnus turned out to be the foodie of our group, trying every strange thing Train ordered in during the trip.
We never quite got the charm of see-through bathroom walls. The fancier the hotel, the clearer the doors to the toilets were. Sometimes there were no doors at all. Staying at Chinese hotels made us closer than ever. Our third show of the tour was in Chengdu, a showcase festival in an artsy area of the town. If we thought we might be getting spoiled by the excellent sound systems, equipment and venue staff on this tour, Chengdu really hammered it home.
Between gigs, airports and checking in and out of hotels, there hasn't been much time left for more than napping and eating. It's key to take every opportunity to relax backstage, and to have fun! And hydrate. Six bands on the roster in Hangzhou, and the whole night ended with a live jam session with members from all the bands. SO much fun!
In Shanghai, we had the pleasure of sharing the stage with the Japanese band Tokyo Shoegazer and China's own Default. The place was packed! After the show we all headed out to indulge in food and drinks at a small Chinese bar. AJ (trying to sit down in the middle) is the project director of TAI who got us to China in the first place. Talking to our fans it had become clear to us that he is something of a legend among the kids in the scene.
After our night in Shanghai, the next day we arrived in Beijing for a welcome day off. As usual, Train took it on herself to order in oodles of dishes (all not seen above). At this restaurant they were all going in a boiling pot of broth. One of many yummy meals of the trip.
Backstage of YUE space in Beijing, after having some time to actually stroll around town a little before soundcheck. We thought the venue resembled the Roadhouse in Twin Peaks a little. After the show, our last one before going home, as the place was closing down one of the bartenders rolled in his motorcycle and Magnus put on Falling by Julee Cruise. The perfect ending to our tour.
Star Horse's debut album You Said Forever is out now on Startracks.