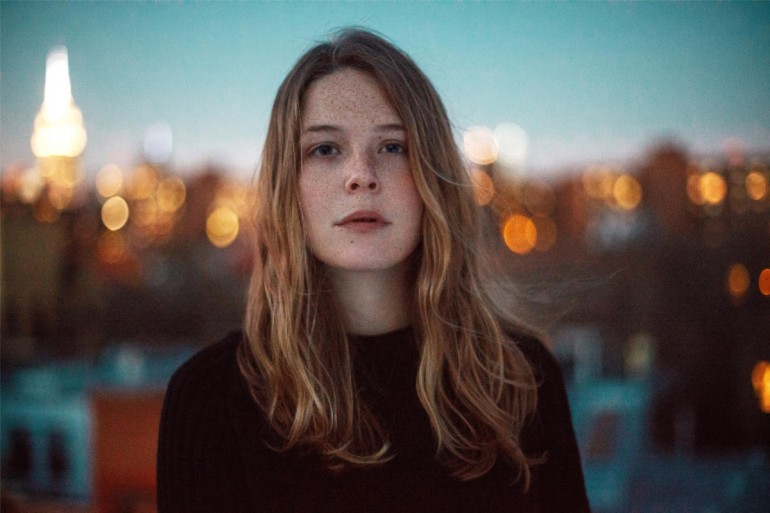 There was a 'before' and an 'after'. One day before MAGGIE ROGERS sat on that chair next to PHARELL WILLIANS at the Clive Davis Institute of Recorded Music at NYU's Tisch School of the Arts and one after. It's been almost one year since the video of her in that scenario went viral, showing how the eyes of the platinum-selling popstar filled with tears while first listening to ROGERS' track Alaska. The rest feels like a Cinderella story for the 21st century social media generation. Suddenly she went from a few 1.000 Facebook followers to almost a quarter million within that year. She also just started her first global tour following the release of her debut EP Now That The Light Is Fading.
It's that moment when a less stable and stubborn character would fall for the false gods of fame, wealth and musical simplicity but just like with her entire path so far, there's something special about MAGGIE ROGERS, something that's hard to grab. Alaska is not your ordinary radio pop song, and neither is Dog Years. The accompanying music videos also speak different languages and so does the music on the young woman's solo debut. Now That The Light Is Fading is a laidback mixture of gentle songwriter pop that teams up with tender electropop and R&B elements while providing a melancholic intimacy and profound lyrics, all  presented by this inconspicuous character who's hiding her ambitions behind a gentle smile, at least when I met her for a little chat in a fancy hotel in Berlin.
'I spend a lot of time not thinking about it,' ROGERS confesses when confronted about this past year. 'I'm trying to stay super present 'cause otherwise I would easily get overwhelmed by it,' she explains. The artist who turns 23 next month sits in comfortable clothes in a way too big hotel room, at the corner of a giant couch. Just the fact that we speak together in that place so far away from her home amazes her. On the one hand she doesn't belong here, on the other it totally makes sense. Every now and then reality hits her in bits as she confirms, although she's eager to not think about it that much.
'Recently at the by:Larm festival in Oslo I had one of these rare 'How the fuck did that happen?' moments. It was my first festival and a really big stage I was playing on. Same goes for the Berlin show I played the other night; it felt quite special on stage, I must say.'
The change happened in a period of her life that was destined to call for new beginnings anyway. 'I gratuated from college in May so I always knew my life would be different after that,' she tells me. But instead of desperately looking for an internship or going on a spiritual journey to India she more or less went to become a full-time artist. 'I know, this is not the ordinary career path,' she tells with a smile. Still, don't overestimate the fact that Universal got board to sign MAGGIE ROGERS as she still released the EP via her own imprint and only used the major label for distribution purposes. All the music on Now That The Light Is Fading was written and recorded before she sat next to Mr. Williams, so we can only guess what she might achieve in the future with the gained knowledge of those past months.
Growing up in the 'Post-Genre' Age
The way she will present new music however is undefined and the songwriter from Easton, Maryland likes to keep it that way. 'There is absolutely no necessity to stick to old recipes,' she explains her release strategy. For her it's more about telling a story with every release, sometimes that story could be told within one song only, sometimes it needs a full 12-track album. In the case of her most recent output five songs were enough to get the story told as she explains.
'For me it's about making a statement and whatever format suits that statement I'm trying to make. The EP does feel short, yeah, but for me it was enough to say what I needed to say. For me the EP is about transition and it's okay that it might not sound 'full' in the end.'
Profound songwriting is more important than a posh production. 'I wanted to make it feel human,' she states and you may think it's a more authentic approach to pop that defines best what MAGGIE ROGERS is about. She is inspired by all sorts of music but one of her earliest musical memories, next to a little music box, is blasting The Planets by classical composer Gustav Holst through her boombox. 'The soundtrack to The Princess Diaries was another favourite and probably early stuff by BRITNEY SPEARS,' the young lady confesses in all seriousness, making clear that there are no limitations within her range of influences. In not accepting genre limitations anymore and celebrating that diversity MAGGIE ROGERS shares the common understanding of this new generation of young people that grew up in a digital world with constant access to pretty much every music from ELVIS PRESLEY to THE CHAINSMOKERS.
'Musical flexibility is a phenomenon of my generation. Spotify came out the year I went to college and filesharing was a big thing when I went to high school. I don't know it any another way. It's just really easy to hear a lot of music.'
When asked for her favourites it's pretty clear that all music matters, some maybe more than other but in general there's room for everything. 'James Blake is just as important as Ariana Grande,' ROGERS states. 'You need both in life and I never saw the point in setting yourself any restrictions.' She loves FATHER JOHN MISTY and only recently started to dive deeper into the discography of PRINCE and that's just one reason why so many different musical aspects are sensible in her sound and will be in the future.
Nothing matters… and everything
Still, the question arises how you can build up a following on the basis of more and more individualised consumption. Still questioning how she got on the big couch of this sparkling hotel room, MAGGIE ROGERS obviously doesn't have a simple answer yet. 'You have to make music that feels genuine to you. Don't worry about anybody else or how you gonna get famous.' And although she worked hard on her musical skills over the past years it's not a necessity anymore to be an expert on everything. 'Someone without a proper musical background can make just as exciting – probably even more exciting – music than somebody who got one,' she explains. For the songwriter, music should be fun and many people desperately seeking for a way to 'make it' tend to forget about that along the way.
Over the course of our brief chat it gets clear that she's indeed the down-to-earth 22-year old girl you would expect her to be. On the other hand, MAGGIE ROGERS isn't naive, she's ambitious, skilled and brave enough to make the next move by her own rules. She's excited about what happens next. 'I have a lot of life left to live so that's basically my next goal,' she sums it up with a gentle smile. It's still quite hard to put the finger on what's special about this music so far, even after our little interview. It's just really good songwriting, clever lyrics and a production that doesn't desperately scream for a spot in the Top 40. As charts got more and more redundant, music distribution doesn't call for a label anymore, while musical tastes become more and more individualized. MAGGIE ROGERS might be a prototype for a new generation of artists, proving that quality, skills and an interesting story are still helpful elements in this age of uncertainty. It might not be the worst PR move to make PHARELL WILLIAMS cry but it's not everything as she sums up her advice for young artists: 'Educate yourself. It's just like any other work – if you want to be good in it you need to know what's happening in the industry.' And that might be a good first step to start your own path… whether it leads to oversized hotel rooms or something else.
—