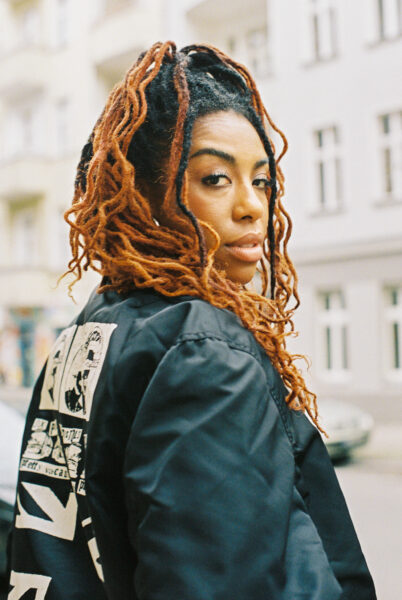 Berlin-based artist K.ZIA moves in a variety of personalities. K.ZIA, the RnB musician and the warm mother sprit it is sometimes overcome by the alter ego ZIA, who is a fierce energy-laden and unapologetic powerhouse. I am not sure yet who is sitting in front of me as a meet the artist for a coffee in Berlin. Under a Sex-Pistols bomber jacket, she is wearing an orange jumper matching the details woven into her braids, hands stacked with rings.
The musician chose Berlin as home for now, but has been globe-trotting. The wide grin as she tells me about her last trip to Senegal speaks of the cheekiness of ZIA. "I went to Senegal last summer to shoot a music video and met a bunch of people. Even though it is not my native language or country something just clicked". The relaxation of the trip shows in the ease with which the singer carries herself. JFMB (J'Fais Mes Bails) her first single released in French.
Two Sides of the Coin
ZIA is standing on top of a pick-up truck dancing with a crew of people dressed in black. The energy is clear – you can't fuck with us. Confidence is dripping from her fingers as she enhances the lyrics with facial expression and gestures, like that even lying backwards in a chair on the beach looks cool. Her hair is arranged around her in long braids. Then she winks into the camera. ZIA's youthful swagger translates musically into unpolished raw beat.
"In my music videos I bring forward all my different personalities. They are a chance to explore my creativity through visual expression as well". The artist is especially proud of the stunning images which they created in Senegal she tells me. Now, the bar is high. "I want to push myself further and further. It might seem overly judgmental of myself, and I do put myself under a lot of pressure, but I feel like I constantly need to upgrade my visuals and my creative expression as I go."
Rest and reset
To not burnout because of the constant pressure, K.ZIA tells me, she found a way to balance self-imposed and external stress. "The pressure I put myself under is not necessarily bad as long as I can go on vacation after. If I do not take a break every now and then, I will go into a burnout and be even less efficient". And the artist found a way to recalibrate that works every time.
"Whenever I am going through dark times and my mind feels lost, I try to go to Africa. It is my reset button, like restarting the app to make it work better. Africa is where my soul and my spirit feel the best."  
Speaking in Tongues
As a self-proclaimed perfectionist, K.ZIA's debut record Genesis has been in the works for a long time. Partly French and partly English and barely half an hour long, listening to the album is like a roller coaster ride that ends too fast. Even though it might not sound like it, Genesis contains the first efforts of the artist of writing French songs. "Ever since I started making music, I was writing in English because that was the language I learned to write and read in. But certain parts of myself were not really represented by that. Some things needed to be expressed differently." To find a way to encompass her different facets inn the music, K.ZIA allows herself to skip between languages.
"The main difference is the way they are based on my history," the artist says. As a child she went to English private schools with diplomats' children and small classes. As a teenager, her family moved, and she went to a French high school. "France were my public-school years. The experience was very different and because of that my vocabulary in those two languages is also differs."
Masculine and Feminine Energy
ZIA's language is French, and she has more masculine energy. She is still a little younger and has more emotions that she expresses freely, the singer explains. Her music is loud, inspired by Afro Beat and Hip Hop. She is the one dancing on cars in the Senegalese countryside and winking at us.
"When I speak French, I am fierce and more unapologetic than when I speak English. The teenage years is when you learn all these words that do not exist for me in English. I am either a kid or a grown adult in that language."
The English songs represent the calmer side of the artist. They are "less street" as she calls it and embrace the feminine side. Moving more on the RnB spectrum of her musical output, the songs like Sanctuary and Home convey an inherent warmth and K.ZIA takes on the role of a gentle mother spirit.
Family Ties
One of the most captivating songs on the album is Commando Fanm, which features her mother, Zap Mama. Growing up in a creative household with her mother being a musician and her father a horse acrobat and comedian, K.ZIA was fed art and music from a young age. From music to visual arts, and fashion, all those elements are still reflected by the cohesive creative vision that she maintains.
The collaboration with her mother was not a new thing to her. "I am on all my mother's albums. The new thing is that now she is on one of mine", K.ZIA grins. The song was written in collaboration with her father as well. It has Creole in it, drawing on her father's roots in Martinique, making it a real family song.
"It is about strong and independent and loud women who know where they want to go and are unapologetic about it. My mother is the most iconic woman I know."

Living Tradition
When looking into the rich creative background of the singer, her mother pops up quite fast. As Zap Mama, she has been around the world and continues to produce groovy Afro-beats music. Through music she reconnected with her Congolese roots. As a young girl the singer's mother moved from Congo to Belgium and only rediscovered her roots when she went back to Africa, finding herself not just in Congo but in various countries.
"My mother learned from the entire continent and from all around the world. I grew up with those influences. A lot of the traditions from South-East and West Africa have been around." Her grandmother also still lived close to where K.ZIA was raised and brought the culture closer to her through the food and the music.
Painting My Universe
Genesis is the result of the complete artistic expression of a complex person living in different worlds, from her Congolese and Martinique roots to her up brining between English schools and French teenage years. "It is my personal genesis", as K.ZIA calls it. That is represented on the album cover as well. Eager to find the perfect visual equivalent for the wide range of personalities on the album, the singer took on the cover design for the record herself. In pink and blue, she is depicted in the sky reaching for the stars with the sun, and the moon both above her.
"I am painting my own universe."
It is a reference to the biblical aspect of the genesis. The hand lifted in the act of world creation. The sun and the moon in the corners of the cover represent the two personas that K.ZIA embraces on the album.
A Personal Genesis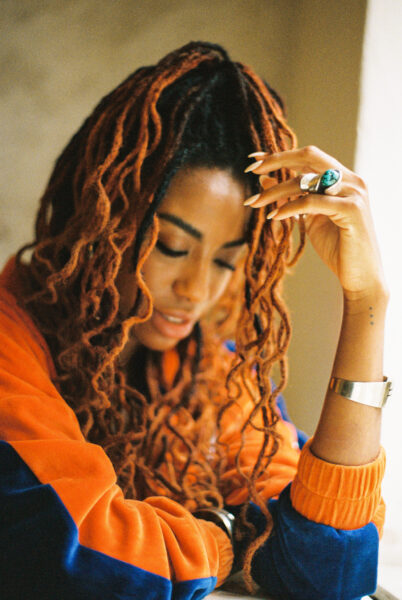 When talking about the album title and the visuals, she explains that she was brought up spiritually by her mother, she was always encouraged to discover a variety of different belief systems. "Believe in what your heart relates to, she used to tell me", the singer says and goes on to explain that she distanced herself from the spiritual upbringings in her adult years.
That is until she fell into a deep introspection two years ago. "I experienced depression for the first time and was questioning everything. Most of the songs were written throughout that time. I tried to find back to my connections to other people and beings on the planet by exploring spirituality again." But K.ZIA did not want her debut record to be only about that hardship of her life. Rather than being a record about depression, it is a record about the point she reached after going through that.
"Depression is a part of the record because it is part of my experience, but I did not want it to define me or the album."
Songs like Coco speak about these things and show the reorientation towards a more spiritual outlook onto the world that helped the artist. "I speak a lot to the universe, and I try to be in synch with myself and align with my path. Those are things that you can feel through my music as well".
All Photos by Liv Toerkell for NBHAP
K.ZIA's brilliant debut LP Genesis is out now via Groove Attack.