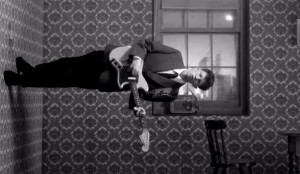 Critically acclaimed songwriter Archie Marshall aka KING KRULE reports back with a new music video A Lizard State. It's the latest single from his successful 2013 solo debut Six Feet Beneath The Moon. And it looks like Mr. Marshall got his inspiration for the new clip directly from good old Alfred Hitchcock. The clip is an hommage to his 1954 film Dial M For Murder. It was directed by Jamie-James Medina and it also features Hitchock himself who introduces KING KRULE. You don't believe us? Witness it right here.
[youtube id="kpkr79srKTE" width="600″ height="350″]
German fans can watch the music video right here.
—