Grimes – 'Miss Anthropocene'
Sounds like… a reminder to push forward through confusing times.
With all the rumours, news, and media attention surrounding Claire Boucher, it is not far-fetched to say that Miss Anthropocene is her own dark and genuine way of making peace with a world and a self in turmoil. Set out to be a record on the climate crisis (the title referring to a goddess of climate change and being a combination of 'misanthrope' and 'Anthropocene', a newly coined description for the earth's current geological era), it became something quite different. The intended theme – the hurting of the world – is overshadowed by – the hurting of the artist, and it is done beautifully so.
The ten tracks of Miss Anthropocene are a back and forth between mourning, praising, and conquering life in a parallel timeline. The six-minute long So Heavy I Fell Through the Earth is a layering of vocals held together by wandering electro-harmonies descending down Alice's rabbit hole but make it 21st century. Darkseid referencing the DC-supervillain who sets out to rid the world of free will, creates chaos with its unstructured beat and distressed Japanese lyrics that clearly nudge at concepts of Grimes' previous record Art Angels. The latest single Delete Forever creates an intermission to the established disarray and with effortless guitar- and banjo-strumming invites to a sing-along which is a dazzling surprise for an album that screams furore so loudly. Though, the topic itself stays heavy having stated several times now, that the song was inspired by several opioid overdoses in her friend circle, including the death of Lil Peep in 2017. The second half gets lyrically closer to Boucher's premeditated idea while actually reaching towards the more personal and emotional landscape behind it. On New Gods, My Name is Dark, and Before the fever the vocals are constantly being overpowered by the instrumentals and the singer is fighting to let lyrics like "This is the sound of the end of the world", "So I pray but the world burns", or "I don't go to sleep anymore / Unfuck the world, you stupid girl" be heard. By letting the sound reign over the words, the focus also shifts from the general frustration to the particular suffering. And it is ultimately dissolved through the irrelevance of the individual's pain in the face of global emergencies. Fittingly, the album ends with IDORU, the Japanese word for a manufactured idol and Grimes raises her hopes again: "This is who I am / We can play a beautiful game". (Anna-Katharina Stich)
Stream It: ► Spotify / ► Apple Music / ► TIDAL
---
King Krule – 'Man Alive!'
Sounds like … Archy Marshall guides us through his newfound life. 
To many of his dedicated fans, King Krule still appears to be a Peter Pan-like teenager, crafting lo-fi indie straight out of his bedroom. Indeed, he grew up between Out There Getting Ribs and becoming a father most recently. I'm only stating the latter because it seems crucial to the essence of Man Alive!; Marshall moved away from his Peckham home to the countryside to be nearer to his young family. 
Indeed, the album sounds like a fresh-start, with a more positive approach 2017's The Ooz. The Krulesque signature sound of hazey vocals, dream soundscapes and jazzy saxophone solos still remains the same, though. What changed is Marshall's transition from his angry, almost-spitting rap to a smoother and a more friendlier speech. His past attitude shines through on Supermaché, where he seems to be very angry about supermarkets. Stoned Again comes across as a psych-reflection of his former drug-induced days, while Comet Face is a sharp observation of his former borough. The biggest surprise on Man Alive! is Perfecto Miserable though, a track that is simplest love song attempt we'll probably ever hear from Marshall. In their simplicity, the lyrics sum up everything that love songs are basically about: You're the only thing/ that makes me feel alright. 
If this doesn't give you shivers already, you might have to try Airport Antenatal Airplane. With a sample by Nilüfer Yanya, he delivers a flawless anthem for his daughter. Underclass presents the most touching moment of Man Alive! though. The swinging saxophone solo pairing with Marshalls scratching voice sums up the key of his work. He pairs intimacy with cockiness, angriness with warmness. Krule's biggest strength is his talent that observes both the inside and the outside world, almost at the same time. Within these contrasts, Man Alive! captures the feelings that go along with settling down and growing older. In King Krule's case, they sound like positivity, warmth and hopefulness.
(Louisa Zimmer)
Stream It: ► Spotify / ► Apple Music / ► TIDAL
---
Agnes Obel – 'Myopia'
Sounds like … dancing between dreams and nightmares.

Agnes Obel probably won't need much of an introduction here after her last critically acclaimed record Citizen of Glass in 2016. Now, the Danish singer is finally releasing the follow up LP Myopia. Based in Berlin, Agnes retreated to creative isolation to be able to enter a state of mind where the music became just for her. 'I wanted to create an album that sounds like my mind and my memories', she tells me in an interview. And that is certainly something she achieved; the record is packed with dreamy compositions and the singer's sweet vocals lure you in like a magic spell. In fact, Myopia is so immersive that you might not even realize how it drifts by – it strokes a string within, something subconscious, just like Agnes Obel intended it to do.
On Myopia, she confronts herself with the questions of doubt and trust, can we ever trust our instincts? Musically, I feel safe to say that Agnes Obel can and should. Island of Doom, for instance is an intense composition that draws you into its own world like the undertow of the stormy sea. With cellos and high-pitched choir-like vocals, Agnes creates a vibe of dramatic dreaminess and amidst the orchestral instrumentation she reflects on the incomprehensibility we suffer when a loved one passes away. Roscian and Drosera, in the center of the record from two polar opposites – the dream and the nightmare, the fragile ethereal song and the unsettling darkness evoked by musical tension. If this is what Agnes Obel's mind sounds like, we should wrap ourselves in blankets of her thoughts, in her intimate lyrics and emotive arrangements. (Liv Toerkell)
Stream It: ► Spotify / ► Apple Music / ► TIDAL
---
Douglas Dare – 'Milkteeth'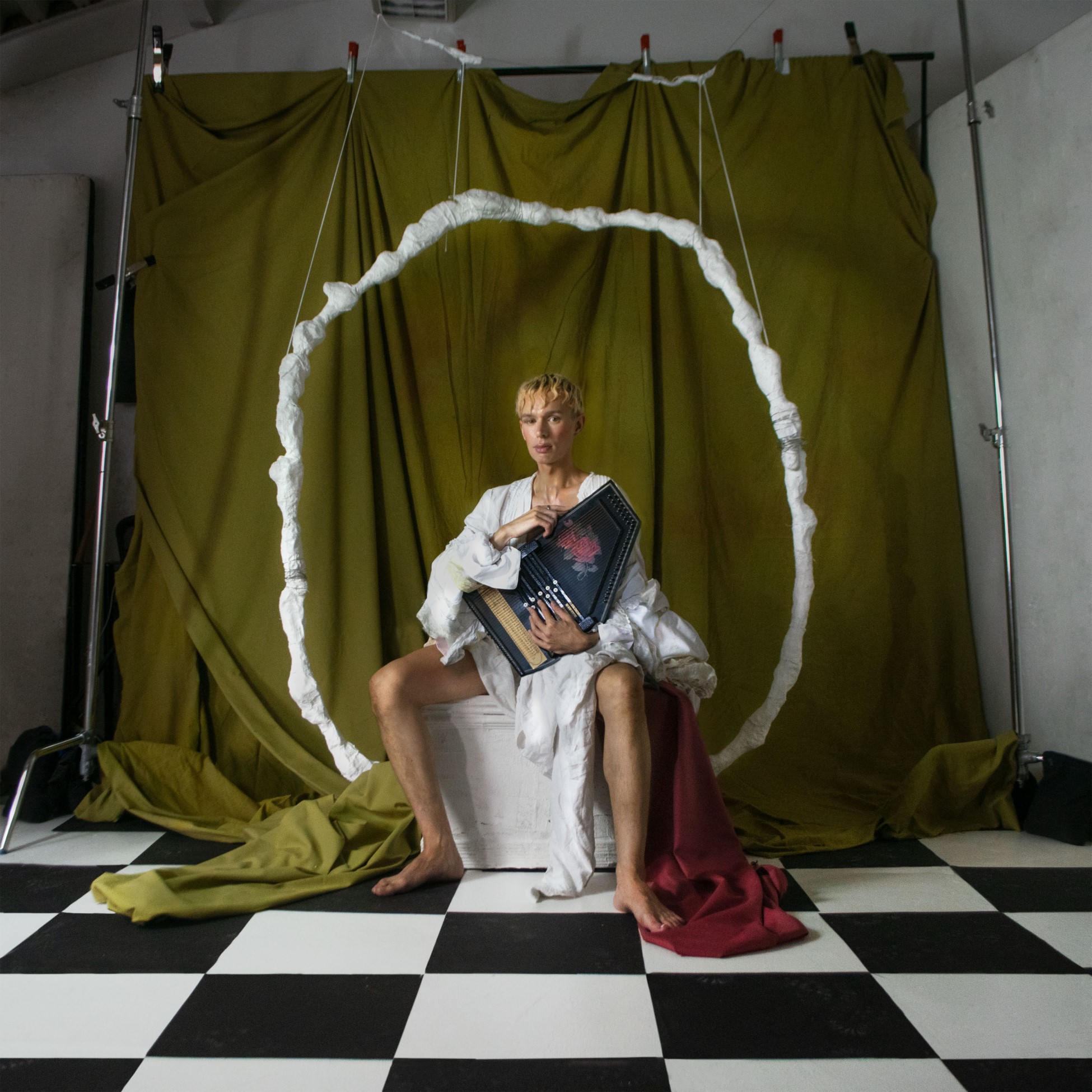 Sounds like … minimalistic elegance paired with a deeply emotional quest.

The feeling of not quite fitting in is a crucial part of growing up and finding one's place in this world. It often goes together with the perception of not being enough or the attempt to adapt in order to blend in instead of truly expressing who you are. The differences that make us unique as humans are seen as wrong while conformity is a desirable goal. Douglas Dare has experienced what it means to feel different from a very early age on growing up on an English farm being more interested in dancing and dressing up than anyone around him. Thankfully, it has not stopped him from digging deeper into his soul to show the world his special talent that has lead him to make music and sees him releasing his third album Milkteeth now. Over the course of his past albums, Douglas Dare beautifully explored his identity with a musically eclectic and intimate output of songs. Created in only 12 days, Milkteeth starts off with a personal declaration of I Am Free which opens the door to a sparse and elegant set of new songs. As the title suggests, Dare reflects on the innocent youth and the sense of belonging. At the same time, the feeling of loss that comes with those. Sometimes you have to lose yourself first in order to truly find your place. Dare most certainly has found the special, yet very vulnerable place he feels comfortable in to create. 
Pictured as a greek muse holding an Autoharp in his hands on the cover artwork, the minimalism he visually displays here perfectly matches what we can hear on Milkteeth – a collection of stripped-back songs carried by Autoharp, piano and guitar that emphasize Douglas Dare's ability to meaningfully engage with his emotional depth in an often musically simplistic way. Not without offering little pop gems like the single Silly Games or the more electronic The Playground in which Dare shortly drifts away from the sparseness in the second half of the song. A sense of nostalgia is deeply intertwined with what we can hear all across the album, for example found in the lullaby like Heavenly Bodies or the rhymes in Red Arrows. The three dreamy and melancholic instrumental pieces (The Piano Room, The Stairwell and The Window) demonstrate that even the interludes have found their meaningful place on this album making Milkteeth a touching listening experience. (Annett Bonkowski)
Stream It: ► Spotify / ► Apple Music / ► TIDAL
---
Lanterns On The Lake – 'Spook The Herd'
Sounds like … a full-blown melodic voyage over turbulent waters.
Originally formed back in 2007 in Newcastle, Lanterns On The Lake are well known to fuse quick-tempered indie rock of multi-faceted sound layers with atmospheric and passionate melody arrangements that bring together notions of chaos and the calm simultaneously – just as sublime as the imagery that the band name of the five-piece calls to mind. In the past years, the formation around songwriter and frontwoman Hazel Wilde, has been praised for its dreamy interpreted appropriation of post-rock soundscapes. This time, five years after the acclaimed Beings, and back with the freshly released fourth record Spook the Herd, the group has stepped up their game with a set of songs that stand out as the most substantial, critical and yet intensely hopeful output the rock outfit has delivered to date.
Led off by When It All Comes True, a thunderous post-rock infused anthem with Wildes passionate voice in its center, ringing emotions of desire, hope and melancholy. Baddies follows with a more clamorous attitude and a sound palette that is at times bound to drown the vocals in raging storms of electric guitars, an ever-present drum section, occasional strings. "It's funny what music can put you through", Wildes articulates after the tune has aquired a more subdued and calm atmosphere. And we feel with her, every part of the way. Not afraid to rush headfirst into addressing the existential crises of our time, Spook the Herd with much edge turns to issues such as our hopelessly polarised politics, the handling of social media, addiction and the climate crisis. Our fractured world is put under a microscope and yet, Lanterns On The Lake manage to reunite pieces of torment into bigger dimensions of looking at ourselves. Musically, this takes on shapes that present themselves as edgy and base-driven as Blue Screen Beams, which propels forward as we try to follow Wildes musings on our addictions to the screens that govern our everyday lives. Or take Every Atom for instance, "a song about grief and how your subconscious takes a long time to accept when someone is dead and gone forever", which creates an celestial atmosphere of hope, insistence and sincerity, being driven by a robotic guitar line and drums like the persistence of a throbbing heartbeat. But it does even get more solemn than that, for instance on the stripped-down Secrets & Medicine, which, led by a piano and soothing synths, is a song that stands out as a solitary island in the midst of the sonic rush, that the album has developed. In its serene aesthetic, maybe only surpassed by the final A Fitting End. (Andreas Peters)
Stream It: ► Spotify / ► Apple Music / ► TIDAL
---