Arctic Monkeys
After spending years in an almost unbreakable recording and touring cycle, Alex Turner and the gang really froze (sorry) the Arctic Monkeys following 2013's praised A.M. album and tour to focus on a creative break and various side-projects like Turner's The Last Shadow Puppets or drummer Matt Helders who joined Iggy Pop and Josh Homme on their Post Pop Depression album. Not much is known about the new album right now other than the fact that it will definitely come out in 2018 or the band gets in serious trouble with their label as bassist Nick O'Malley jockingly said a few months back.
Interpol
Four years after El Pintor, the first Post-Carlos-Dengler-LP, New-York indie rock institution Interpol is about to celebrate its 20th birthday with the release of their anticipated sixth studio album this year. During their 2017 victory lap for the 15th anniversary of their debut Turn On The Bright Lights they already performed a new song called Real Life at various shows and if this one proves one thing than it's the fact that Interpol will still pretty much sound like Interpol in 2018 which I surely don't mind at all. Looking forward to a few new ideas tho, right?

My Bloody Valentine
The gap between the last two My Bloody Valentine albums was 22 years which makes those five years since 2013's MBV seem like a pretty quick return for the legendary shoegaze rockers. Still, that hasn't always been the plan as mastermind Kevin Shields recently told Pitchfork: 'The record started off as an EP, and I realized it has to be, like, a mini-album, because it's going to be at least 40 minutes long.' So, however you might call it in the end – expect new music by the iconic collective this spring. Yikes!
Foals
In late November 2017 British rock institution Foals stated that they are 'Back At It' with a few social media posts showing their studio set-up. The band only knows how far the sessions are already progressed but my guess is that we might have to wait for it after the summer. It will be interesting to see how the guys' fifth full-length will compare to its predecessor What Went Down which mixed the band's tender math rock grooves with even rougher and harder alternative rock moments.
Editors
As they already announced first tour dates for this spring and started to play a bunch of new songs during their latest live performances, the return of Editors surely is imminent. Following 2015's spherical In Dream it will be interesting to see whether the Briths will continue to establish themself as the official successors of Depeche Mode or head for a different direction like they already did in the past. Since these guys already got a long history with changing previously live played songs during the recording process things surely stay surprising here. Not much longer, folks.

Courtney Barnett
The only thing I didn't enjoy about Courtney Barnett's joint venture album with Kurt Vile besides the fact that they threw away the opportunity to name themselves 'Kurtney Veilnett' is the lack of furious riot grrl indie rock power of Barnett's critically acclaimed 2015 debut Sometimes I Sit and Think, and Sometimes I Just Sit. So, I'm pretty confident we're getting more energy on the follow-up right next to the much loved laidback moments. The Australian indie rock queen has been working on this one simultaneously so we have to wait and see how far she already got.
Sigur Rós
Although a new Sigur Rós album already appeared on our wishlist for 2017, the Icelandic gurus decided to not actually release new music this year but continue their once again spectacular tour they started one year earlier. Now, after 127 shows in over 19 months in 37 countries on 5 continents the tour just ended with their own homecoming festival in Reykjavík called 'Norður og Niður'. I have no idea if they already found time to record music for a follow-up to 2013's Kveikur album but now they surely got time to do so. And as we all don't want to wait another year for it let's just be confident and cross fingers for a new Sigur Rós album. It's the longest time we ever had to wait for one.
Grimes
Back in December Claire Boucher tweeted that she showed her label new music which they were quite into, resulting in a 'hopefully something soon' prognosis from the Canadian artist. Art Angels was released back in late 2015 so new music is overdue and it will be interesting to see whether Boucher will continue to walk the path towards mainstream pop or whether she will come up with something totally unpredictable. Well, you never know for sure with Grimes and that's why we are all so desperately in need for this album.
When Saints Go Machine
For me, 2011's Konkylie by Danish synthpop band When Saints Go Machine is one of this decade's critically most overlooked masterpieces and the follow-up, Infinity Pool proved that the group from Copenhagen is a fascinating source for eclectic and adventurous pop. That last album dates back to 2013 and the band has been relatively silent ever since. Nikolaj Manuel Vonsild, the singer with the distinctive voice, focussed on his also really good side-project Cancer while When Saints Go Machine only played two shows last year in their hometown. So, they are still existing, probably working on new greatness in the background. At least, that's what I'm hoping for.
The 1975
The Mancunian lads have come a long way from their first releases six years ago to become one of Great Britain's biggest bands, also on a global level. Some might falsly still label them as a 'boygroup' but that only distracts from the fact what great pop songwriters, sharp lyricists and profound multi-instrumentalists they really are. Following the global success of their 2016 LP I Like It When You Sleep, for You Are So Beautiful Yet So Unaware of It (that name, tho) The 1975 already announced a follow-up last year which will arrive in the next months. It already got a (way shorter) title – Music For Cars – which references an EP the band released back in 2013. It will also work as a sort of closing chapter to their current album trilogy and aside from that we just have to wait and see what comes out of it.
The Good, The Bad And The Queen
The who and the what? Yes, younger generations might have forgotten about this gem but back in 2007 the restless Damon Albarn formed a group with Paul Simonon (The Clash), Simon Tong (The Verve) and percussionist Tony Allen to release a Danger Mouse-produced album under the alias The Good, The Bad And The Queen. The critically acclaimed dub/pop/electronica monster was written in the wake of the War in Iraq and declining British society and is to that day a testament that pop and politics can indeed work together. Now, 11 years later, following three Gorillaz LPs, one solo album and a Blur comeback record, Damon Albarn is reactivating the band. 'Brexit has obviously given us a wonderful starting point' he cynically stated last spring and as the rest of society hasn't gotten significantly better over the past decade, this album might arrive just in time. Well, obviously depending on whether busy bee Damon actually finds time to record it.
Low
2015's Ones And Sixes proved that slowcore heroes Low are still on top of their came and able to stick up to their name and own musical legacy. They are celebrating their 25th anniversary as a band this year so that itself calls for a 'Happy Birthday' although 'happy' usually isn't something you would associate with this group. They've been touring more or less constantly over the past two years and if they find time to record new music besides running their quite entertaining and informative Twitter account, 2018 will hopefully see a new Low album.
Friendly Fires
'It's taken time and water under the bridge to get to this point, but in many ways us coming back now after a long break could be the best possible way for it to happen.' – Back in October British house pop three-piece Friendly Fires finally ended the running gag of having them on this list every year via a statement on Facebook and a quickly sold-out comeback show in London. Rivers of inspirational water have turned the creative dryland in a hopefully new pop oasis for these guys, following the exhausting touring for their 2011 album Pala. They've been teasing their comeback ever since via Social Media. Since the expectations are already quite high, let's hope all of this was worth the wait.
Metronomy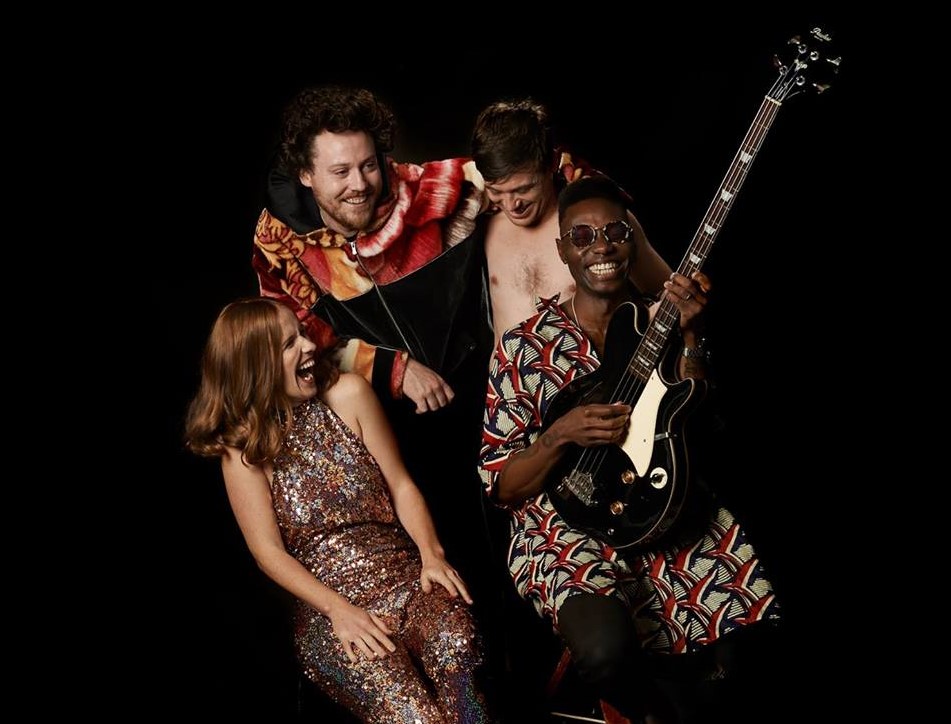 Following Joseph Mount's old-fashioned solo attempt of the 2016 Metronomy album Summer '08 (which he didn't tour behind) I actually thought we would get a quick follow-up already last year since the full band-line-up played quite a few festival shows which also saw them performing funky new tunes. Well, guess things took indeed a bit longer in the Metronomy camp so we're expecting a new album for this year. And maybe that was the plan all along so they could name it Summer '18, right?

Nine Inch Nails
Here's to another anniversary. Nine Inch Nails are turning 20 in 2018 and mastermind Trent Reznor might actually celebrate it by releasing the group's first album since 2013's Hesitation Marks. However, it might not be filled with entire new material. Following the EP's Not The Actual Events (2016) and Add Violence (2017) Reznor mentioned plans to end the EP trilogy with one final release. In the end all three EP's could merge into an album, maybe also with additional tracks or alternative versions. But that's currently just a rumour. Still, with freshly announced tour dates, it looks like the new year is going to be an exciting one for all Nine Inch Nails fans.
Vampire Weekend
Last December Erza Koenig told the world that long awaited new Vampire Weekend LP is 80% done and that we can surely expect something ambitious on their frist album in five years. Working with producer Ariel Rechtshaid and also former band member Rostam Batmanglij (who returns was a feature guest) Koenig was fascinated by the idea of getting a lot of people on board for this one following the work with Kanye West and Beyoncé but in the end decided to work against it. Whenever it may arrive, I am pretty sure that the new Vampire Weekend album will sound way more different than its predecessors.
Death Cab For Cutie
Just in time for the 20th anniversary of the first Death Cab For Cutie album  Something About Airplanes the iconic American indie rock institution is preparing its already nineth studio album. In many ways the follow-up to 2015's Kintsugi will be a special one, mostly because it's their first one without founding member Chris Walla who left the band shortly after the completition of the predecessor. Piror to Kintsugi Walla has produced every Death Cab album so far which also helped to shape the legendary sound of the group. The group locked themselves in the studio for the moment and we'll see what comes out of it.
Jon Hopkins
New albums by Jon Hopkins always take their time but when they arrive they often surprise the audience with a rich musical setting, creative adventures and a high level of quality. 2013's Immunity saw the talented British composer finally stepping out of the shadow and into the limelight where his music should belong anyway. Will the follow-up album continue to walk the techno-infected path of the previous album or will Hopkins' piano play paint more tender colours this time. And who is joining him as vocalists on it? So many questions, such high anticipation. The result probably won't disappoint at all.
---
… And Then The Usual Question Marks
While the ones on top of this list are – at least to some degree – pretty safe in terms of a 2018 release we are not really sure about a few other ones that are potential rumours and half-confirmed promises from various sources. So, we pretty much guarantee nothing.
Tool. Okay, by now this is on its way to become a new Chinese Democracy. Optimism and scepticism go hand in hand when it comes to the follow-up of 2006's 10.000 Days. Things recently got a bit more optimistic in December when drummer Danny Carey said the album definitely arrives in 2018. Of course, singer Maynard J Keenan is not a fan of these announcements and had a different opinion. At least, Tom Morello heard first music from the Tool album so parts of it must exist somewhere. And what about the A Perfect Circle reunion that's happening simultaneously? Let's just say, we're not trusting anyone right now, okay?
Lykke Li. The Swedish artist has mainly given us new music via her supergroup LIV (featuring members of Miike Snow and Peter Bjorn and John) in recent times. They released four songs in two years and 'promised' us a full album that didn't happen so far. The fact that she also announced first festival dates for this summer causes even more speculation. Something might arrive from her musically, we just don't know in which form.
Gorillaz. Wait a second? Didn't they just…? Yes, they did but as cartoonist Jamie Hewlett now confirmed there are indeed plans to deliver a quick follow-up to Humanz within the next months. They probably still have a lot of material left over from the sessions as the already released extra tracks like the Little Simz feature Garage Palace showed. The question remains the same as with The Good, The Bad And The Queen above: Does Damon Albarn actually have time for that?
Fleetwood Mac. Here's another running gag from last year's list. They promised us one probably final album with the original Rumours line-up. But things really take their time for the musical legendary icons and their first full album in 15 years. Still, they are not getting any younger. I mean, Stevie Nicks is turning 70 this year. Hurry the fuck up!
Kings Of Convenience. Even the quietest things can take their time, sometimes even more. It's been almost a decade since Norwegian acoustic folk duo Kings Of Convenience has released its third full-length and the follow-up is still not here. But Eirik Glambek Bøe and Erlend Øye already tested some new material on their most recent spring tour in early 2017 and locked themselves away ever since. A new album by the Scandinavian reincarnation of Simon & Garfunkel will happen but the longer it takes the more uncertain it becomes for us, right?
Father John Misty. Pure Comedy has been loved by critics and fans all over the world. It landed on number three of our favourite albums of 2017 while the title-track even made it to the top position of our favourite tracks. Despite that, Josh Tillman already stated in multiple interviews that a follow-up to the epic adventure of an album is already pretty much done although it might not be called Pure Comedy II after all. Will it be less dramatic? Will it be a dirty punk rock epic instead? Will it actually happen so quickly? Well, we'll have to wait see but one thing remains for sure: The stakes are high!
Daft Punk. The French robots missed the chance to make Alive 2017 happen following their two concert tours from '97 and '07 so that's a big bummer if you are into continuity. Apart from that no one can really tell what the gentlemen are up to next. Following production help for The Weeknd and Charlotte Gainsbourg they are probably already working on the follow-up to Random Access Memories which might easily cause the next trend in electronic dance music.
System Of A Down. Over the past years the balance between optimism and scepticism with these gentlemen was a pretty similar rollercoaster ride like the one with the Tool album. Although the band is constantly touring to perform their classics and they all get along pretty good, Serj Tankian made it clear in 2017 that we shouldn't hold our breath when he said: 'We've discussed it and we've played each other songs, but we still haven't come eye-to-eye on how things should be done for us to be able to move forward with it. And that's where it's been.' So, unless a miracle happens we probably have these guys in our 2019 list as well.
Frank Ocean. Following the release of 2016's Blond LP Mr. Ocean surprisingly didn't stop and released several stand alone tracks and a funky Calvin Harris feature. Still, he stopped doing that a few months ago and went back to radio silence. Recent mysterious comments from the man himself sparked new speculation in terms of a quick follow-up, so why not?
The Antlers. Back in September the profound indie music institution denied any split rumours and said: 'While we don't have immediate plans to make new music, we'll surely be back when the time is right.' Singer Peter Silberman released his really outstanding solo debut Impermanence in early 2017 after suffering from a temporary hearing loss. I don't know yet whether he'll prefer a certain distance towards music in the future and 2018 might be too early anyway but we all loved their previous work pretty much, especially 2014's breathtaking Familiars album, so a follow-up would be much appreciated.
Chromatics. Congratulations to Johnny Jewel and his band for making a fourth consecutive appearance in our annual list. At least, last year brought a bit clarity on what happened to Dear Tommy, the anticipated Chromatics album he originally announced back in 2014. A near-death experience somehow changed his mind and made him destroy every copy of it and start re-writing it. Then came his involvement in Twin Peaks and the current uncertainty regarding the state of this record. So, by now I don't know if anything will happen after all. We'll most likely get something new from Chromatics this year, although not an entire album.
Taken By Trees. Just before Christmas, Swedish songwriter Victoria Bergsman surprised us with the first new piece under her Taken By Trees alias in five years. That was good news for people like me who've been waiting for a new musical sign of life by the talented young lady and hopefully it's just a first step back for her into the world of music.
Tame Impala. Kevin Parker took things a bit slower last year but 2018 might see the anticipated follow-up to the chart-topping Currents album from 2015. There was a rumour that super producer Mark Ronson could take care of the new Tame Impala album, following his previous collaboration with Parker. That would probably continue Parkers departure from the band's psychedelic roots but as long as the music remains as good as it has been lately I'm done with it.
The Cure. Last but not least an evergreen on our waiting list. It's been ten years since The Cure released their last studio album so far and 2018 also marks the official 40th birthday of the iconic goth rockers. So, the timing couldn't be any better, right? During their recent 2016 world tour they already played a few previously unheard songs although it iss yet unknown whether they are new ones or just from their personal archive. Maybe it doesn't need another Cure album due to their already stunning back catalogue. On the other hand it would be awesome to have them release albums in five consecutive decades, right?