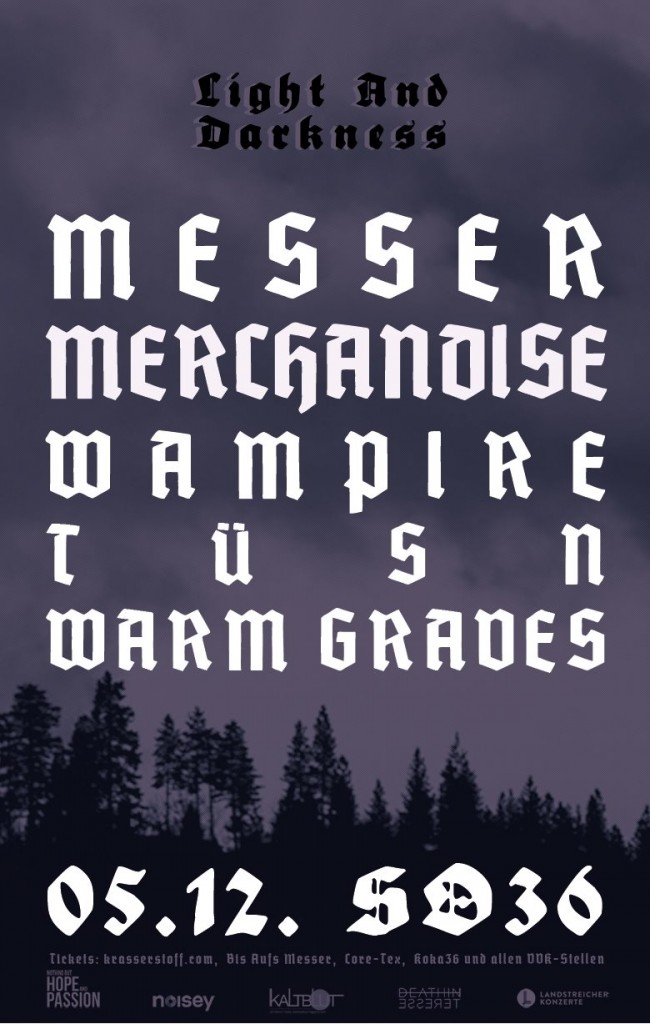 Sometimes all you want and need is a bit realness. Just a serious amount of honest anger and the power of darkness. And since NOTHING BUT HOPE AND PASSION is always open to support the rawness of authentic subculture we're happy to present you a brand new event series in Berlin, the Light And Darkness night in Berlin's legendary punk rock cathedral, the SO36. Taking place on December the 5th, the event's credo sees the spirit of late 70s/early 80s post-punk and dark wave club concerts transfering into the here and now. Dark venues, a lot of fog, noisy guitars, sinister vocal performances and songs about despair and anger. It's like a hypnotic hurricane that captures you and hopefully make you dance like JOY DIVISION's Ian Curtis in his best days.
The first night of the Light And Darkness series brings you five exciting acts to relive the dark and desperate feeling of the past. Germany itself shows a few of it's up and coming acts. While TÜSN deliver a more pop-focussed aspect of the wave sound, their colleagues MESSER (which is German for 'knife') from Munster provide all the bass-driven post-punk madness you're actually be here. Furthermore the all-praised MERCHANDISE will spread their noise-rock gloom all over the SO36. Same goes for their psychedelic fellow countrymen from Portland, WAMPIRE. The line-up is completed by the eclectic sound of German newcomers WARM GRAVES whose shoegaze tunes are the perfect music if you to let yourself fall. As you can see, from floating musical bliss to pumping anger – this is an evening dedicated to the power of music. Get your tickets at www.eventim.de and krasserstoff.com.

Or get your tickets right here for free as NOTHING BUT HOPE AND PASSION is giving away 2×2 tickets for the evening. Just send us a mail to win@nbhap.com with the subject 'Light and Darkness' and your full name, of course. And if you want to set the mood right tonight, check out our recent feature about 15 almost forgotten post-punk tunes right here.
—