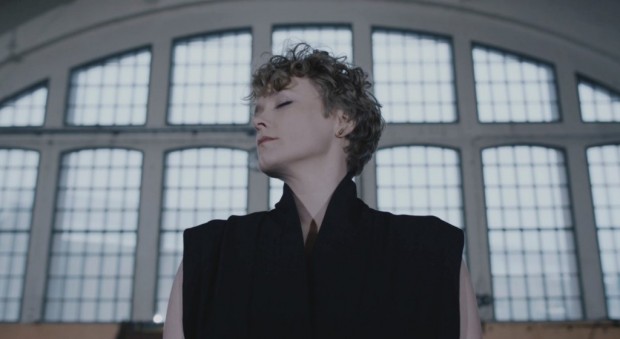 Last week Norwegian songwriter goddess ANE BRUN surprised us all with her trip-hop-infected new single Directions. Now, the charismatic singer unleashed the official music video for it. 'I wanted the video to visualise strength and hope,' the singer stated and for that reason it looks like Mrs. BRUN dancing in an empty hangar was the best possible setting. The result is definitely an intense experience. Witness it right here.
---
---
US rap queen AZEALIA BANKS is always a fitting choice when it comes to really weird music video ideas. Her latest one, Wallace from last year's LP Broke With Expensive Taste makes no difference. It's an interactive webcam-driven music video experience that allows you to be in it. Yes, when you move Mrs. BANKS does the same. 'I'm such a huge fan of technology and creative new ways of interacting and engaging with fans, so this collaboration was perfect for me. Music videos are as much of an art form as the music itself,' she states. The clip was done with the help of filmmakers Nick Ace and Rob Soucy. The only thing is: you need to have Google Chrome to experience the whole concept. If you have please had to the musician's homepage.
---
---
SURFER BLOOD have shared new music from their forthcoming album 1000 Palms. The song is called I Can't Explain and according to the band's John Paul Pitts it is 'one of our most collaborative efforts to date.' He further states: 'The hook just came to us one day in the practice space and we wrote the rest of the song around it.  The lyrics (by Kevin Williams) tell the story of a romantic encounter on a New Year's Eve past and build slowly with the rest of the song.  I've always been keen on a long instrumental outro, so this seemed like the perfect spot for a long, jammy guitar section – a place for us to get some Yo La Tengo/Built to Spill guitar fetishizing out of our system.' The follow-up to 2013's Pythons arrives on May 11. Listen to the new material right here.
---
---
SWIM DEEP are back. And so are, apparently the 90s. The latest single by the British lads sounds a bit like a forgotten gem from the golden days of Manchester Rave in the early 90s. Psychedelic madness but seriously not the worst revival. The song is supposed to mark the first teaser off the follow-up to their 2013 debut Where The Heaven Are We which is supposed to drop later this year. Watch the video for To My Brother right here.
---
---
Boom! Finnish rap prodigy NOAH KIN reports back with an electrifying new tune, simply titled Do That. And it's basically about him, doing various crazy stuff in front of the camera while shooting his raps in the usual way. Like a machine gun, you know. Don't forget to check out NOTHING BUT HOPE AND PASSION's short interview with him from last autumn as well as his thoughts on his favourite album of all time right here. And after that, please enjoy Do That right here.
---
---
British electronic duo ZERO 7 release a new EP on April 14, simply entitled EP3. The name itself is a clear nod to the early days of Sam Hardaker and Henry Binns as they released the EP's Number One and Two exactly 15 years ago, before their high times. A first track from the EP has also been released. The tender Last Light features none other than the almighty JOSÉ GONZÁLEZ on vocals. Stream the song right here.
---
---
And for a bit groove tonight. Galaxy, the recent collaborative single by Luxembourg-based producer SUN GLITTERS and dreampop chanteuse SARAH P. got freshly remixed by France's ALPHAAT. The result gives the dreamy original a slightly pumping update. Highly addictive material.
---
---
Only a few more weeks before British electronic producer William Doyle and his alter ego EAST INDIA YOUTH release their second album Culture Of Volume (April the 7th). Following already quite promising first music like the epic Carousel Mr. Doyle has now premiered more new music in the form of Hearts That Never. And this time it gets a bit groovier. Listen to the new track over at NPR.org.
---
---
Well, we can't say that we are very surprised about the level of weirdness the new OF MONTREAL clip represents. In the end it's one of the craziest bands around anyway. We actually don't know where to start explaining this. Dressed-up zombie girls, a lo-fi video setting, psychedelic colours, a party in the bath tube. Kevin Barnes' mind is just quite unexplainable. Bassem Sabry is taken from the freshly released new album Aureate Gloom. Watch the video right here… if you are brave enough.
---
---
And finally. Let's end the roundup with a story about… well, ending things. Rob Crow, 50 percent of acclaimed American prog rock band PINBACK is done. Done with music, at least. In a short open letter to his fans the musician speaks out loud what most people in the industry often think from time to time. It's 'financially irresponsible' to his family and own health. So, that's why he quits after finishing and releasing all of his remaining projects. His full Facebook statement goes:
I'm fine.
I have just come to the realization that making music in this climate is financially irresponsible to my family and ultimately humiliating to my psyche.
Im going to finish and release the work I've already spent my heart and tears on, but even that is likely to ruin me.
My kids are growing and my downstairs studio would probably be put to better use as a bedroom.
I'll keep a small setup with which I can use for scoring, editing and things when they come up.
Also quitting Facebook and Twitter and using that energy to concentrate on writing in my journal.
Chucking the booze as well will help with that.
I just trying to make a mature decision and be a responsible husband and father.
A truly brave and remarkable step. We'll see what the remaining projects going to be. The last PINBACK album, Information Retrieved, was released back in late 2012.
—