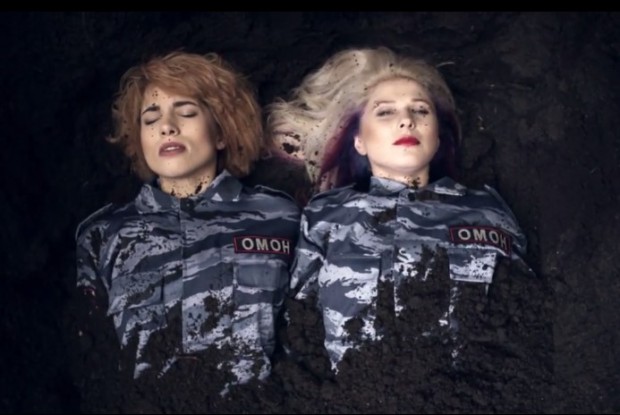 PUSSY RIOT are back! In English. And with the help of YEAH YEAH YEAHS' Nick Zinner, Andrew Wyatt and many more. Looks like Masha Alyokhina and Nadya Tolokonnikova are aiming for an international target audience now while also not losing their political approach. I Can't Breathe is dedicated to Eric Garner, an unarmed man who was killed by a New York City police officer while being put in a deadly chokehold. The new track is based on his final words and dedicated to those who live in state terror. Watch the new PUSSY RIOT clip right here.
---
---
Charismatic British singer NADINE SHAH has shared the latest single of her forthcoming second album Fast Food. It's called Fool and it really follows the previous dark paths of the crafted artist. The album arrives on the 13th of April via Apollo/ R&S Records. And if you still need an argument, we highly recommend you to listen to Fool right here.
---
---
JACK WHITE is always good for a surprise. Usually these surprises always have something to do with bizarre new ways of putting music onto vinyl or even bizzarrer ways of playing it from vinyl. This time, the acclaimed blues rock expert introduces an interactive and crazy idea with the music video for That Black Bat Licorice, a tune from last year's Lazaretto. It's actually three clips in one – a live video, an animated clip and something entirely based on head-banging. You can witness the full clip over at the musician's homepage.
---
---
If you like psychedelic colours and eclectic electronic music you should take a closer look on the new SEKUOIA music video. Filmmaker Yoshi Sodeoka unleashed a trippy video for Somewhere, a track from the forthcoming Reset Heart EP by the Danish producer. And if you're done with that trip don't forget to check out his fancy NBHAP Guestmix.
---
---
As you should know Jonny Jewel, the CHROMATICS mastermind, is responsible for the soundtrack to Ryan Gosling's directorial debut Lost River. After already giving u a first track called Yes the Italo Disco lover now unfolds the latest tune called Bullytown. It's spooky, it's dark and it doesn't really sound a lot like Jewel's previous work, don't you think? Listen right here.
We recently told you about Canadian band WE ARE THE CITY, did we? Yes, in form of their track Friends Hurt. Now the band bas unveiled a shiny new music video for their song King David. Actually, the clip isn't shiny at all. It's a quite filthy situation in the clip. See for yourself below. The album Violent arrives on March 23rd 2015 via Sinnbus.
---
---
New York noise rockers A PLACE TO BURY STRANGERS just released their quite satisfying new album Transfixiation this week and are now unleashing a new music video for We've Come So Far. Director Matthew Conboy really managed to capture the band's unique live performance with this energetic new music video, right?
---
---
We fell in love with To Die In L.A. by LOWER DENS ever since we first heard the beautiful piece. Now, the four-piece presents a stunning video, directed by Cody Critcheloe aka SSION. The director on the clip: 'The song inspired me to write the treatment around my friend/muse/singer/actress/goddess Actually Huizenga. She's this quintessential '80s LA summerbabe in the video, simultaneously delusional and intelligent, dressed up in all of my current obsessions/impressions of L.A. as an outsider…'
Of course, Huizenga also stars in the music video. You can watch it below. The new LOWER DENS album, Escape from Evil, is set for a release on March 30.
---
---
Something funny at the end. Well, but it includes NICKELBACK so there's also a bit horror in here. There's a man called Jesse Carey and this week he launched what he called 'the ultimate test of endurance.' His mission? To listen to only NICKELBACK music the entire week. Yes, only Chad Kroeger and his boys and nothing else. And least it's for a good cause in form of 'Charity: Water', an organization which builds water wells in developing countries. Even better… Carey originally only planned to raise $10.000 but now he's already at $18.000. See for yourself right here. Finally, the music of NICKELBACK are really causing something good.
—