Saturday marked the final day of PRIMAVERA SOUND. Celebrating its 14th year, the festival saw 190,000 attendees and 9 different stages hosting close to 350 bands. Living up to its reputation, this year PRIMAVERA hosted yet again an eclectic collection of bands in the heart of the beautiful Parc del Fòrum right along the Mediterranean Sea. The last night of the festival held an especially impressive line up, among the bands that played included GODSPEED YOU! BLACK EMPEROR, NINE INCH NAILS, MOGWAI, SPOON, CHROMEO, CUT COPY and BLACK LIPS.
While there were too many good acts to count, it may be safe to say that NINE INCH NAILS stole the show. After going on hiatus in 2009, NIN reunited in 2012 and has since then released a new album, Hesitation Marks. A cloud of smoke enveloped the stage and poured out over the crowd as a deep baseline began to pulsate as they opened with Me, I'm Not. Their set seamlessly tied ambient and sensual tracks such as Copy of A, together with their more industrial and hard tracks like March of the Pigs and everyone's favorite, Closer. NIN's stellar performance was backed by a visually stunning light show, that gave the illusion from time to time that Reznor was standing alone in front of thousands of screaming fans. The band ended their hour and a half explosive set with Head Like a Hole, and came back a minute later to perform Hurt, the crowd singing along the entire encore.
Earlier In the evening we caught GODSPEED YOU! BLACK EMPEROR, which unfortunately didn't translate as well as we would have hoped. The crowd waited anxiously as a single bass line shook the ground for a good 15 minutes. Members came out one by one, enveloped by a circle of towering amps and machines. While GODSPEED is easily one of the most innovative and influential post-rock acts out there, it seemed that the intricate layers that define much of their music became lost in the open-air set-up of the festival.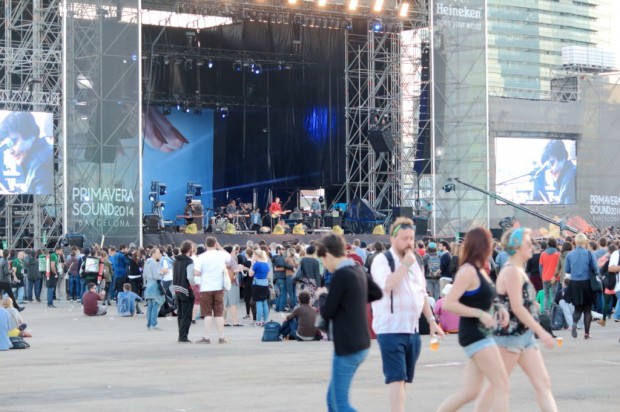 Other highlights included the return of 70's New York TELEVISION, who dedicated the show to their first album Marquee Moon. The night brought with it upbeat performances from FOALS and CUT COPYBLACK LIPS drew an impressive crowd. With a simple white sheet with their name written crudely in marker for a backdrop, the Atlanta Georgia natives do what they do best and got the crowd singing and dancing through their entire set. Afterwards people started heading for the VICE stage to watch Barcelona's own ZA! The duo put on an incredibly high-energy show that went well into the early hours of the morning.
All Photos by Julien Barrat