We first witnessed the mesmerizing talent and music of MIKEY. at this year's cosy Torstraßen Festival in Berlin where the distinctive artist delivered a truly fascinating performance. Armed with his freshly released debut EP Paths he delivered a gender- and genre-bending show with flamboyant and furious confidence. Paths is indeed quite an impressive testament for a first musical impact but despite that MIKEY. has been an active part of the city's queer scene and if you witness him live and on stage you know why this is the case.
NOTHING BUT HOPE AND PASSION is more than thrilled to give you the world premiere of his brand new music video Species right now. We also spoke with the artist ahead of the video release right here.
Hi there. Press text defines you as a Berlin Queer Icon. What must one do to 'earn' that title? 
I  never ever set out to be dubbed an icon. I don't see myself as one & I don't think I'm deserving of it to be honest. My best work is still yet to come. I think the main reason why people might see me as one in Berlin's nightlife is because I've been very consistent with the way I present MIKEY. and the choices I make about collaborative involvements.
It took you a while to release your debut EP. Why?
I would've loved to have released music earlier. Though sometimes what you think you want is not always right for you. The universe knows this. I look back now and realise my subconscious mind instinctively knew I wasn't ready to release something earlier. The last 8 years I've lived in Sydney, New York, London & now Berlin. So every time I've had to move city, I've had to let go of the foundations & networks I've built & start almost over again from scratch. That can be extremely lonely, costly & time-consuming, having to build new support networks & foundations around yourself in a new place where you know almost no one. It takes time to re-ground yourself enough to live, enough to process inspiration & experiences into the music, financially support yourself to record, mix, master & release it, all while trying to keep yourself mentally stable from what life throws at you in the meantime.
It's an intense process when you doing it alone and no label backing.
What are the main themes of the Species video. Representing the mentioned 'freak'?
I think it is more of a representation of the potential of one's inner power through self-acceptance of being the kind of being you are. The song is based around the desires from men identifying as 'straight' who have never been intimate with someone who identifies as genderless. They're discreetly attracted to it, though they have been taught by society's standards that it's wrong to feel this for someone like me. So in the song I'm trying to break down sexuality and gender constructs and I hope help people approach intimacy not defined by gender or sexuality. I think the opening line of the song, 'pick a star baby and I'll take you home, ain't nowhere in this universe I don't know,' really deals with how inter-connected we already are as beings in this universe, we are all already living inside each other. I think this knowingand& awareness that the soul posesses is something that really gets lost and is hard to rediscover with the distractions and stresses of today's world.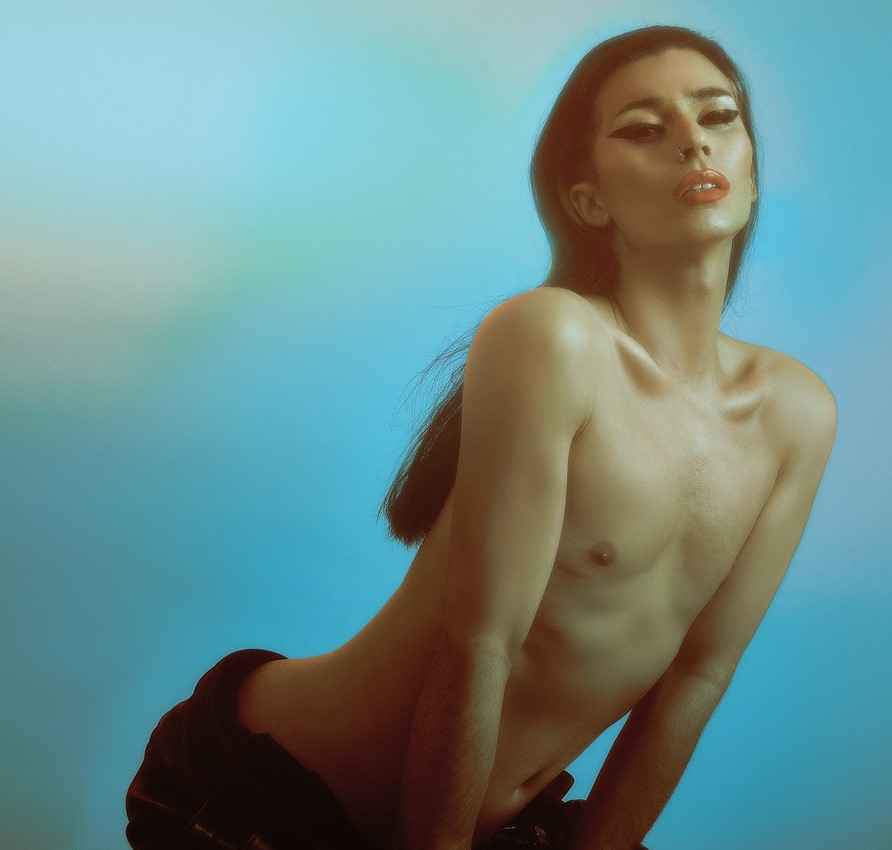 When witnessing you live on stage I really like the opposing musical forces that could be witnessed on stage – the performing and theatrical aspect right next to the fragile and honest singer/songwriter with the acoustic guitar. Was that a conscious decision to fight common misconception á la 'Oh, he's just a performer, not a profound songwriter?'
My roots are in being a solo acoustic singer/songwriter & that's still my favourite way to perform because I have more control of the song, it's more raw & soulful & the feeling to me is more alive in the moment on stage. I've been doing shows for quite a while now, though it's only since I've been in Berlin that I've been discovering and experimenting with different elements of theatre, poetry & dance performance within the whole structure of a show. I really enjoy being so unpredictable in my sets, having this sense of not knowing what is going to happen next is really exciting for the audience & also for myself. Most of the time I don't even know what is going to happen & that is really thrilling feeling on stage especially when something magic happens that no one expected though the entire room felt it & we all experienced it together in the moment.
'Artists are translators of the metaphysical world'
You were also featured in a video projection for Depeche Mode's recent wold tour. How did this happen?
I still don't know how they discovered me to be honest. I just got an email from the production company producing the film, & I was asked to come meet Anton Corbijn. He liked me in that I didn't identify as anything in particular. I was just me & he saw in me an embodiment of freedom. On another note I'm thankful for being casted for that film, as it was actually the cash injection I needed for my own music to surface into the world so my Paths EP could be born. So I have Depeche Mode & Anton to partly thank for this ep.
When attending the concert last summer and witnessing it I really thought the film projection was brave and beautiful but probably a bit weird for the band's mainly older fans. What are your thoughts regarding the obvious generational differences we are facing these days?
I think if it was weird and uncomfortable for their older fans then the film was successful in making them question themselves.
These times feel a bit weird, especially for progressive minds like us who doesn't seem to be 'en vogue' anymore. What's the best way to fight against that as an artist?
There's a quote by Balzac that I love, 'A person who sees only fashion in fashion is a fool.' I think a progressive & creative mind should never strive to be 'en vogue' in the first place. I think that would contaminate your way of thinking & distort the artistic process to a more regressive practice. Something I'm becoming very aware of lately is that artists are translators of the metaphysical world. With this knowledge, the whole process of how I write songs & what I do as a performer has changed. There is no room to strive to be 'en vogue' because you are dealing with something so much bigger than yourself.
MIKEY will also play an EP launch party on 10th August at Trauma Bar & Kino in Berlin. Find more information right here.