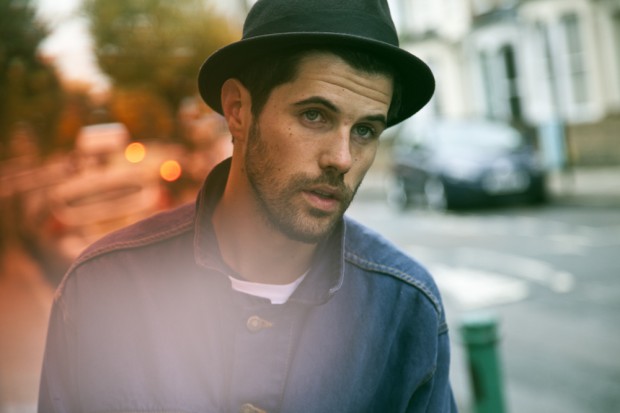 Songwriter NICK MULVEY introduces his charming solo debut album First Mind which is out these days. And one of the most important things he reveals to NOTHING BUT HOPE AND PASSION about it was to feel more and think less. Find out what he has to say about it right here.
You left your band PORTICO QUARTET three years ago and your solo career is seriously progressing with 2014 – You have been to SXSW, do a great deal of interviews, and your audience is increasing steadily. How does it feel?
It's been crazy! Since New Years and the release of the single in UK there is a lot of difference happening. I am really enjoying it. We have been building this for a little while, it feels good when it starts to come back to you, particulary at the gigs. You can feel things online a bit, but there is nothing like when people look at you and sing your lyrics back to you. Things like Fever to the Form – I mean it is just a little thing that I invented! People have their personal possesion of something that I made. It feels nice.
'First Mind' is a collection of very warm, friendly songs, but it also contains a lot of personal issues. How did it come about?
The combination of these various things is just the way it arrived. I think it is very 'me' at this time, you know. When I left the band, all I wanted to do is not to put any expectation on things and just start playing, start writing. I very much allowed it to be what it wanted to be.
The words – I always feel I discover what they are at the end of the process. First comes the guitar. It tells me naturally where I can put the melody and then I put words and sounds to it. I just mumble musical noises and half-words. Fever to the Form– I was singing it and after 20 minutes I was like: 'Oh, I like that, it has a duality'. It was a non-sensible process, or at least, cognitive senses were secondary.
Would it make sense then, to ask you what this album is about?
I think I can reflect afterwards and say: This is what it is, but it was nothing I planned. There is a few things in there. In First Mind, I wanted to talk about instinct. This process of always allowing, not designing it too much, letting it happen. Feeling first, thinking second. That is the tune of the album.
And there are loads of things I'm doing musically that I remember loving as a child – certain principles in music. For example, most progresses would begin with the home chord, the harmonic center first. But sometimes, a tune begins with the 4th chord, the one that is as far away from the center as possible. I do that a lot. I dont mean to get technical. If I had a guitar I'd show you. It creates a sense of lift in the music, a certain euphoria that I like.
You started to develop musical interests and skills at a very young age. When and how did you find music, or did it find you?
I think from the earliest time, probably even from the womb. My mum was a professional singer in choral music, so I early got used to classical music. My father was the opposite musician, he would just play BOB DYLAN after some drinks. I think I put both of those elements into my personal music.
I remember realizing when I was about twelve years old, that not everybody else was as crazy about music. And I was thinking: How strange! I was always thinking about music as a child. At the age of 10, I wanted to play the drums, and then the piano. I picked up the guitar quite late when I was 17. I remembered a thought from back then recently, it is naive but I quite liked it: I immediately liked the guitar because the left hand was the piano that I learned, and the right hand was the drums. So it was a natural process to me.
You name NICK DRAKE and BEN HOWARD your favourite artists. Don't you like pop or electronic music?
Yeah yeah! I don't have any boundaries by style. I think it is also very typical for our generation. It is the norm that on your iPod there is some RADIOHEAD and then some ROLLING STONES and then some SCUBA and then whoever. We are in the senventh decade of recorded music. Our parents generation was either a Mod or a Rocker, or into Blues or whatever. But with us, naturally all this is bending.
You live in London, but it seems that your heart belongs to completely other areas like South America or Africa. Do you secretly belong somewhere else?
Well, that is an interesting question. Musically, for sure. I found I could really swing with the guitar players I met in Africa. In East London, there is an area called Upton Park, and it is all congolese. I had a teacher who gave me five lessons and then said: Ok, you can join me at the gig at Club Afrique. I was the only white person there. I got on stage with my spanish guitar, started the intro and everybody just stopped talking. And I started singing in lingála, and the whole place just fell about laughing. But then they just all got up and danced. It was the best thing ever. They were really sensitive to the fact that I got the feeling right to the music.
You said that the process of you becoming a solo artist was a very natural, even quite predetermined path. Any other intuitions on how your life will proceed in the long run?
Who knows! I like to think that life has loads of surprises in store. I am really enjoying putting a band together right now. It is the right time, and it is a lot of fun. The bassist that I used to play with in my former band – I had this feeling that we still have more work to do together, and we have a real intuition togehter. He is joining me in this project.
Do you miss the spirit that drives from jamming, discussing, and touring with PORTICO QUARTET?
Of course, brotherhood! When the four of us would agree on something, I knew always that it was correct, because you had all the four perspectives. Also – I always felt confident about my music and musical decisions, but I miss the boys when it comes to non-musical stuff. How to find a label, how to run social media… But I also recognize that it was essential for me in my life and my music to find that the authority is only your own.
You are your own boss now! What does hope and passion mean to you in this regard?
Hope … I was having a difficult time recently, and I went to see a friend who is a bit older and has a long history in music. He said: 'I have one thing to tell you: It is only going to get worse'. It has this little twist: Accept now, that ist only going to get harder, and that is how you break through it, and then you are there. Passion is the only thing that matters – definitely.

—